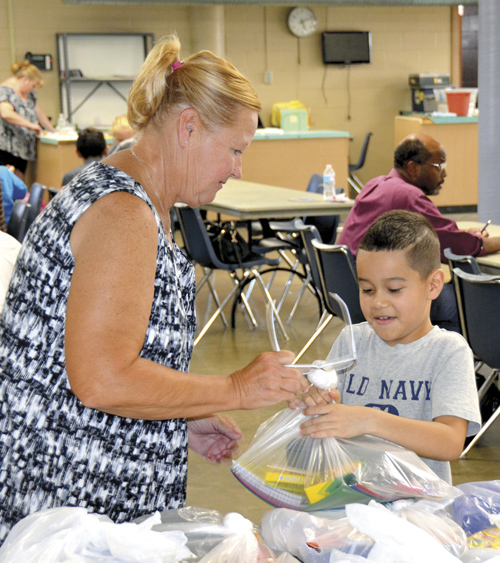 By Marty Denzer
Catholic Key Associate Editor
For the third year in a row, the Catholic Charities Junior Board has collected and distributed school supplies to help families in need get their kids ready for a new school year.
This month, the Board distributed school supplies at Holy Cross and Our Lady of Hope schools and at Pemberton Park Apartments for kids in the community.
Liz Gude, past president of the Junior Board, explained how the school supply collection and distribution works. The Junior Board is comprised of young professionals ages 21-35. They hold monthly themed Happy Hour fundraisers or book drives and the largest fundraiser is Soiree Kansas City held each Spring at Science City in Union Station.
Funds raised by the Junior Board go to Catholic Charities; the board is given a budget.
Proceeds from the Happy Hour fundraisers and Soiree go toward purchasing school supplies and the new or gently used chapter and picture books collected at the book drives are donated to school libraries. The Holy Cross and Our Lady of Hope principals were contacted to ascertain their greatest needs in school supplies. The Junior Board purchased general supplies — folders, rulers, notebook paper, crayons, markers, pens and pencils, etc., — enough to get students started, and this year, also purchased white copy paper for the schools.
Gude said their main goal is to get awareness out about Catholic Charities and the agency's service to those in need.
To learn more about the Catholic Charities Junior Board or to join, visit www.catholiccharities-kcsj.org, click on Get Involved and Join Junior Board.