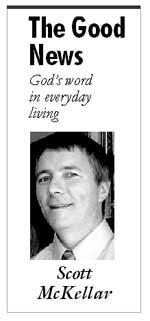 In this Sunday's Gospel Jesus is asked the question, "Lord, will only a few people be saved?" (Luke 13:23). This is still a very common question today. Many people today would assert that since God is a loving God, he will save everyone regardless of their response to him. While this idea resonates with some aspects of who God is, it cannot be reconciled with Jesus words in this Sunday's Gospel.
It is not that God isn't loving or that his mercy isn't extravagant. God does approach us in whatever state we are in. He does not wait for us to get our act together or to do things that impress him, before offering us his mercy. He accepts us as we are. St. Paul tells us that "God proves his love for us in that while we were still sinners Christ died for us" (Romans 5:8). Yet his gift of mercy demands a response. In order to receive this gift as Christians, we must have faith in him, demonstrate repentance, and receive Baptism and the gift of the Holy Spirit. Only after this response are we able to be joined with him in Holy Communion.
The Jewish people at the time of Jesus received their covenant with God as a birthright. If your mother was Jewish, you were automatically part of God's special covenant. A Jew was raised in their faith from childhood. What response was demanded of them? They must exercise their own faith and learn to follow the law, not to earn their way into God's favor, but to remain in his covenant. In this respect, God has no grandchildren. The faith of your parents and grandparents, although crucial as an example, does not count as your own personal faith. Jesus points this out in his parable.
Jesus answers the question, "Will only a few people be saved?" with a parable about a door. He tells his listeners that they must 'strive to enter' the kingdom of God 'through the narrow door' and warns them that 'many' will attempt to enter the door and fail. The parable imagines God to be like the master of a banquet who at a certain point 'locks the door' to the banquet and then refuses to let anyone else into the banquet.
A heavenly banquet was a common image of heaven in Jewish culture. The parable emphasizes that the way into the kingdom is unexpectedly narrow, and that one must strive or 'labor hard' to enter. The idea is not that we can work our way to our own salvation (Ephesians 2:8-9), but that we must labor hard by listening to Jesus message and respond to it (Proverbs 2:1-5). The parable also emphasizes both that a personal response to Jesus' message is necessary and also that the time allowed for such a response is limited.
It seems some of those in Jesus' day thought that is was enough to be part of the extended family of faith. After the 'master of the house' locks the doors in Jesus' parable, the one's locked out protest that they 'ate and drank' in Jesus' company and that Jesus taught in their streets. In return the master protests that he does not know them. While they were apparently spectators, and part of the extended family, they never exercised personal faith. Or perhaps they simply delayed their proper response. Like many people they might say, "I'm going to do my own thing for a while, and then later I will respond."
Yes, God is a loving God and his mercy is extravagant. He created Adam and Eve knowing in advance that they would fall. Before he created the world he knew that his only begotten Son would take flesh and live as man, in order that he might die on the cross substituting his love, once for all, for our sins. Speaking of this eternal plan, Paul tell us that God, "chose us in him, before the foundation of the world, to be holy and without blemish before him." (Ephesians 1:4).
Yet as God extends this amazing gift of grace to each of us, have we personally received it? Are we striving or laboring hard to enter through the narrow door? Jesus reminds us in the Gospel acclaim for this Sunday, "I am the way and the truth and the life. No one comes to the Father except through me" (John 14:6). Will Jesus say that he knows you? Ask yourself, am I a child of God or a grandchild? Am I sitting on the sideline watching the game, or am I playing it?
Let us pray together the Prayer after Communion for this Mass, "Complete within us, O Lord, we pray, the healing work of your mercy and graciously perfect and sustain us, so that in all things we may please you. Through Christ our Lord."
Scott McKellar is associate director of the Bishop Helmsing Institute.
Daily Scripture Readings
For complete daily Scripture texts, click here. http://www.usccb.org
Monday, August 22
2 Thessalonians 1:1-5, 11-12
Psalms 96:1-2a, 2b-3, 4-5
Matthew 23:13-22
Tuesday, August 23
2 Thessalonians 2:1-3a, 14-17
Psalms 96:10, 11-12, 13
Matthew 23:23-26
Wednesday, August 24
Revelation 21:9b-14
Psalms 145:10-11, 12-13, 17-18
John 1:45-51
Thursday, August 25
1 Corinthians 1:1-9
Psalms 145:2-3, 4-5, 6-7
Matthew 24:42-51
Friday, August 26
1 Corinthians 1:17-25
Psalms 33:1-2, 4-5, 10-11
Matthew 25:1-13
Saturday, August 27
1 Corinthians 1:26-31
Psalms 33:12-13, 18-19, 20-21
Matthew 25:14-30
Twenty-Second Sunday in Ordinary Time, August 28
Sirach 3:17-18, 20, 28-29
Psalms 68:4-5, 6-7, 10-11
Hebrews 12:18-19, 22-24a
Luke 14:1, 7-14
Monday, August 29
1 Corinthians 2:1-5
Psalms 119:97, 98, 99, 100, 101, 102
Mark 6:17-29
Tuesday, August 30
1 Corinthians 2:10b-16
Psalms 145:8-9, 10-11, 12-13ab, 13cd-14
Luke 4:31-37
Wednesday, August 31
1 Corinthians 3:1-9
Psalms 33:12-13, 14-15, 20-21
Luke 4:38-44
Thursday, September 1
1 Corinthians 3:18-23
Psalms 24:1bc-2, 3-4ab, 5-6
Luke 5:1-11
Friday, September 2
1 Corinthians 4:1-5
Psalms 37:3-4, 5-6, 27-28, 39-40
Luke 5:33-39
Saturday, September 3
1 Corinthians 4:6b-15
Psalms 145:17-18, 19-20, 21
Luke 6:1-5
Twenty-Third Sunday in Ordinary Time, September 4
Wisdom 9:13-18b
Psalms 90:3-4, 5-6, 12-13, 14-17
Philemon 9-10, 12-17
Luke 14:25-33
Monday, September 5
1 Corinthians 5:1-8
Psalms 5:5-6, 7, 12
Luke 6:6-11
Tuesday, September 6
1 Corinthians 6:1-11
Psalms 149:1b-2, 3-4, 5-6a & 9b
Luke 6:12-19
Wednesday, September 7
1 Corinthians 7:25-31
Psalms 45:11-12, 14-15, 16-17
Luke 6:20-26
Feast of the Nativity of the Blessed Virgin Mary
Thursday, September 8
Micah 5:1-4a or Romans 8:28-30
Psalms 13:6ab, 6c
Matthew 1:1-16, 18-23
or Matthew 1:18-23
Friday, September 9
1 Corinthians 9:16-19, 22b-27
Psalms 84:3, 4, 5-6, 12
Luke 6:39-42
The full text of the Scripture readings for this week and next week can be found here: http://www.usccb.org/
Click on the "Daily Readings" tab on the right hand side of the page.