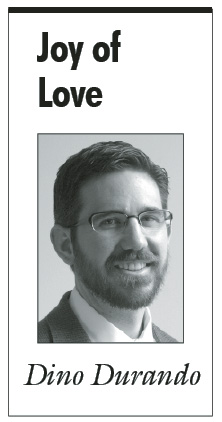 "Families are not a problem; they are first and foremost an opportunity." Amoris Laetitia, 7 (AL,7)
New parents who are excited about their yet-to-be-born child have already fallen in love. Their love is full of hope and trust, without limitations. This is a great mystery. Is there any other circumstance where people commit their entire life, resources, and energy to a person or cause without first knowing to whom or to what they will bind themselves? Perhaps the closest we get to this kind of "blind love" is the vows of marriage. Spouses know each other before they are married, but there are many unknowns yet to be discovered.
This is why Pope Francis observes that "each new life 'allows us to appreciate the utterly gratuitous dimension of love, which never ceases to amaze us. It is the beauty of being loved first: children are loved even before they arrive.'" (AL, 166) It seems fitting that children are ordinarily born within a family, the place of love and care without qualifications.
In the second month of our marriage, my wife and I bought a Chevy S-10 truck. This is a vehicle truly built for two and no more. We knew we would have children, but we didn't think through the when or the consequences for our transportation needs. Of course, we had our first child about a year later and bought a used car to supplement the miniature truck. The question, "how many children will you have?" turns out to be an odd question. People asked this question countless times before and after our wedding and we found that most people really expected a very specific answer, as though children are somehow a commodity or pet. Due to the fact that humans can only have one pregnancy at a time (even though there could by multiple children born) the question is actually one that spouses should be discussing throughout the fertile years of their marriage. It cannot really be a one-time answer.
The Pope says, "love always gives life." (AL, 165) This is true with regard to the nature of love. However, not all marriages are graced with the gift of children. Today as many as 1 in 8 women of childbearing age experience some form of infertility. For those who experience this difficulty, the Church wants you to know you are a family. Being a family begins on the wedding day. Also, there is good, moral science can help many to achieve a pregnancy. Pioneered by Catholic doctors NaPro Technology offers a moral alternative that is also more effective than In Vitro Fertilization (an immoral and costly medical intervention). There are local educators and doctors who can help couples treat infertility through the Fertility Care Center of Kansas City. Pope Francis observes that infertility "can be a cause of real suffering for them. At the same time, we know that marriage was not instituted solely for the procreation of children… Even in cases where, despite the intense desire of the spouses, there are no children, marriage still retains its character of being a whole manner and communion of life, and preserves its value and indissolubility." (AL, 178) Pope Francis also invites couples to consider adoption. "Adopting a child is an act of love, offering the gift of a family to someone who has none. It is important to insist t hat legislation help facilitate the adoption process, above all in the case of unwanted children, in order to prevent their abortion or abandonment. Those who accept the challenge of adopting and accepting someone unconditionally and gratuitously become channels of God's love." (AL, 179)
Motherhood reveals the great dignity of women as "a mother joins with God to bring forth the miracle of a new life." (AL, 168) In fact, "each child has a place in God's heart from all eternity; once he or she is conceived, the Creator's eternal dream comes true. Let us pause to think of the great value of that embryo from the moment of conception. We need to see it with the eyes of God, who always looks beyond mere appearances." (AL, 168) Following this observation he speaks tenderly to mothers: "With great affection, I urge all future mothers: keep happy and let nothing rob you of the interior joy of motherhood. Your child deserves your happiness. Don't let fears, worries, other people's comments or problems lessen your joy at being God's means of bringing a new life to the world." (AL, 171)
Of course, the essential role of mother and father do not end with the birth of the baby. The child depends on his/her parents for everything in their first years and for most things after that. Pope Francis remarks that "Every child has a right to receive love from a mother and a father; both are necessary for a child's integral and harmonious development." (AL, 172)
The pope has a very high opinion of motherhood. "Mothers are the strongest antidote to the spread of self-centered individualism… It is they who testify to the beauty of life. Certainly, a society without mothers would be dehumanized, for mothers are always, even in the worst of times, witnesses to tenderness, dedication, and moral strength." (AL, 174)
He sees fatherhood in crisis in our modern world. He thinks, "the problem no longer seems to be the overbearing presence of the father so much as his absence, his not being there. Fathers are often so caught up in themselves and their work, and at times in their own self-fulfillment, that they neglect their families." (AL, 176) The crisis of "absent" fathers has many negative consequences. He highlights the real need for dads to be available to their children, especially so that they can experience the mercy of their earthly father as a reflection of their heavenly Father's mercy. He says they "need to find a father waiting for them when they return home with their problems. They may try hard not to admit it, not to show it, but they need it." (AL, 177)