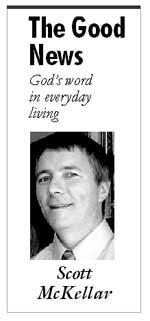 I don't know about you, but for me the pleasant feeling of being in the "in group" or the pain of being excluded by a social clique is not just a distant high school memory. A recent survey reported "43% of workers say their office is populated by cliques—which are tightly knit groups of co-workers who socialize in and outside the office, and often exclude others." Modern psychologists have demonstrated that being excluded socially, even by strangers, damages our basic psychological needs for belonging, self-esteem, control, and even for creating meaning in our lives. If we move from our everyday life to our faith communities, we can see what impact cliques have on a parish. What would Jesus have to say about parish cliques?
In this Sunday's Gospel reading Jesus tells three parables in response to the Pharisees and scribes who grumble because Jesus is friends with the 'sinners' who had been socially excluded by the Pharisee clique.
In response, Jesus tells the parable of a shepherd who leaves the 99 sheep to look for the one who is lost, and then rejoices when he is able to bring this one lost sheep back into the fold. Jesus also tells a parable about a woman who loses one of her ten coins and then searches diligently until she finds it. The woman "calls together her friends and neighbors and says to them, 'Rejoice with me because I have found the coin that I lost'" (Luke 15:9).
Finally, Jesus tells the famous parable of the prodigal or lost son. The younger son demands his portion of the family inheritance from his father. He then travels to a foreign country and squanders all of it before becoming destitute and returning home to his father.
The father is waiting and watching for the son to return. He immediately runs to the son and wishes to "celebrate and rejoice" at his return, but the older brother became angry and refuses to join in the celebration. These three parables each highlight the 'joy' that God has when he reaches out to those who felt excluded and invites them in. Unfortunately, it also highlights the negative reaction of some religious people when their cliques are broken.
Pope Francis reminds us, "The Church which "goes forth" is a community of missionary disciples who take the first step, who are involved and supportive, who bear fruit and rejoice. . . An evangelizing community gets involved by word and deed in people's daily lives. . . Evangelizers thus take on the 'smell of the sheep' and the sheep are willing to hear their voice" (The Joy of the Gospel 24).
A young pastor told me the story of his arrival at an aging parish that was slowly dying. Recognizing that there were no young people, the pastor went out in to the community around his parish and met new people. He even created a special community event which brought people together and allowed him make new contacts in the community.
These activities bore fruit, and one Sunday several pews full of young children and their parents showed up for Mass. After Mass one of his parishioners approached the pastor and asked angrily, "Who are these people and what are they doing in my parish?" He answered that they were new people from the community that he had invited to come to Mass. She replied, "Well I don't want them here! They are too noisy!"
The pastor tried to reason with her saying, "The parish will soon die if we don't invite some new families." She replied, "I don't care! I would rather have the parish die with me than have these people come and disturb my Mass."
This young pastor was clearly willing to take on the "smell of the sheep" in order to seek what was lost. The heart of our Heavenly Father in these parables was to diligently seek what was lost and then to rejoice when these souls were found. Jesus told his disciples "Go, therefore, and make disciples of all nations" (Matthew 28:19). There is no place for cliques in these words.
One researcher on parish growth did a study of a large number of parishes that eventually closed. One common factor among all these parishes was that they began to slowly look in on themselves and did not look outward towards the community. In fact, they deliberately refused to look like the changing community around them. Clinging to the good old days, they focused all their programs inwardly on their own parishioners. And of course, their parish slowly died.
I have to ask myself, what is my heart towards those who seem to be outsiders? Am I willing to take on the smell of the sheep by including outsiders in my social circle? Am I willing to let myself be a bit uncomfortable and to go out and meet new people that are not like me?
God is calling each one of us to be a missionary disciple. Each one of us needs to ask ourselves hard questions. Am I part of a clique? Am I willing to let others in to my social group? Am I willing to reach out and befriend new people in my community? What can I do to help my parish have a healthy goal of outreach to my community?
Scott McKelllar is associate director of the Bishop Helmsing Institute.
Daily Scripture Readings
For complete daily Scripture texts, click here. http://www.usccb.org
Monday, September 12
1 Corinthians 11:17-26, 33
Psalms 40:7-8a, 8b-9, 10, 17
Luke 7:1-10
Tuesday, September 13
1 Corinthians 12:12-14, 27-31a
Psalms 100:1b-2, 3, 4, 5
Luke 7:11-17
Wednesday, September 14
Numbers 21:4b-9
Psalms 78:1bc-2, 34-35, 36-37, 38
Philippians 2:6-11
John 3:13-17
Memorial of Our Lady of Sorrows, Thursday, September 15
1 Corinthians 15:1-11
Psalms 118:1b-2, 16ab-17, 28
John 19:25-27
Luke 2:33-35
Friday, September 16
1 Corinthians 15:12-20
Psalms 17:1bcd, 6-7, 8b & 15
Luke 8:1-3
Saturday, September 17
1 Corinthians 15:35-37, 42-49
Psalms 56:10c-12, 13-14
Luke 8:4-15
Twenty-Fifth Sunday in Ordinary Time, September 18
Amos 8:4-7
Psalms 113:1-2, 4-6, 7-8
1 Timothy 2:1-8
Luke 16:1-13
Monday, September 19
Proverbs 3:27-34
Psalms 15:2-3a, 3bc-4ab, 5
Luke 8:16-18
Tuesday, September 20
Proverbs 21:1-6, 10-13
Psalms 119:1, 27, 30, 34, 35, 44
Luke 8:19-21
Wednesday, September 21
Ephesians 4:1-7, 11-13
Psalms 19:2-3, 4-5
Matthew 9:9-13
Thursday, September 22
Ecclesiastes 1:2-11
Psalms 90:3-4, 5-6, 12-13, 14 & 17bc
Luke 9:7-9
Friday, September 23
Ecclesiastes 3:1-11
Psalms 144:1b & 2abc, 3-4
Luke 9:18-22
Saturday, September 24
Ecclesiastes 11:9—12:8
Psalms 90:3-4, 5-6, 12-13, 14 & 17
Luke 9:43b-45
Twenty-Sixth Sunday in Ordinary Time, September 25
Amos 6:1a, 4-7
Psalms 146:7, 8-9, 9-10
1 Timothy 6:11-16
Luke 16:19-31
The full text of the Scripture readings for this week and next week can be found here: http://www.usccb.org/
Click on the "Daily Readings" tab on the right hand side of the page.