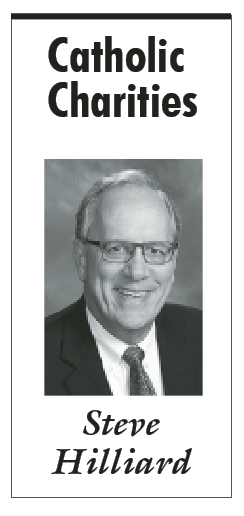 This past weekend, Catholic Charities of Kansas City – St. Joseph celebrated with the universal Church, a momentous occasion – our patroness blessed Mother Teresa became our patron saint – Saint Teresa of Calcutta!
In searching for perspective in this celebration of holiness, we can simply use a now common internet tool and type in Mother Teresa, yielding over 62,000,000 results in less than a second. Look for her best quote to sum up what she believed, and you will find hundreds, perhaps thousands attributed to her. Few people if any have had an impact as great as she has in our modern times.
The best way to honor this remarkable life is present in her own words as she acknowledges the love of her life — Jesus Christ — and why she lived her life for others:
An excerpt from Mother Teresa's address at the National Prayer, February 3, 1994:
"On the last day, Jesus will say to those on His right hand, "Come, enter the Kingdom. For I was hungry and you gave me food, I was thirsty and you gave me drink, I was sick and you visited me." Then Jesus will turn to those on His left hand and say, "Depart from me because I was hungry and you did not feed me, I was thirsty and you did not give me to drink, I was sick and you did not visit me." These will ask Him, "When did we see You hungry, or thirsty or sick and did not come to Your help?" And Jesus will answer them, "Whatever you neglected to do unto one of these least of these, you neglected to do unto Me!"…
…Those who are materially poor can be very wonderful people. One evening we went out and we picked up four people from the street. And one of them was in a most terrible condition. I told the Sisters: "You take care of the other three; I will take care of the one who looks worse." So I did for her all that my love can do. I put her in bed, and there was such a beautiful smile on her face. She took hold of my hand, as she said one word only: "thank you" – and she died.
I could not help but examine my conscience before her. And I asked: "What would I say if I were in her place?" And my answer was very simple. I would have tried to draw a little attention to myself. I would have said: "I am hungry, I am dying, I am cold, I am in pain," or something. But she ave me much more – she gave me her grateful love. And she died with a smile on her face. Then there was the man we picked up from the drain, half eaten by worms and, after we had brought him to the home, he only said, "I have lived like an animal in the street, but I am going to die as an angel, loved and cared for." Then, after we had removed all the worms from his body, all he said, with a big smile, was: "Sister, I am going home to God" – and he died. It was so wonderful to see the greatness of that man who could speak like that without blaming anybody, without comparing anything. Like an angel – this is the greatness of people who are spiritually rich even when they are materially poor.
We are not social workers. We may be doing social work in the eyes of some people, but we must be contemplatives in the heart of the world. For we must bring that presence of God into your family, for the family that prays together, stays together. There is so much hatred, so much misery, and we with our prayer, with our sacrifice, are beginning at home. Love begins at home, and it is not how much we do, but how much love we put into what we do.
If we are contemplatives in the heart of the world with all its problems, these problems can never discourage us. We must always remember what God tells us in Scripture: "Even if a mother could forget the child in her womb" – something impossible, but even if she could forget – "I will never forget you."
And so here I am talking with you. I want you to find the poor here, right in your own home first. And begin love there. Be that good news to your own people first. And find out about your next-door neighbors. Do you know who they are?…"
We know who some of them are. They walk through our doors each day. They are a blessing to us and to you.
Saint Teresa of Calcutta, pray for us.
Steve Hilliard is Director of the Catholic Charities of Kansas City – St. Joseph Foundation.