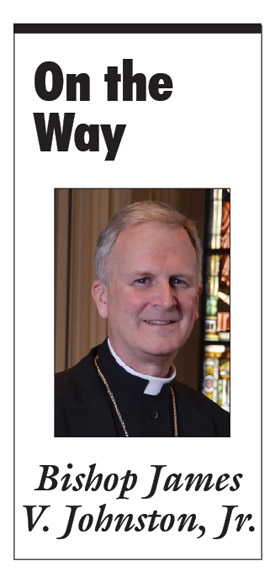 "And calling to him a child, he put him in the midst of them, and said, 'Truly, I say to you, unless you turn and become like children, you will never enter the kingdom of heaven'." Mt 18: 2-3
There we were, in the living room, having just enjoyed hot apple crisp for dessert. I had just had an enjoyable dinner visit with a family in the diocese, when the youngest of the family, a five-year old boy named Aiden, said that he wanted to ask me something. "Sure, Aiden," I said, "what's your question?" To which he said, "Where is heaven?"
In my years as a priest and a bishop, I have discovered that the questions of little children and the saints are remarkably similar. Perhaps it is because the Saints never lose their child-like wonder and love. Perhaps it is also because children are so pure of heart and like saints that they wonder about the same things. Little children have not been exposed enough to a skeptical world that is bound up in its furious preoccupations with, well, the things of this world. Little children have not had their wonder squelched. Little children ask me great questions all the time about God, heaven, Jesus, Mary, miracles, angels and the like.
Even when we adults speak about faith, it is often about the superficial things: the politics of the Church or the brick and mortar stuff that revolves around us. Children zero right in on the essentials—and Jesus did too. These past few weeks in the daily readings we have had what I call the "wood shed" readings from Matthew's Gospel. By that, I mean Jesus really takes the scribes and Pharisees to the proverbial wood shed over their preoccupation with things that are not central to religion; the things that they used to control others and use to their selfish advantage. Likewise, the Sunday readings of Cycle C that we have been hearing recount Jesus' sober words about heaven and eternal life.
Jesus is clear that getting to heaven is a struggle, but one that God urges us to make, and that God will help us make if we really desire it. It will require hardship, humility, sacrifice, dying to oneself, and trusting in God's mercy. In other words, we will have to become small to get through the "narrow door" (cf. Lk 13: 23-24). This requires living differently, because the worldly way of thinking is the exact opposite: live large! In other words, Jesus tells us that we will need to become like little children if we wish to enter the kingdom of heaven. Little boys and girls like Aiden remind me of that.
By the way, I did try to answer Aiden. I said, "Aiden, God has promised us that there is a heaven, and he has shown us the way to get there (Jesus), but where it is, God is still keeping that secret to himself for now."
Join Catholic Charities in Honoring Our Pastors!
Each year, Catholic Charities honors someone who has made a significant impact in the lives of the poor and those in need. Pastors of parish communities throughout the 27 counties of the diocese serve as spiritual and practical guides to all the faithful and act as a stabilizing force in the neighborhoods where our churches are located. They champion the values we embrace as Catholic Charities and by doing so, they make hope real and tangible to those in need. In this Year of Mercy, our pastors have been selected as the 2016 Mother Teresa of Calcutta honorees. Help us show our appreciation by joining them on Friday evening, October 14, 2016 at the Marriott Muehlebach Hotel. For full details on the event and to purchase a ticket, sponsor a table or become a benefactor, go to http://www.celebration-of-hope.com or call the Catholic Charities Foundation offices at 816.221.4377.