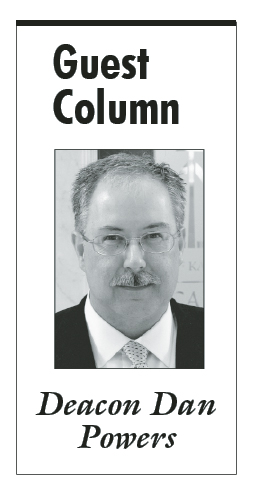 "But you, man of God, pursue righteousness, devotion, faith, love, patience, and gentleness. Compete well for the faith. Lay hold of eternal life, to which you were called when you made the noble confession in the presence of many witnesses." As I reflect on the 2nd reading for the 26th Sunday in Ordinary Time from First Timothy, I see a description of the priests I have come to know and respect throughout my life as a layman and a deacon. I realize that I have been so blessed to have known many good priests – Men of God – who have given selflessly of their time in service to God and the Church.
These Godly men who practice devotion, faith, and gentleness in the confessional, on the altar, or out in the parish have given all of us so much of themselves. Having worked in parishes, diocesan offices, and Catholic Charities in three dioceses in different parts of the country, I have encountered many priests. Just like us, they have their foibles and personal struggles but more than anything they have their virtues.
I know them to be men devoted to prayer. This is so important for them, the parish, and the world. To a man, they cling to Jesus in prayer. I love them for that. In addition to celebrating Mass, they pray the Divine Office daily, and many of them are devoted to the Rosary and contemplative prayer. We are so fortunate to have these prayer warriors leading us in our faith walk.
I have witnessed their patience in difficult circumstances. Sometimes we – as parishioners – can be demanding and hard to work with in the parish. These men often run small businesses with payroll, repairs and maintenance, utilities, and other costs with keeping the parish running. Most of these men are not trained in business matters and they struggle to keep up with new laws and regulations. Many times revenue does not match expenses and they are forced to make tough decisions to keep the parish open. As parishioners, we sometimes add to their woes with criticisms and demands. They are so patient with difficult situations.
I have seen how gentle they are with people who come to see them who are burdened by life. They meet with widows and widowers who feel that they cannot go on. They sit with people who are weighed down by sin and struggling to get close to Jesus. They meet with people who have suffered a tragic loss and are overwhelmed by pain. They see their role as the 'good shepherd' who gently cares for his sheep. They are gentle with us and they share the love and mercy of Christ with us – especially when we need it the most.
I love their commitment to the Sacraments. They spend time in the confessional listening to our spiritual struggles. They encourage us and give us absolution so that we can continue in our quest for holiness. They love the Eucharist and because of their willingness to become priests we can receive Jesus daily and visit Him in the tabernacle. No deacon and no layperson can do that. They had to say 'Yes' to their call to the priesthood for us to have the Eucharist.
I have watched them serve the poor. As busy as they are in their other roles, these men know that Jesus is in the poor. They know that Jesus was poor and they want to serve Him in the poor. They are terrific champions for the vulnerable and forgotten. They call us to be more charitable in their homilies and they offer us opportunities in the parish to serve the poor directly. I have been blessed to see them give their own limited funds to those in need. I love their spirt of compassion and kindness to those in need.
Our priests are evangelizers. When Jesus says on the Cross "I thirst" he speaks of His thirst for souls. Our pastors endeavor to quench that thirst. Canon Law #528 states: "The parish priest has the obligation of ensuring that the word of God is proclaimed in its entirety to those living in the parish" – not just attendees at the 9 AM Mass, not just Catholics living in the parish boundaries, but the priest must proclaim the word of God in its entirety throughout the parish. These are remarkable men. I thank each of them.
On October 14th, join me in publically thanking these Men of God. Catholic Charities will be honoring the pastors of the diocese at our Celebration of Hope Gala. Check our website for more information: www.catholiccharities-kcsj.org. There you can join me in saying "Thank you Father!"
Deacon Dan Powers is CEO of Catholic Charities of Kansas City-St. Joseph.