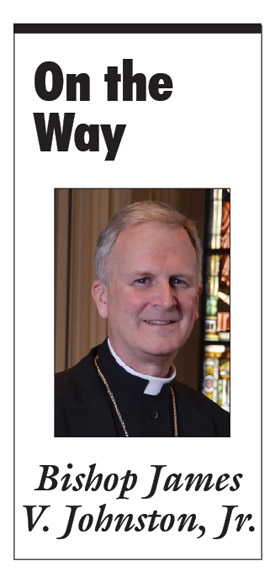 "For just as the body is one and has many members, and all the members of the body, though many, are one body, so it is with Christ."
1 Corinthians 12:12
It often occurs to me that many people are not sure what a diocese is, or what it does. For many, the diocese is an opaque, mysterious thing. I like to remind people (and tell some for the first time) that we are the diocese. The diocese is all of us who are in communion with the Catholic Church here in northern and western Missouri. To use even more official, theological language, the Code of Canon Law defines a diocese as follows: "A diocese is a portion of the people of God which is entrusted for pastoral care to a bishop with the cooperation of the presbyterate so that, adhering to its pastor and gathered by him in the Holy Spirit through the gospel and the Eucharist, it constitutes a particular church in which the one, holy, catholic and apostolic Church of Christ is truly present and operative" (canon 369). The Catholic Church is really a communion of particular churches, dioceses, from all over the world.
Certainly, the largest part of the diocese's life and mission occurs in our parishes and in our families. But, in order for these to remain strong and healthy, there are other needs and ministries that have to be funded each year. In short, there are some things that can only be accomplished by all of us together.
Some of these things are what I call the "boring" and hidden things; things like accounting so that our resources are cared for and administered with good stewardship, things like benefits and health insurance for our lay employees as well as our clergy; things like construction and properties services which help parishes in building projects and maintenance. While "boring" and out of view, these are very important, essential things that any healthy community must have and maintain.
Why make this point? Well, in the coming weeks, all of us who make up the diocese will be invited to participate in our Annual Catholic Appeal, the ACA, which is necessary to fund a significant part of the mission and work of the Diocese of Kansas City-St. Joseph.
Things funded by the ACA are more visible, such as our Catholic Schools Office, our Office of Young Adult Ministry, Marriage and Family Ministry, Youth Ministry, Hispanic Ministry, and the Communications Office which produces among other things, The Catholic Key. Also included are things like our Marriage Tribunal that assists those who have been through the pain of divorce, the Bishop Helmsing Institute which is available to deepen our knowledge of the Faith, the Office of Social Ministry, and the Office of Vocations, which oversees the recruitment and formation of our future priests (and which has become our single greatest annual expense as a diocese—seminarians are expensive!). These are only a few of the many ministries and needs we have as a diocesan family.
In addition to these, the Annual Catholic Appeal funds parish-based ministry grants to help specific needs of smaller parishes without great resources, as well as the Bright Futures Fund for Schools, and Catholic Charities.
As you can see, it's a great story, it's our family story. God wants us to give of ourselves so that he can use us and the gifts that he has blessed us with, to advance his Kingdom. We can only do that effectively together. Through your participation in the Annual Catholic Appeal we are all stronger together, and can accomplish things we cannot do on our own.
In the next few days, I will be sending each household in our diocese a personal letter, along with other information on this year's ACA. You will also hear more about it at Sunday Mass over the weekend of October 15-16 in your parishes. I ask you to be a part of this mission that Jesus has entrusted to us by giving to the Annual Catholic Appeal. Thank you, and may God bless our diocesan family!