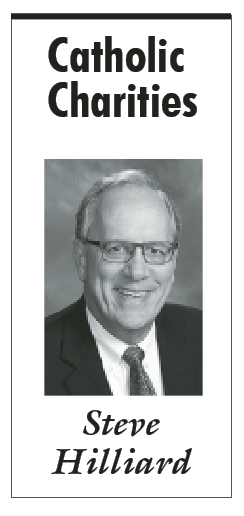 This following quote may look familiar. It's an excerpt from Mother – now Saint – Teresa's address at the National Prayer Breakfast on February 3, 1994 that was included in my reflection a few weeks ago following her canonization.
"And so here I am talking with you. I want you to find the poor here, right in your own home first. And begin love there. Be that good news to your own people first. And find out about your next-door neighbors. Do you know who they are?"
Each time you read a Catholic Charities' column, you are being invited to consider some aspect of a remarkable, epic collection of Catholic social teaching. Searching this trove of modern encyclicals and related works from as early as the 1890s to present day from 7 popes, a council and a synod of bishops for a topic is daunting to say the least. Somehow, it all comes together.
As I reflected on St. Teresa's words and searched the works of Pope Saint John Paul II among these letters and documents, I discovered a recurring theme present in my faith journey and that of many people with whom I have talked and prayed. As I often do, I found it helpful to look for inspiration from these saints' lives.
Consider Pope John Paul II's teaching in Sollicitudo Rei Socialis (The Social Concerns of the Church) where he challenges us to imitate Our Lord Jesus Christ through a 'preferential option for the poor' when he wrote, "Here [referring to themes from past encyclicals of earlier popes] I would like to indicate one of them: the option or love of preference for the poor. This is an option, or a special form of primacy in the exercise of Christian charity, to which the whole tradition of the Church bears witness. It affects the life of each Christian inasmuch as he or she seeks to imitate the life of Christ, but it applies equally to our social responsibilities and hence to our manner of living, and to the logical decisions to be made concerning the ownership and use of goods. Today, furthermore, given the worldwide dimension which the social question has assumed, this love of preference for the poor, and the decisions which it inspires in us, cannot but embrace the immense multitudes of the hungry, the needy, the homeless, those without medical care and, above all, those without hope of a better future. It is impossible not to take account of the existence of these realities. To ignore them would mean becoming like the 'rich man' who pretended not to know the beggar Lazarus lying at his gate (cf. Lk 16:19-31)."
Perhaps when we pass a homeless person on the street or encounter someone in need at a food kitchen, we momentarily judge them to have caused their own plight or just for an instant — we thank God that we were not born into that situation and then feeling powerless to effect change or uncomfortable with our capacity to show compassion — we pass on by.
The Catechism of the Catholic Church also provides us with insight into these circumstances if we take the time to study it. Paragraphs 1931 and 1932 tells us that (1931) "Respect for the human person proceeds by way of respect for the principle that everyone should look upon his neighbor (without any exception) as 'another self,' above all bearing in mind his life and the means necessary for living it with dignity. No legislation could by itself do away with the fears, prejudices, and attitudes of pride and selfishness which obstruct the establishment of truly fraternal societies. Such behavior will cease only through the charity that finds in every man a 'neighbor,' a brother." (1932) "The duty of making oneself a neighbor to others and actively serving them becomes even more urgent when it involves the disadvantaged, in whatever area this may be. 'As you did it to one of the least of these my brethren, you did it to me.' (Matthew 25:40)"
Looking back on St. Teresa of Kolkata's quote again, I suspect we already know the answer to her question of us, "Do you know who they are?" Our neighbor lives in our home and the house or apartment next to us. Our neighbor lives on the street and in the line forming in front of the soup kitchen in our cities and towns. It takes courage at times and grace always to put aside our discomfort or feelings of powerlessness to encounter this neighbor. It takes charity. It takes love.
Will we be the heart, the hands, and the arms of Christ to all our neighbors? And perhaps the final and hardest question of all — will we help the modern day Lazarus or will we pass him by?
Stephen Hilliard is Executive Director of Catholic Charities Foundation of Kansas City – St. Joseph.