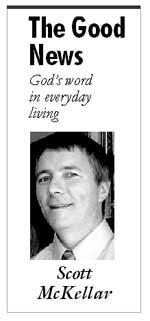 Have you ever had the experience of working extra hard on something, and even of going well beyond the normal expectation, only to have someone ignore your extra effort? Instead of thanking you and acknowledging your effort, they act like they simply had a right to your hard work. Perhaps they even unreasonably demanded more work from you, while remaining clueless about the personal effort it cost you.
In his sacred humanity, Jesus was able to experience the emotion of feeling under-appreciated. In Sacred Scripture we see that Jesus is affected by the ingratitude and selfishness of those he served.
In this Sunday's Gospel from St. Luke, Jesus heals ten lepers. Lepers cannot directly approach Jesus because of their disease. From a distance the ten lepers urgently cry out for mercy. Their disease renders them 'unclean' (Lev. 13:45–46; Num. 5:2–3).
Healing all of them from a distance, Jesus tells them to go and show themselves to the priest as the law required (Lev. 13:19; 14:1–11; Luke 5:14).
Taking Jesus at this word the ten lepers are instantly cleansed of their illness. One of the lepers, realizing that he has been healed by God, "returned, glorifying God in a loud voice; and he fell at the feet of Jesus and thanked him" (Luke 17:15-16). Clearly, heartfelt, spontaneous praise is the appropriate response to receiving God's amazing mercy.
The man who cried out to God for mercy from a distance is now cleansed and is able to approach Jesus directly. He is both physically and socially restored. In fact, this man was not even an Israelite but a Samaritan (Luke 10:25–37 and Acts 8:5–8).
Jesus then protests; "Ten were cleansed, were they not? Where are the other nine?  Has none but this foreigner returned to give thanks to God?" (Luke 17:17–18).
Jesus rebukes the other nine lepers. Why haven't they also returned to praise God? Where is their gratitude. As for the one who did return, Jesus says to him, "Stand up and go; your faith has saved you." (Luke 17:19). Apparently this man receives something the others do not — the fullness of faith.
While perhaps few of us receive a physical healing as spectacular as the one in this Gospel narrative, we do have the opportunity to receive Jesus in his, Body, Blood, Soul and Divinity in the Holy Eucharist (CCC 1374). The Eucharist contains the Real Presences of Jesus, that is "presence in the fullest sense" or what we understand to be "a substantial presence by which Christ, God and man, makes himself wholly and entirely present" (CCC 1374).
This substantial Presence of Jesus remains with us for a short time after we consume the Holy Eucharist. The Church has always seen the reception of the Eucharist as a special time of communion with our Lord and as the most opportune time to make an act of thanksgiving.
Why do we thank him for the Holy Eucharist? The Eucharist is the very sacrifice of Christ on Calvary. It is Christ's sacrifice of love which takes away our sins and makes our life with God possible. As the Catechism reminds us, "The Eucharist is thus a sacrifice because it re-presents (makes present) the sacrifice of the cross, because it is its memorial and because it applies its fruit" (CCC1366).
Because we receive Jesus in this manner in the Eucharist the Church recommends to all the faithful;
"not to omit to make proper thanksgiving after Communion. They may do this during the celebration with a period of silence, with a hymn, psalm or other song of praise, or also after the celebration, if possible by staying behind to pray for a suitable time" (Inaestimabile Donum, 17).
A story is told from the life of St. Philip Neri, who had a remarkable devotion to the Holy Eucharist. St. Philip Neri noticed a man who, before the final blessing, habitually left the Church right after receiving Communion. In order to help him better understand the true significance of the Holy Eucharist, Fr. Neri instructed two acolytes to approach the altar and to take up one candle each and to follow this man in solemn procession as he left the Church and walked home through the streets of Rome.
When the man noticed the procession, he asked the two acolytes what they were doing, and they explained that Fr. Neri had told them to accompany him and make an act of thanksgiving as they did so. Less than amused, the man returned immediately to confront Fr. Neri. When asked why he did this, the saint replied,
"It is to pay proper respect to Our Lord, whom you carry away with you. Since you neglect to adore him, I send the servers in your place."
In the presence of this great saint, the man immediately saw his fault and knelt devoutly before the altar and made a proper act of thanksgiving.
Saint Thérèse of Lisieux believed that thanksgiving or gratitude is the secret to growth in the interior life. She writes, "It is the spirit of gratitude which draws down upon us the overflow of God's grace, for no sooner have we thanked Him for one blessing than He hastens to send us ten additional favors in return."
Do you desire a deeper and more intimate relationship with God? Would you like to see God soften your heart and help you to conquer your faults? Would you like to be a more loving person?
The secret to a more intimate relationship with God is to spend time with him in thanksgiving. Imagine what transformation would take place if each of us spent some extra time in thanksgiving this week.
Scott McKellar is associate director of the Bishop Helmsing Institute.
Daily Scripture Readings
For complete daily Scripture texts, click here. http://www.usccb.org
Monday, October 10
Galatians 4:22-24, 26-27, 31–5:1
Psalms 113:1b-2, 3-4, 5a & 6-7
Luke 11:29-32
Tuesday, October 11
Galatians 5:1-6
Psalms 119:41, 43, 44, 45, 47, 48
Luke 11:37-41
Wednesday, October 12
Galatians 5:18-25
Psalms 1:1-2, 3, 4 & 6
Luke 11:42-46
Thursday, October 13
Ephesians 1:1-10
Psalms 98:1, 2-3ab, 3cd-4, 5-6
Luke 11:47-54
Friday, October 14
Ephesians 1:11-14
Psalms 33:1-2, 4-5, 12-13
Luke 12:1-7
Saturday, October 15
Ephesians 1:15-23
Psalms 8:2-3ab, 4-5, 6-7
Luke 12:8-12
Twenty-ninth Sunday in Ordinary Time, October 16
Exodus 17:8-13
Psalms 121:1-2, 3-4, 5-6, 7-8
2 Timothy 3:14-4:2
Luke 18:1-8
Monday, October 17
Ephesians 2:1-10
Psalms 100:1b-2, 3, 4ab, 4c-5
Luke 12:13-21
Tuesday, October 18
2 Timothy 4:10-17b
Psalms 145:10-11, 12-13, 17-18
Luke 10:1-9
Wednesday, October 19
Ephesians 3:2-12
Isaiah 12:2-3, 4bcd, 5-6
Luke 12:39-48
Thursday, October 20
Ephesians 3:14-21
Psalms 33:1-2, 4-5, 11-12, 18-19
Luke 12:49-53
Friday, October 21
Ephesians 4:1-6
Psalms 24:1-2, 3-4ab, 5-6
Luke 12:54-59
Saturday, October 22
Ephesians 4:7-16
Psalms 122:1-2, 3-4ab, 4cd-5
Luke 13:1-9
Thirtieth Sunday in Ordinary Time, October 23
Sirach 35:12-14, 16-18
Psalms 34:2-3, 17-18, 19, 23
2 Timothy 4:6-8, 16-18
Luke 18:9-14
The full text of the Scripture readings for this week and next week can be found here: http://www.usccb.org/
Click on the "Daily Readings" tab on the right hand side of the page.