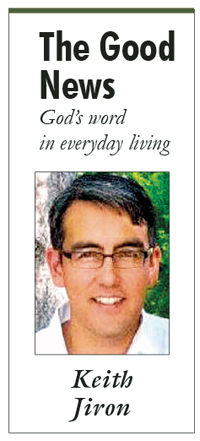 This past summer, after two years and several failed attempts to sell our house in Kansas City, we put it back on the market. On the first day we had nearly thirty showings and six offers above asking price.
Prior to closing, I was hesitant to consider shopping for another one in case the sale fell through again. My wife, however, started driving around some neighborhoods, hoping to find our future home. One day, she spotted a magnificent house for sale by owner. Thinking we could never afford it, she drove past. While stopped at the nearby intersection, she saw a sign for that same house saying to text message for more information. It turns out the owners were selling it considerably below its appraised value and had been praying for a family that would love the house like they did, having raised their own family there for years. When we visited, our four young sons immediately started running around like they owned the place. Peter, my youngest, said at one point, "I like this house. I don't even have to get used to it." The lady, a bit choked up, said, "We were just praying for you last night, and here you are." It was one of those unexpected "God moments" when, upon hearing their asking price, we accepted verbally, shook hands, and the guy told my second son, Michael, to go take down the "for sale" sign from the front yard.
As we look forward to spending our first Christmas here, I am struck by the scripture reading from the prophet Isaiah who describes a house that will be built, not by human hands, but by God Himself. He foretells that "a shoot shall sprout from the stump of Jesse" and that "his dwelling shall be glorious." At one point in the unfolding of this prophecy, King David, who is the son of Jesse, laments that he himself "dwell[s] in a house of cedar, but the ark of God dwells in a tent." (2 Sam 7:2) He therefore intends to build a house for God, but God has other plans. In a marvelous play on words in the original Old Testament Hebrew, God says that David shall not build a house for God, but rather that God will make a house of David. (2 Sam 7:11)
The shoot that sprouts from the stump of Jesse is the savior, Jesus Christ, who fulfills the prophecy. A descendant from the house or lineage of David, he makes Israel his earthly home in the midst of God's people.
This past summer I had the privilege of taking several Catholic School Principals and teachers to the Holy Land. While there, we were able to visit the boyhood home of Jesus in Nazareth. It was fascinating to note that even Jesus had a roof over his head and a place to run and play under the watchful eye of Mary and Joseph.
There is something deep within us that yearns for a place to call home. One way in which this reality manifests itself is in God's promise to his chosen people of a land which they would inhabit after their sojourn in the desert.
The gospel reading from the second Sunday of Advent portrays John the Baptist, "preaching in the desert of Judea and saying, 'Repent, for the kingdom of heaven is at hand!'" The kingdom is at hand because the new King, Jesus, the Son of God, has taken up residence in their midst. God does not remain a spectator. Instead he comes to abide with us in space and time.
Prior to Jesus' arrival on the scene, John is the "voice of one crying in the desert" compelling the people to "[p]repare the way of the Lord," to "make straight his paths." This theme of desert and longing is rich in the pages of salvation history. It's as if we don't appreciate the times of abundance without the period of waiting and dryness beforehand.
For two years prior to moving into our new home, we were forced to discover a new understanding of what it means to trust in God. It does not mean that everything will always work out the way we plan. It means that God will always be with us.
While my family and I are excited to celebrate the advent of Christ in a special way this year, we know that it is not so much about the new home in which we dwell, but rather that God desires to make His dwelling in us.
Keith Jiron, formerly of the diocesan Vocation Office, is Director of School of Faith, Omaha Branch.
Daily Scripture Readings
For complete daily Scripture texts, click here. http://www.usccb.org
Monday, December 5
Isaiah 35:1-10
Psalms 85:9ab & 10, 11-12, 13-14
Luke 5:17-26
Tuesday, December 6
Isaiah 40:1-11
Psalms 96:1-2, 3 & 10ac, 11-12, 13
Matthew 18:12-14
Wednesday, December 7
Isaiah 40:25-31
Psalms 103:1-2, 3-4, 8 & 10
Matthew 11:28-30
Solemnity of the Immaculate Conception of the Blessed Virgin Mary
Thursday, December 8
Genesis 3:9-15, 20
Psalms 98:1, 2-3ab, 3cd-4
Ephesians 1:3-6, 11-12
Luke 1:26-38
Friday, December 9
Isaiah 48:17-19
Psalms 1:1-2, 3, 4 & 6
Matthew 11:16-19
Saturday, December 10
Sirach 48:1-4, 9-11
Psalms 80:2ac & 3b, 15-16, 18-19
Matthew 17:9a, 10-13
Third Sunday of Advent
December 11
Isaiah 35:1-6a, 10
Psalms 146:6-7, 8-9, 9-10
James 5:7-10
Matthew 11:2-11
Feast of Our Lady of Guadalupe, Monday, December 12
Zechariah 2:14-17 or
Revelation 11:19a; 12:1-6a, 10ab
Judith 13:18bcde, 19
Luke 1:26-38
Tuesday, December 13
Zephaniah 3:1-2, 9-13
Psalms 34:2-3, 6-7, 17-18, 19 & 23
Matthew 21:28-32
Wednesday, December 14
Isaiah 45:6c-8, 18, 21c-25
Psalms 85:9ab & 10, 11-12, 13-14
Luke 7:18b-23
Thursday, December 15
Isaiah 54:1-10
Psalms 30:2 & 4, 5-6, 11-12a & 13b
Luke 7:24-30
Friday, December 16
Isaiah 56:1-3a, 6-8
Psalms 67:2-3, 5, 7-8
John 5:33-36
Saturday, December 17
Genesis 49:2, 8-10
Psalms 72:1-2, 3-4ab, 7-8, 17
Matthew 1:1-17
Fourth Sunday of Advent, December 18
Isaiah 7:10-14
Psalms 24:1-2, 3-4, 5-6
Romans 1:1-7
Matthew 1:18-24
The full text of the Scripture readings for this week and next week can be found here: http://www.usccb.org/
Click on the "Daily Readings" tab on the right hand side of the page.