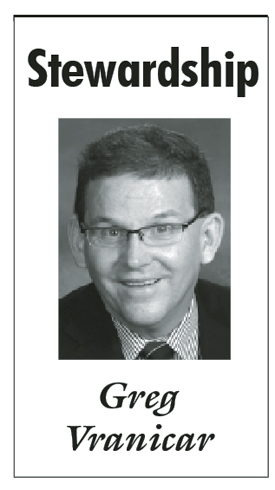 As a boy at this time of year, our large family eagerly anticipated the smells of cookies, pies, dressing and once-a-year large meals that filled the air. The special family time always prepared us for the equally special religious rituals that we were about to celebrate. We never had one without the other and both the family time and spiritual time remain in my memory.
During Advent, we prepare the way of the Lord. By Christmas His coming is natural for us. We resolve doubts, just as St. Joseph does in this week's Gospel. Should he "decide to divorce her quietly?" Assured by the angel, St. Joseph trusted God and his righteous character (and without even speaking a word) "took his wife into his home."
Nearly 2000 years later, we trust in the same God despite our reasonable doubts. We face continuing problems like poverty, war, disease and lack of education that have certainly not been resolved or maybe even addressed by our recent contentious election. Bishop Johnston has correctly called our time a "Twilight Zone," in which we must return to basic Church teachings. Now that Advent preparation is closing, we celebrate the joy of Christmas and embrace our lives with new commitment.
How do we do this? By capitalizing on the spiritual preparation that Advent afforded, in recognition of God's gifts to us. We enter the new year more committed than ever to improve ourselves and our world. Indeed, we should continue our frequent prayer, receipt of the sacraments, and spending time with family and friends that we hopefully already began. We look closely at our lives — how did we do in 2016 with our spiritual and temporal resolutions? How do we improve in 2017? As my pastor Richard Storey at Curé of Ars Parish recently noted, "Jesus Christ has set the focus on the journey . . . We should be repentant and seek forgiveness . . . We must fulfill our roles as members of the Body of Christ. We must live each day as if it is our last."
These ideas were a consistent theme of Pope Francis during the Jubilee Year of Mercy. Have we lived out the corporal works of mercy that St. Matthew taught us? If not, what are we going to do about it? In the modern context, and in line with what I encourage folks to do in my role as Planned Giving Director, I propose these resolutions as 2017 begins:
• Stay healthy, exercise and eat well each day, listen to health professionals
• Assess your income and investments, considering your expected lifespan and plan accordingly
• Do right by your family and Church, regularly take advantage of the sacrament of Reconciliation
• Communicate clearly about your wishes near the time of death, express your wishes verbally and in writing with an advance directive and living will
• Give generously to extend mercy with your time and finances
In my job of encouraging people to focus on their "ultimate gift" near the end of life, I emphasize these primary tools to give to one's parish, the Diocese, or other favorite charity:
1. Through an updated will or trust
2. From appreciated securities or other assets
3. By designation of title
4. Through gifts from retirement plans, including IRAs — at death or during life if age qualified
For these methods we encourage the assistance of an adviser like an estate planning attorney or financial planner. Develop a relationship with these professionals sooner rather than later. Waiting until a health crisis may be too late. Our Office can help, as can your family or friends who have gone through the process and probably have a good recommendation for you. You will benefit, not only because you will have provided for your family wisely but also considered your favorite charities. You will have peace of mind, as a wise donor once described it aptly, the "SWAN Effect," for "Sleep Well at Night."
In October, my wife and I were privileged to visit Florence and Rome. Possibly the most profound experience was seeing the massive fresco in the dome of the Basilica in Florence. Known as the "Last Judgment Fresco," it graphically portrays the Matthew, Chapter 25, corporal works of mercy: feed the hungry, give drink to the thirsty, clothe the naked, welcome the stranger, ransom the prisoner, visit the sick and bury the dead.
We just completed the Jubilee Year of Mercy and the season of Advent ends this week, but it is always our duty to live up to these ultimate measures of our lives. Through the Annual Catholic Appeal (ACA) or by calling your advisers or me regarding a planned gift, you might consider how you can personally live the message of the Last Judgment Fresco as you move into 2017.
Greg Vranicar is Director of Planned Giving for the Diocese of Kansas City – St. Joseph.