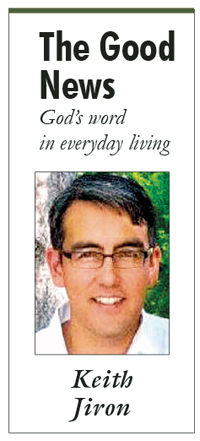 As Christmas day approaches, I find myself living vicariously through my children. I love viewing the childhood joys of this Season through their eyes. Last year my son, Peter, who was four years old at the time, in his non-assuming simplicity, asked Santa for something rather small. Unbeknownst to him, Santa decided to surprise him with an additional gift that he had not requested. He was so delighted by this that, as a result, this year he told Santa that he just wants to be surprised. He explained his philosophy to me in this way: "If I ask for something, then I won't be surprised when I get it, right?"
This gave me a deep sense of satisfaction knowing that he is not feeling a sense of entitlement to the latest and greatest toy fad. My wife and I work hard to protect the innocence of our four boys. Because this culture launches constant assaults on their childlike purity of heart, this is not an easy task. Still, it is worthwhile because their very happiness is at stake as attested to in the Psalm for the fourth Sunday of Advent: "Who can ascend the mountain of the LORD? or who may stand in his holy place? One whose hands are sinless, whose heart is clean, who desires not what is vain?" The Psalmist explains that the lifelong journey of preparing for heaven involves ridding ourselves of sin and attachments to things of this world.
My son's request from Santa is a beautiful reminder to me of how God wants to bless us with good things. He knows best what we need. The problem, it seems, is that our idea of what is best for us is not always in line with God's plans.
Two thousand years ago, the Israelites, having lost their king, found themselves living miserably under the oppression of the Roman empire. They longed for the return of the promised king of Israel who would take back the kingdom and free them from their Roman enemy. They looked for the promised sign foretold by the prophet Isaiah: "Therefore the Lord himself will give you this sign; the virgin shall conceive, bear a son, and shall name him Emmanuel."
The way in which God was to bring about the fulfillment of this prophecy was most unexpected. Even Joseph, who was married to Mary by means of the first of the two-part Jewish marriage ritual, betrothal, had his own idea of how his life would turn out. After betrothal, the man was to build a home before the newlyweds would live together, a practice completely foreign to our modern-day cultural mindset. Moreover, Joseph, knowing of Mary's vow to God of lifelong virginity, was committed to living out his marriage to her in a celibate fashion. The gospel relates the story that when he discovered that Mary was pregnant, he knew something was amiss. Thus, "Joseph her husband, since he was a righteous man, yet unwilling to expose her to shame, decided to divorce her quietly."
The plot unfolds with the angel revealing to Joseph that Mary's pregnancy was the fulfillment of the prophecy, and that it was "through the Holy Spirit that this child [had] been conceived in her." This child was literally "God-with-us," the meaning of the name "Emmanuel."
Rather than sending the promised king in the form of a mighty conqueror, God sends them a small, helpless child. His plans were not to save His people from bondage to their Roman enemy, but to liberate them from sin.
Joseph's plans were changed. The Jewish expectations were flipped upside down. Many times Jesus asks us to be willing to change our plans or lay down our lives in ways that we least expect.
Being a father to four sons has taught me this lesson well. There is a never-ending demand on my time that persistently tugs away at my selfishness. Yesterday my son, Peter, who was looking to be entertained, asked me, "Daddy, what should I do?" Overcoming the temptation to tell him to go play with his brothers, I said, "Want me to read you 'The Hobbit?'" A few pages in, he spontaneously scooted over on the couch and leaned his head on my shoulder. Sacrificing my own plans to do something "productive" ended up being one of those priceless fatherhood moments that remains indelibly etched into my heart.
In his "Catholicism" series, Bishop Robert Barron explains that one of the best ways to prepare for Heaven is to cultivate a capacity for surprise. Attempting to grasp for ourselves all that we think we need, we leave little space for other-worldly pursuits. This Season, as we prepare for His coming, let us see the gift through the eyes of a child.
Keith Jiron, formerly of the diocesan Vocation Office, is director of School of Faith, Omaha branch.
Daily Scripture Readings
For complete daily Scripture texts, click here. http://www.usccb.org
Monday, December 19
Judges 13:2-7, 24-25a
Psalms 71:3-4a, 5-6ab, 16-17
Luke 1:5-25
Tuesday, December 20
Isaiah 7:10-14
Psalms 24:1-2, 3-4ab, 5-6
Luke 1:26-38
Wednesday, December 21
Song of Songs 2:8-14
or Zephaniah 3:14-18a
Psalms 33:2-3, 11-12, 20-21
Luke 1:39-45
Thursday, December 22
1 Samuel 1:24-28
1 Samuel 2:1, 4-5, 6-7, 8abcd
Luke 1:46-56
Friday, December 23
Malachi 3:1-4, 23-24
Psalms 25:4-5ab, 8-9, 10 & 14
Luke 1:57-66
Saturday, December 24
2 Samuel 7:1-5, 8b-12, 14a, 16
Psalms 89:2-3, 4-5, 27 & 29
Luke 1:67-79
The Nativity of The Lord
Sunday, December 25
Isaiah 52:7-10
Psalms 98:1, 2-3, 3-4, 5-6
Hebrews 1:1-6
John 1:1-18
Monday, December 26
Acts 6:8-10; 7:54-59
Psalms 31:3cd-4, 6 & 8ab, 16bc & 17
Matthew 10:17-22
Tuesday, December 27
1 John 1:1-4
Psalms 97:1-2, 5-6, 11-12
John 20:1a and 2-8
Wednesday, December 28
1 John 1:5–2:2
Psalms 124:2-3, 4-5, 7cd-8
Matthew 2:13-18
Thursday, December 29
1 John 2:3-11
Psalms 96:1-2a, 2b-3, 5b-6
Luke 2:22-35
Feast of the Holy Family
Friday, December 30
Sirach 3:2-6, 12-14
or Colossians 3:12-21
Psalms 128:1-2, 3, 4-5
Matthew 2:13-15, 19-23
Saturday, December 31
1 John 2:18-21
Psalms 96:1-2, 11-12, 13
John 1:1-18
Solemnity of the Blessed Virgin Mary
Sunday, January 1, 2017
Numbers 6:22-27
Psalms 67:2-3, 5, 6, 8
Galatians 4:4-7
Luke 2:16-21
Monday, January 2
1 John 2:22-28
Psalms 98:1, 2-3ab, 3cd-4
John 1:19-28
Tuesday, January 3
1 John 2:29–3:6
Psalms 98:1, 3cd-4, 5-6
John 1:29-34
Wednesday, January 4
1 John 3:7-10
Psalms 98:1, 7-8, 9
John 1:35-42
Thursday, January 5
1 John 3:11-21
Psalms 100:1b-2, 3, 4, 5
John 1:43-51
Friday, January 6
1 John 5:5-13
Psalms 147:12-13, 14-15, 19-20
Mark 1:7-11 or Luke 3:23-38 or Luke 3:23, 31-34, 36, 38
Saturday, January 7
1 John 5:14-21
Psalms 149:1-2, 3-4, 5 & 6a & 9b
John 2:1-11
Epiphany of the Lord
Sunday, January 8
Isaiah 60:1-6
Psalms 72:1-2, 7-8, 10-11, 12-13
Ephesians 3:2-3a, 5-6
Matthew 2:1-12
The full text of the Scripture readings for this week and next week can be found here: http://www.usccb.org/
Click on the "Daily Readings" tab on the right hand side of the page.