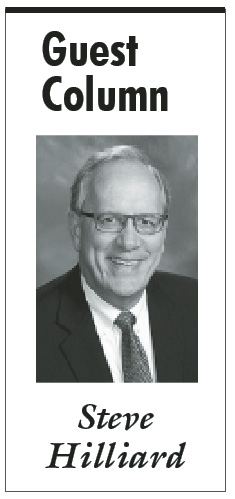 By Stephen Hilliard
Advent is the beginning of a new liturgical year – a season spent anticipating the birth of Jesus– a journey of sorts to Christmas. The Church encourages us to use Advent as a period of reflection and preparation.
Scripture tells us of the Magi – popularly depicted as three wise men bearing gifts for a newborn King who travelled far following a star– a journey of sorts to Christmas.
Perhaps we once again find ourselves at a crossroads – Advent is quickly coming to an end and Christmas is rushing toward us and upon reflection, we aren't prepared.
Here is where a gift comes to us from the Magi – not a gift of gold, frankincense or myrrh but one of time. Historical archeologists theorize that the Magi came from an area near modern day Yemen or possibly as far away as India. We don't know how they came to Bethlehem but we can surmise that they arrived well after the birth of Our Lord. You could say that they left late and arrived late. Still, they met the King, the Savior, and they worshiped Him. Perhaps some of us are ill prepared to celebrate the true meaning of Christmas, yet as the Magi show us the King of Kings waits and welcomes us anytime all the same.
Today, since we have this gift of time, we can start anew or continue on a journey already begun. The Christmas season is a wonderful opportunity to look at how a newborn babe, Christ Jesus, restored dignity to our humanity and brought everlasting hope to a world suffering from the effects of sin.
St. Augustine in a sermon on the Feast of the Nativity wrote, "May He Who did not shrink from making a beginning like ours, perfect in us His gifts. And may He also make us children of God, He Who for our sakes wished to become a human child."
One of the many ways that dignity and hope are promoted at Catholic Charities is through our Workforce Development program which helps the unemployed and underemployed prepare for and find jobs that pay a living wage. Veterans, ex-offenders, homeless and marginalized individuals learn to recognize their worth, develop new expertise and improve their interpersonal skills.
The Catechism of the Catholic Church shows us the importance of our role in the lives of these men and women. The following summary paragraphs from the catechism are a road map for our journey of reflection.
• 1943 Society ensures social justice by providing the conditions that allow associations and individuals to obtain their due.
• 1944 Respect for the human person considers the other "another self." It presupposes respect for the fundamental rights that flow from the dignity intrinsic of the person.
• 1946 The differences among persons belong to God's plan, who wills that we should need one another. These differences should encourage charity.
• 1947 The equal dignity of human persons requires the effort to reduce excessive social and economic inequalities. It gives urgency to the elimination of sinful inequalities.
• 1948 Solidarity is an eminently Christian virtue. It practices the sharing of spiritual goods even more than material ones.
To get a little better understanding of these points, we can look back 125 years to Pope Leo XIII's encyclical, Rerum Novarum. Pope Leo XIII lived in a time of considerable change. Just as in our time, the landscape of employer – employee relations was being shaped by rapid industrial innovations and in our times, technological innovations. Public and faith based discussions confronted the conventional wisdom of the times and encouraged, perhaps even admonished, the faithful to reflect on both the spiritual and the economic impacts by labor and capitalism. Pope Leo XIII appealed for a just society based on dignity not entitlement. While advocating for inclusion of all in the benefits of economic prosperity, he recognized the rights of each individual to realize the fruits of their labor even while contributing to the needs of society in general. His work over a century ago still remains relevant and is a model for peaceful discourse and reasonable dialog among people of goodwill.
The magi recognized in a child in Bethlehem the Truth and they responded by treating Him with dignity. May we find room this Christmas for the Christ Child and His eternal Truth and may we love one another as He loves us.
Have a blessed Christmas and a joyful New Year
Stephen Hilliard is Executive Director of Catholic Charities Foundation of Kansas City – St. Joseph.