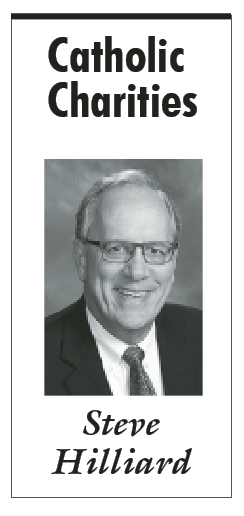 A new liturgical year began. We journeyed through Advent. We experienced the Octave of Christmas and now we've started a new calendar year while celebrating the Solemnity of the Blessed Virgin Mary, Mother of God on January 1st. Throw in a few vigils, feast days and other opportunities for praise and worship and we have a remarkable but daunting path to follow on our journey to holiness in just 5 weeks.
In our busy lives, it seems almost overwhelming as we end one calendar year and start anew. In the midst of 'holidays' and year end demands, it is easy to lose sight of what is most important – our relationship with Jesus Christ and the 'holy days' of the Christmas season that bring us closer to Him.
Part of our faith journey and growing in our relationship with Jesus is to understand what He taught us about being fully human by living in the world as a perfect example of love and by establishing His Church. What we learn from Him is essential to deepening that relationship so it makes sense to turn to the Church for guidance and understanding. A significant role of the Church is the teaching authority of the Magisterium and a major part of her teachings relate to society and our human condition – these are the social teachings – lessons and insights on being part of a just society. If we are to understand the complexities of the Church's social teaching, it might help to start with a 'less is more' approach. After all, it has been a busy season.
Scripture, writings of the early Church Fathers, writings of the Doctors of the Church and innumerable saints as well as the encyclicals on social issues by Popes and the catechism all lend themselves to our understanding. So much for less is more. The United States Conference of Catholic Bishops, however, has provided us with a primer for our reflection on these social teachings. The following excerpts from the conference website can provide us with core principles for our consideration.
7 Catholic Social Principles:
Life and Dignity of the Human Person
The Catholic Church proclaims that human life is sacred and that the dignity of the human person is the foundation of a moral vision for society. This belief is the foundation of all the principles of our social teaching
Call to Family, Community, and Participation
The person is not only sacred but also social. How we organize our society – in economics and politics, in law and policy – directly affects human dignity and the capacity of individuals to grow in community.
Rights and Responsibilities
The Catholic tradition teaches that human dignity can be protected and a healthy community can be achieved only if human rights are protected and responsibilities are met.
Option for the Poor and Vulnerable
A basic moral test is how our most vulnerable members are faring.
The Dignity of Work and the Rights of Workers
The economy must serve people, not the other way around. Work is more than a way to make a living; it is a form of continuing participation in God's creation.
Solidarity
We are one human family whatever our national, racial, ethnic, economic, and ideological differences. We are our brothers and sisters keepers, wherever they may be.
Care for God's Creation
We show our respect for the Creator by our stewardship of creation.
Many of us make resolutions for the New Year. Our hope is to bring about positive change. Maybe we want to break a habit or maybe we simply want to focus on some aspect of our lives to improve. If we truly want to love the Lord, perhaps this year we might journey with Him and learn from His Church how we can best live within a society that often challenges us to put self ahead of others. Consider these questions and pick one to study for the next month on how Christ calls us to a fuller life and what the Church teaches is the path to that fuller life in Him.
How is respect for life expressed through vulnerability as experienced in the human condition especially in the lives of the very young and the very old?
What can the Holy Trinity teach us about being a family and how can the family help form a just society?
What does our faith tell us about our God-given rights and responsibilities?
What is meant by a preferential option for the poor and who are the poor in our lives?
Do we see work as a necessary part of our faith journey? Do we practice our faith in the workplace?
Who do we exclude from our lives due to our differences?
Do we consider our needs and those of our neighbors or do we focus more on our own wants?
Steve Hilliard is Executive Director of Catholic Charities Foundation of Kansas City – St. Joseph.