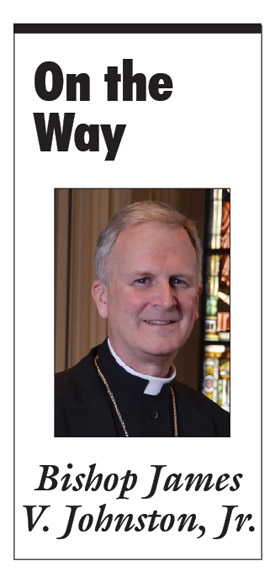 "But when you pray, go into your room and shut the door and pray to your Father who is in secret; and your Father who sees in secret will reward you." Matthew 6:6
Most of us are familiar with the old adage, "out of sight, out of mind." But the converse is also somewhat true, "in sight, in the mind." This should concern us, because of how much data, images, sounds, words and various other stimuli are unceasingly presented to our minds. Some studies show that insomnia has become an epidemic; perhaps this is one of the reasons.
The purpose for raising this in my column is to reflect on the impact this might also have on our interior life—the life of the spirit. My sense is that it is detrimental. When our minds are absorbed with a continual stream of visual, audio, text and other material, we tend to go with it. So much so that to step away from the stream often leaves us with unease. I noticed this first when I taught high school religion as a newly-ordained priest in the early nineties—before the internet! I asked my students as part of a homework exercise to simply spend a half hour in quiet silence in their rooms and to try to turn their attention to becoming aware of God. Most reported on how difficult, almost excruciating, it was to get through. There was almost an addiction to being engaged in some other entertainment or conversation. I realized then that most teenagers did not have an interior life from which to pray.
With the advent of the internet and social media this condition has only been intensified. Most of us are not immune. This week the cable television in my residence went out for several days, and I was struck by the difference. I typically look forward to the news and maybe some sports on a daily basis. It caused me to realize how much I am often distracted too.
One of the details of the Christmas Gospel is that when Jesus was born in Bethlehem, there was no room for him in the inn. Often, I fear that the same is true for us. We are often too preoccupied with not only action, but also distraction, to allow room for God to be present to our minds and to speak to our hearts. He is out of sight and so also often out of mind.
I read this week again about how many young people between 18 and 30 are leaving the Church and not coming back. Significantly more than the previous generation. Perhaps it is worth considering whether the impact of the "culture of distraction" has taken a particularly harsh toll on this generation. Many of them leave the Church because they do not have a meaningful relationship with Jesus. He is still foreign to many because they have not really met him. The American youth culture has not left any room for him. Jesus must be encountered in the inner room of one's heart. This requires some silence and a pulling away from the incessant buzz of the hive that surrounds us.
My sense is that the Church, beginning with parents and families, must do a better job of teaching our children about prayer, and the importance of pulling away to encounter God in the silence of the inner room of the heart. This includes the mind and the turning of one's gaze and consciousness to God. Like all the other key things in life, it is a discipline that must be practiced and learned over time. In addition to family prayer like the Holy Rosary, or before meals and bed time, it is good to help children to become comfortable with silence; becoming aware of God in still quiet, so that one can speak heart to Heart.  This can happen in the home, in Church before or after Mass, or in special visits to the Blessed Sacrament when the Church is quiet. If God is rarely on our mind it should not surprise us that we don't fall in love with him.