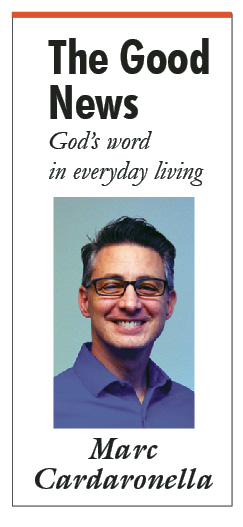 What if Jesus showed up at your job and asked you to follow him?
Would you be surprised? Would you be prepared to go?
Sounds like a strange question, but that's what happens in this Sunday's gospel. Jesus calls Peter, Andrew, James, and John—the four pillars of the apostolic brotherhood—to follow him and become "fishers of men."
I've always been amazed at their decisiveness. "Immediately they left their nets and followed him," it says of Peter and his brother Andrew in Matthew 4:20. And again in 4:22, James and John "immediately…left the boat and their father, and followed him."
I've often heard people praise this immediacy as the model Christian response. Jesus just calls to these strangers as he's walking by and they leave everything to follow him. They say this should be our response, everyone's response, to Jesus. Honestly, that always made me feel a bit inferior.
I didn't respond immediately. I grew up Catholic but I never really followed Jesus until I was 33 years old…and even then I took a lot of convincing. Granted, they are talking to God in the flesh. I'm sure that adds to the persuasiveness of the offer, but it seems too incredible. It's also misleading. When you look at all the gospels chronologically, you see they're not strangers at this point. They'd actually met Jesus before.
Here's the rest of the story.
Peter, Andrew, James, and John first met Jesus approximately six months prior, when they were with John the Baptist. Then they traveled with Jesus for about four months as he began his public ministry. They witnessed him performing miracles, speaking to spiritual leaders and immoral women alike, and challenging the religious establishment. And, I'm sure they also had many life-changing discussions about the nature of God and the meaning of life.
After this initial, four-month experience of living and working with Jesus, they took a break and went home. It seems Jesus gave them a short period of downtime for soul-searching. We know this because there's no mention of the disciples during Jesus' home visit recorded in John 4:43-54, Luke 4:16-30, and Matthew 4:13-16.
However, just before that break, right after his amazing success in the Samaritan village with the woman at the well, Jesus gave them an invitation. It was a vision for another kind of life, a life beyond their fisherman's toil, a call to the harvest.
"Meanwhile the disciples begged him, saying, 'Rabbi, eat.' But he said to them, 'I have food to eat of which you do not know.'…'My food is to do the will of him who sent me, and to accomplish his work. Do you not say, 'There are yet four months, then comes the harvest'? I tell you, lift up your eyes, and see how the fields are already white for harvest'" (John 4:31-36).
Jesus compared eating to doing the will of the Father. Eating is essential for life, and for most of us, a lot of fun. Think of the anticipation and excitement of going to a great restaurant. Could doing the Father's will be just as necessary and exciting?
Jesus gave them a glimpse into what drove him, what got him up in the morning and kept him up at night–doing the Father's will. It was more essential to him than food itself. Then Jesus called them to the harvest. They tasted this food Jesus spoke of, and it was compelling…more compelling than they imagined.
The next time we see these disciples is in today's gospel when Jesus invites them to join him. Obviously, their time with Jesus left its mark. They jump at the chance…thus the immediate response we spoke about earlier. That makes more sense, doesn't it?
The point I want to make is there's more here than meets the eye. This is not a chance meeting. These four disciples were prepared for this decisive moment. Even before they went "on tour" with Jesus, they were following John the Baptist and absorbing his teaching on repentance and the coming Messiah.
They positioned themselves for something amazing, something divine to happen. And, when it did they jumped. They were ready for the opportunity to serve God in a new and exciting way.
My question to you is, where have you positioned yourself? Are you prepared for Jesus to call you as he walks by? Are you in a place where you can respond to him?
I'm sure you go to Mass on Sunday and do the things you're supposed to do as a Catholic, but do you know Jesus? Have you lived with him? Have you tasted the food, the blessing, that comes from truly following him?
If you haven't, it's not too late. Jesus won't randomly show up and call you to leave your current life…not without first placing that call within your heart.
Position yourself today for your own encounter by the shore and be ready to drop your nets when Jesus calls. You won't regret it.
Marc Cardaronella is director of the Bishop Helmsing Institute.
Daily Scripture Readings
For complete daily Scripture texts, click here: http://www.usccb.org
Monday, January 23
Hebrews 9:15, 24-28
Psalms 98:1, 2-3ab, 3cd-4, 5-6
Mark 3:22-30
Tuesday, January 24
Hebrews 10:1-10
Psalms 40:2 and 4ab, 7-8a, 10, 11
Mark 3:31-35
Wednesday, January 25
Acts 22:3-16 or Acts 9:1-22
Psalms 117:1bc, 2
Mark 16:15-18
Thursday, January 26
2 Timothy 1:1-8 or Titus 1:1-5
Psalms 96:1-2a, 2b-3, 7-8a, 10
Mark 4:21-25
Friday, January 27
Hebrews 10:32-39
Psalms 37:3-4, 5-6, 23-24, 39-40
Mark 4:26-34
Saturday, January 28
Hebrews 11:1-2, 8-19
Luke 1:69-70, 71-72, 73-75
Mark 4:35-41
Fourth Sunday in Ordinary Time, January 29
Zephaniah 2:3; 3:12-13
Psalms 146:6-7, 8-9, 9-10
1 Corinthians 1:26-31
Matthew 5:1-12a
Monday, January 30
Hebrews 11:32-40
Psalms 31:20, 21, 22, 23, 24
Mark 5:1-20
Tuesday, January 31
Hebrews 12:1-4
Psalms 22:26b-27, 28 & 30, 31-32
Mark 5:21-43
Wednesday, February 1
Hebrews 12:4-7, 11-15
Psalms 103:1-2, 13-14, 17-18a
Mark 6:1-6
Feast of the Presentation of the Lord, Thursday, February 2
Malachi 3:1-4
Psalms 24:7, 8, 9, 10
Hebrews 2:14-18
Luke 2:22-40 or Luke 2:22-32
Friday, February 3
Hebrews13:1-8
Psalms 27:1, 3, 5, 8b-9abc
Mark 6:14-29
Saturday, February 4
Hebrews 13:15-17, 20-21
Psalms 23:1-3a, 3b-4, 5, 6
Mark 6:30-34
Fifth Sunday in Ordinary Time, February 5
Isaiah 58:7-10
Psalms 112:4-5, 6-7, 8-9
1 Corinthians 2:1-5
Matthew 5:13-16
The full text of the Scripture readings for this week and next week can be found here: http://www.usccb.org/
Click on the "Daily Readings" tab on the right hand side of the page.