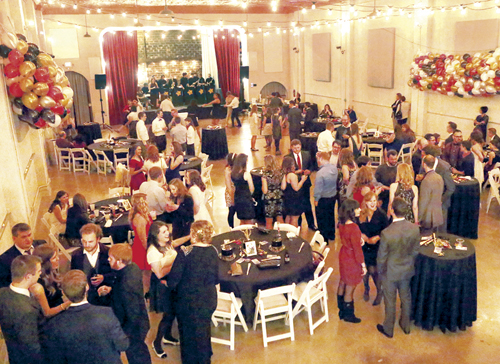 The Vox Theatre had an interesting crowd December 31. If you were there, you would have seen a motley mix of people in sparkling formal dresses and school band uniforms, suits and cassocks. But all were there to welcome the Year 2017 at City on a Hill's first ever New Year's Eve Gala.
The night featured live music from the 5 Star Jazz Band, dance lessons, a photo mirror booth and adult beverages, and allowed newcomers to Kansas City, long-term residents, and even those from Salina, Wichita and Jefferson City to mingle and build friendships in a Christian environment.
The doors opened at 7 p.m. and over 150 guests kept the party going past 1 a.m. At midnight, they toasted with glasses of champagne, sang Auld Lang Syne and popped hundreds of balloons in lieu of firecrackers.
Big events like these are offered by City on a Hill to welcome newcomers and area residents, even those who aren't active in the Church or belong to a particular faith.
"We want them to meet people, make friends, and get involved and go deeper into their faith because of these type of events," said Kristen Marquis, program coordinator for City on a Hill.
For more City on a Hill events, visit kansascityonahill.org or facebook.com/kansascityonahill.