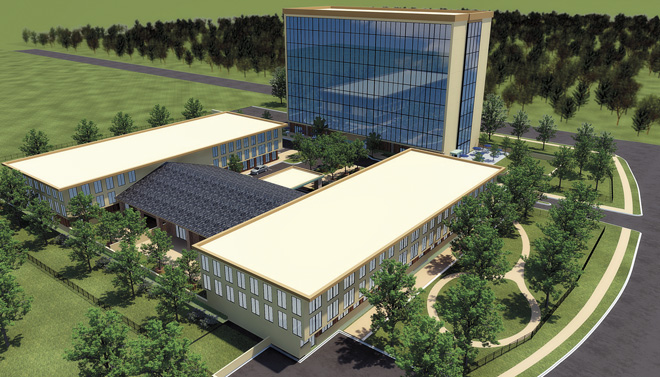 By Jack Smith
Catholic Key Editor
KANSAS CITY — Construction will soon begin on a new Catholic retirement community where seniors can live, play and pray together in Brookside. Located on 68th between Troost and Holmes, St. Anthony's – A Catholic Retirement Community – will be a moderately priced, gated community with a "resort-type feel."
The project seeks to offer a continuum of care so that seniors can "age in place." It includes 120 independent living units in a nine story tower, and 48 assisted living units and 54 memory care units in two separate three story buildings. Amenities include covered parking, fitness and wellness center, cafeteria and bistro, spa, chapel, dog park, community garden and social areas. There will also be a resident priest.
Developers Mark Ledom and his son, Matt Ledom have partnered with Catholic Charities of Kansas City – St. Joseph to create St. Anthony's as a way of "creating a better future for those who pioneered our past," Mark Ledom said.
Both Ledoms are active Catholics. Mark is a parishioner at Curé of Ars, where his wife is a teacher. He was the founding president of the Johnson County Serra Club, is a former board member of the St. Lawrence Catholic Center at KU and has provided leadership in numerous Catholic endeavors on the Kansas side. Matt is a parishioner at Redemptorist.
Many dioceses have Catholic retirement communities including Santa Marta in the Kansas Archdiocese, but there are none on the Missouri side. There are 22 Catholic churches within a seven-mile radius of St. Anthony's and there are currently no memory care units in the primary market area.
Mark Ledom says St. Anthony's is a way to reward the ones who built these parishes. "This is a way to keep them together at a moderately priced facility with a resort-type feel where they can live, play and pray together and not have to leave the neighborhoods they've lived in for 40-50 years."
"St. Anthony's opens a new opportunity for Catholic Charities to engage seniors in its programs and services either directly based on need or through activities including volunteerism," said Steve Hilliard, Executive Director of Catholic Charities Foundation of Kansas City – St. Joseph.
"In providing housing in this area, we can also honor the legacy of so many families who sustained the Catholic Faith in their parishes and neighborhoods," Hilliard said. "Working with the developer and parishes in the Diocese and surrounding areas, Catholic Charities can provide a distinctive and authentic Catholic presence and witness to all who live in the area."
St. Anthony's will have an advisory board composed of diocesan representatives, Catholic Charities personnel and clergy from neighboring parishes. While Catholic Charities is not financially invested in the project, they will receive a percentage of cash flow to assist qualified residents or for other charitable purposes.
"In addition to providing essential funds to Catholic Charities as this retirement community grows, it will also allow Catholic Charities to work with our pastors and parish leadership to meet the needs of their elderly population without losing a vital connection to parishes, the Catholic community at large and the neighborhoods that many have called home for generations," Hilliard said.
"With the rapid influx of the baby boomer generation into retirement, Catholic Charities through this partnership can help meet the needs of families with the unique challenges of a large aging population by maintaining in this Catholic development, a high quality of life along with minimal disruption for those who in their later years require affordable assisted care," he said.
Unlike many such communities, St. Anthony's will have no "buy-in" costs. All units are offered as open-ended leases. "This unique approach allows Catholic Charities as a pastoral partner in this community to not only provide a living witness of Christ's presence to all we serve but also to reduce the burden of retirement for both our seniors and their families without sacrificing quality or accessibility," Hilliard said.
While St. Anthony's is a Catholic community, it is open to all. About 40 percent of the residents of Santa Marta retirement community in Kansas are not Catholic, "but they have a need for that faith based community," Mark Ledom said. He believes the same would be the case for St. Anthony's.
The independent living tower is expected to open in summer of 2018, while the assisted living and memory care units will open fall of 2018.
Further information and rates will be available at www.stanthonyskc.com soon.