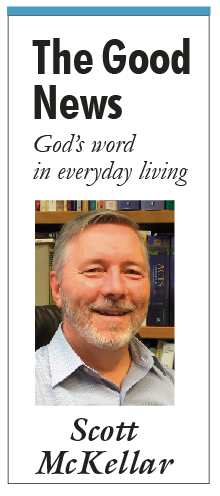 In this Sunday's Gospel reading the listener is confronted with several jarring sayings by Jesus. If someone insultingly strikes you on the right cheek, Jesus tells us, don't protest or strike them back, but instead offer them the other cheek as well. If someone demands that you give them your coat, do not resist, but instead give them all the rest of your clothes as well. Love not only those who show you love but love your enemies as well.
To grasp the significance of these sayings we must understand their context in Matthew's Gospel, which contains two of the most important summaries of Jesus teaching, the Beatitudes and the Lord's Prayer. These teachings are part of a long section we call the Sermon on the Mount.
Various approaches have been used to understand this material throughout human history. Because of the hard sayings we find here and the difficult moral demands they make, some have been tempted to ignore them. Jesus' teachings are delightful but completely impractical for our daily life.
In contrast with this, St. Augustine saw the Sermon on the Mount as a charter of the Christian life, or a compendium of the moral teachings of Christ in their perfection. St. Augustine also believed that these teachings are applicable to all Christians. The Beatitudes represent the journey of the human soul towards God. They can only be understood through an understanding of conversion. Later the petitions of the Lord's prayer will repeat these same teachings.
St. Thomas of Aquinas takes this a step further. He sees the Sermon as the charter of the New or Evangelical Law. Echoing St. Thomas, the Catechism notes, "The New Law is the grace of the Holy Spirit received by faith in Christ, operating through charity. It finds expression above all in the Lord's Sermon on the Mount and uses the sacraments to communicate grace to us" (CCC 1983).
Rather than a legal text which sees God as legislator, the New Law is the direct action of the Holy Spirit upon the hearts of the faithful. It is what St. Paul calls the life in the Spirit. It represents a conversion of our interior self which gives us grace to overcome weakness, to obtain God's light and to be strengthened to fulfill the life in the Spirit. Rather than a life of mere duty and superficial conformity to the law, we are now driven from within towards a new freedom to pursue God out of love.
As the Catechism points out, "From the Sermon on the Mount onwards, Jesus insists on conversion of heart" (CCC 2608). Presuming our interior conversion, Jesus then talks about facing persecution, and being a witness in the world. Jesus reminds his disciples that the New Law is not lawless, but a fulfillment and perfection of the Old Law (Matthew 5:18-19).
Jesus then discusses six specific applications of the New Law. In last Sunday's reading he talked about murder, adultery, divorce, and taking oaths. The New Law inspires us to live ever deeper perfections of the Christian life. We must avoid not just the act of murder but even murderous thoughts, we must avoid not just the act of adultery but even deliberate lustful thoughts. We are no longer driven by mere external compliance and duty, but now by the interior freedom of God's love.
This Sunday's reading now adds Jesus teaching on retaliation and loving our enemies. The desire for retaliation stems from the emotion of anger we naturally feel in response to injustice and shame. Quoting St. Thomas, the Catechism notes, "To desire vengeance in order to do evil to someone who should be punished is illicit," but it is praiseworthy to impose restitution "to correct vices and maintain justice" (CCC 2303).
Jesus gives his followers this puzzling teaching, ", . . .offer no resistance to one who is evil. When someone strikes you on [your] right cheek, turn the other one to him as well." (Matthew 5:38–39).
The 'eye for an eye' saying quotes typical Old Testament texts (Exodus. 21:24; Leviticus. 24:20; Deuteronomy 19:21) which attempt to ensure that punishments are proportional to the offence and that the honor of the person afflicted would be defended. Jesus proposes a radical principle of non-retaliation as a Gospel response.
In contrast with Old Testament legalism, the central message of the Gospel is to be a disciple of Jesus who is perfect as God is perfect (Matthew 5:48) or to imitate God who offers each of us mercy and forgiveness.
Although forgiveness involves a personal act of showing mercy is does not mean allowing one's self to be repeatedly victimized or giving up on justice. The Gospel calls us to forgive, but broken trust must be re-earned and legitimate justice may still be pursued.
Translating this individual ethic to the global level of nations, the Holy See unequivocally condemns all acts of terrorism, disapproves of the conditions of injustice, humiliation, reprisals and retaliation, and yet allows for proportionality in the use of legitimate means of defense.
Jesus' next example would seem to be a dramatic point. He notes, "If anyone wants to go to law with you over your tunic, hand him your cloak as well" (Matthew 5:40). For many poor people this would be every stich of their clothing. Despite the example of St. Francis at his conversion, Jesus is more likely suggesting a type of Gospel inspired radical detachment from earthly things.
In similar manner Jesus describes the of experience going 'the extra mile' in temporary mandatory service by the Romans (Matthew 5:41). Jesus advocates individual acts of mercy and generosity by his disciples.
Jesus also generously advocates, "Give to the one who asks of you, and do not turn your back on one who wants to borrow" (Matthew 5:42). This admonition even covers more difficult circumstances, "love your enemies, and pray for those who persecute you, that you may be children of your heavenly Father" (Matthew 5:44–45).
Being a disciple means being a child of the heavenly father, or being perfect as God is perfect. Jesus calls us to exercise forgiveness and mercy in our personal interactions with others. The call for mercy and forgiveness in 'the politics of Jesus' are played out in our individual personal encounters with others. Have we begun this journey? Have we experienced a profound, 'Yes' to Jesus that leads us to love even our enemies from our heart?
Scott McKellar is associate director of the Bishop Helmsing Institute.
Daily Scripture Readings
For complete daily Scripture texts, click here. http://www.usccb.org
Monday, February 20
Sirach 1:1-10
Psalms 93:1ab, 1cd-2, 5
Mark 9:14-29
Tuesday, February 21
Sirach 2:1-11
Psalms 37:3-4, 18-19, 27-28, 39-40
Mark 9:30-37
Wednesday, February 22
1 Peter 5:1-4
Psalms 23:1-3a, 4, 5, 6
Matthew 16:13-19
Thursday, February 23
Sirach 5:1-8
Psalms 1:1-2, 3, 4 & 6
Mark 9:41-50
Friday, February 24
Sirach 6:5-17
Psalms 119:12, 16, 18, 27, 34, 35
Mark 10:1-12
Saturday, February 25
Sirach 17:1-15
Psalms 103:13-14, 15-16, 17-18
Mark 10:13-16
Eighth Sunday in Ordinary Time, February 26
Isaiah 49:14-15
Psalms 62:2-3, 6-7, 8-9
1 Corinthians 4:1-5
Matthew 6:24-34
Monday, February 27
Sirach 17:20-24
Psalms 32:1-2, 5, 6, 7
Mark 10:17-27
Tuesday, February 28
Sirach 35:1-12
Psalms 50:5-6, 7-8, 14 & 23
Mark 10:28-31
Ash Wednesday, March 1
Joel 2:12-18
Psalms 51:3-4, 5-6ab, 12-13, 14 & 17
2 Corinthians 5:20—6:2
Matthew 6:1-6, 16-18
Thursday, March 2
Deuteronomy 30:15-20
Psalms 1:1-2, 3, 4 & 6
Luke 9:22-25
Friday, March 3
Isaiah 58:1-9a
Psalms 51:3-4, 5-6ab, 18-19
Matthew 9:14-15
Saturday, March 4
Isaiah 58:9b-14
Psalms 86:1-2, 3-4, 5-6
Luke 5:27-32
First Sunday of Lent, March 5
Genesis 2:7-9; 3:1-7
Psalms 51:3-4, 5-6, 12-13, 17
Romans 5:12-19 or
Romans 5:12, 17-19
Matthew 4:1-11
The full text of the Scripture readings for this week and next week can be found here: http://www.usccb.org/
Click on the "Daily Readings" tab on the right hand side of the page.