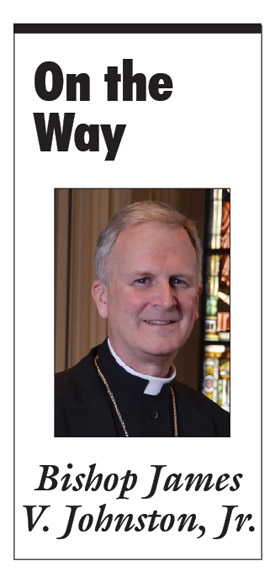 "We know that the law is spiritual, but I am carnal, sold under sin. I do not understand my own actions. For I do not do what I want, but I do the very thing I hate . . ." Romans 7:14-15
Many things could be said about the season of Lent which we began this Ash Wednesday, March 1st. Perhaps the most basic place to begin is that we are all broken, each and every one of us. We all experience disorder in ourselves that is a mystery. Saint Paul speaks for all of us, "I do not do what I want, but I do the very thing I hate." The Genesis story gives us some insight into our condition; hence the ashes on our foreheads. We are all affected by the power of sin—born as slaves.
Lent is the season to see this clearly, but also to stir us to a renewed hope and trust in God and his power to save us. We do this through repentance aided by prayer, fasting, and almsgiving. Like ancient Israel enslaved in Egypt, we are led to freedom by following the "new Moses", Jesus, who takes us through the desert for a time of testing and purification, and to encounter God in his mysteries, the sacraments. For this reason, Lent is also the season for the final preparations for our catechumens and candidates to prepare to receive the sacraments of initiation: baptism, confirmation, and Eucharist.
A temptation for many is to think of Lent as performing certain "practices." We can even think at times that we are having a "good" Lent by sticking faithfully to our practices. This is a mistake. The spiritual actions we undertake are not ends in themselves, but means to help us to an end—a deeper union with God. Only this makes for a good Lent.
I often like to say that we must be more "intentional" about being Christians. Without this intentionality, we drift into a complacency that eventually leads to lukewarmness and possibly a loss of faith. Lent is an alarm bell which urges us to respond to the offer of grace which is present now, and to be more intentional followers of Jesus Christ.
Let us begin. May these 40 days be a time for all of us to turn away from sin and believe in the Gospel.