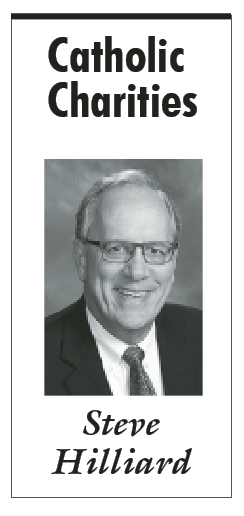 "Then the king will say to those on his right, 'Come, you who are blessed by my Father. Inherit the kingdom prepared for you from the foundation of the world. For I was hungry and you gave me food, I was thirsty and you gave me drink, a stranger and you welcomed me, naked and you clothed me, ill and you cared for me, in prison and you visited me.' Then the righteous will answer him and say, 'Lord, when did we see you hungry and feed you, or thirsty and give you drink? When did we see you a stranger and welcome you, or naked and clothe you? When did we see you ill or in prison, and visit you?' And the king will say to them in reply, 'Amen, I say to you, whatever you did for one of these least brothers of mine, you did for me.'" MT 25:34-40
This coming weekend on March 4, 2017, the St. Joseph MO offices of Catholic Charities will be dedicated in the memory of Deacon Martin J. Goedken. Deacon Goedken served as the director in NW Missouri for over 12 years and he served the Church in Northern Missouri with his wife Lisa for an even longer time.
Lisa Goedken shared with me recently that Deacon Goedken lived Matthew 25.  He considered his ministry at Catholic Charities as a privilege to live that Gospel passage. The soon to be 'Deacon Martin J. Goedken Memorial Center' houses a welcome center just as the office in Kansas City does. The Welcome Center is a place of charity where those who look for assistance and those who provide it can both experience charity.
In old English, the word charity had a unique sense, not just a definition. The word charity reflected a deeper meaning than simply giving help to someone. It was "Christian love of one's fellows." Note that there is no mention of economic conditions, no one particular direction of giving or intent but rather an implication of love of others by each other.
St. Augustine reminds us in his writings about the primacy of charity. He uses fasting as a familiar way to understand charity more fully. Fasting is a good practice throughout the year and in a special way during Lent, we often offer something up and refrain from it during Lent as a means of opening ourselves up to God's path for us to holiness.
St. Augustine speaks to fasting in this way. "All the endeavors for fasting are concerned not about the rejection of various foods as unclean, but about the subjugation of inordinate desire and the maintenance of neighborly love. Charity especially is guarded – food is subservient to charity, speech to charity, customs to charity, and facial expressions to charity. Everything works together for charity alone." (Augustine of Hippo, 354-430 AD – excerpt from Letter 243, 11.)
When we replace the word charity with its fuller meaning – love, St. Augustine reinforces St. Paul's admonition in 1 Corinthians 13:4-7, 13, "Love is patient, love is kind. It is not jealous, [love] is not pompous, it is not inflated, it is not rude, it does not seek its own interests, it is not quick-tempered, it does not brood over injury, it does not rejoice over wrongdoing but rejoices with the truth. It bears all things, believes all things, hopes all things, endures all things. Love never fails. […] So faith, hope, love remain, these three but the greatest of these is love."
Recently, two young women visited one of our Welcome Centers and told the receptionist that they were looking for clothing. They were both single mothers in their twenties. One of these young mothers had visited Catholic Charities before and was helping and encouraging the other. As both of their stories unfolded to our staff, they revealed a desire to make their families whole. Yes, food and clothing, a working cell phone and transportation would help but all of those needs became secondary when given the opportunity to experience healing through a healthy family relationship – a loving environment, a true and lasting expression of charity. They had faith that we cared enough to help, saw hope in our services to children and families and experienced love in their interaction with each other and the staff – the greatest act of charity.
Thank you Deacon Goedken for your charity – for your love of others. Please join us March 4th 10 a.m. at 1123 S. 10th Street, St. Joseph, MO for the dedication and blessing of the Deacon Martin J. Goedken Memorial Center at the St. Joseph Catholic Charities office. The office will remain open until 1 pm for tours.
Steve Hilliard is Executive Director of the Catholic Charities Foundation of Kansas City – St. Joseph.