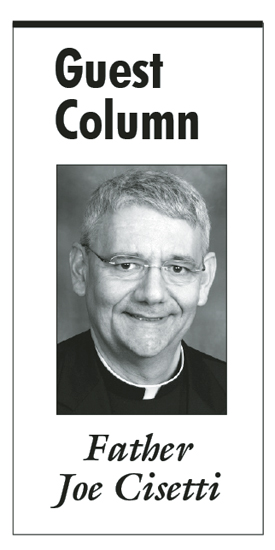 We have entered once again into the season of Lent. This is a forty day retreat we undertake as we prepare to renew our baptismal promises. Through acts of penance, through prayer, fasting and almsgiving, we seek to share more deeply in the Paschal Mystery of Jesus' death and resurrection. Why are we called to do penance? Here are a few reasons.
1–Because it is a divine command. The first words of Jesus in St. Mark's gospel are: Repent and believe in the gospel. That is something we heard as we received our ashes as Lent began. To do penance is a requirement of divine law. How we do that penance varies from person to person but it also finds some minimal communal expression in our days of fast (Ash Wednesday and Good Friday) and abstinence from meat (Ash Wednesday and Fridays in Lent).
A day of fasting in the mind of the Church refers to a day when one takes one full meal. Two lighter meals to maintain one's strength are permitted if those two together do not equal a separate meal. It is important to remember that our faith does not outlaw particular foods as clean or unclean. Rather, we abstain from meat on a few days as a communal exercise of penance, as members of a team.
To repent is to turn around and our acts of penance are meant to help us make that turn. To turn around towards God is something we are called to do every day and in every way. St. Leo the Great remarked that we should be doing penance all the time. We try to do it in a special way during Lent.
2–We do penance in an effort to right wrongs we may committed through our sins. We do not merit God's forgiveness by our penance that is God's gracious gift. However, part of being truly sorry (repentant) is a willingness to right the wrong that we have done in one way, shape or form. Thus, we do penance. Penance is not about earning the love of God but rather responding to God who first loved us. We also offer penance in reparation for those who cannot or will not do penance themselves. True penance becomes a type of prayer.
3–Penance allows us to create space for God to work whether that be in prayer, fasting of whatever sort and our almsgiving. We can look at penance as something dark and gloomy but it is helpful to consider it as doing what Father Timothy Gallagher describes as, "Small acts of courage that help us resist the urge to gratification." The goal of penance is not to lead us into darkness but into the light of Christ. Penance helps us to grow in self-control and self-gift.
Those who excel in sports, music, academics or any other aspect of life must practice much self-discipline. Think of what athletes do or for that matter, what sports fans undertake. Consider how early people line up outside a ticket office before a concert or a store when there is a sale. The passion with which they embrace some penances should challenge us.
4–Works of penance, undertaken for the right reason, offer us a small sharing in the passion of Christ. It is one way we can share in the cross of Christ and so come to share in his resurrection. Lenten penance in particular, prompts us to remember Jesus' forty days in the wilderness.
5–Penance allows us to see differently. There are many people who fast daily not because they are religious but because they have no other choice. What we occasionally undertake in modified form is what they do daily. Fasting can take many forms, from food, from television, from video games and many other activities. Simply put, penance can make us more compassionate and more grateful. Sometimes when we have less, we can be more. Pope Francis has remarked that when we get too comfortable, we can forget about others. Penance can open the eyes of our hearts to those around us and cause us to grow in compassion.
It is important to remember that penance can be accompanied by the demon of pride. Therefore, it requires greater interior humility. Perhaps that is one reason why Jesus encourages us to undertake acts of penance in such a way that others do not know what we are doing. If we can undertake certain penances, we are to be grateful for the ability to do so. If there are other penances we cannot undertake, that should spur us on to greater humility.
The wisdom of the Church insists that severe penances should never be undertaken without some spiritual guidance. Our acts of penance should also be in harmony with our state in life and not a penance for those around us. As St. Therese would remind us, the love with which we do something is greater than what we do. True penance will always be about growing in love and humility.
Penance is not just about giving something up but rather with lives of intentional faith, in ways both large and small, striving to put on the mind of Christ and letting his light in us and through us to others.
Father Joseph Cisetti is Pastor of St. Therese Parish, North.