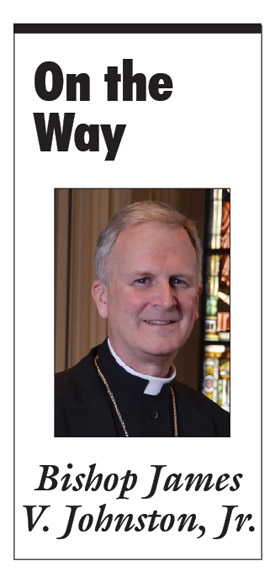 "Coming to his senses at last, he said: 'How many hired hands at my father's place have more than enough to eat, while here I am starving! I will break away and return to my father, and say to him, Father, I have sinned . . .'" Luke 15:17-18
This past week, our diocesan staff was led in a day of recollection by Father Donald Gibbs, O.S.B., a monk of Conception Abbey. During one of his talks, he asked each of us to think of our lives as a film, and then asked us which parts of our life we would choose to edit out if we were able to do so. In other words, going back, what would end up on the cutting room floor?
It's an interesting question. Most of us would think first of the stupidest mistakes we ever made, the foolish choices, sins, and bad decisions; but also the bad things that others did to us. Perhaps there was an unforeseen accident that caused great suffering, or an illness that debilitated us.
The point of the exercise was to reflect on the fact that we tend to want to include only the good things, like a pristine Facebook page full of great photos and happy experiences, and edit out the bad things. But, it is often the "bad stuff" that was the occasion for our most important encounters with God, much like the bad stuff in the parable of the Prodigal Son. Saint Paul even reflected on his former life of extreme hatred in a different light once he encountered Jesus and was converted. God's love and grace transforms and even uses the "bad stuff" for our good and the good of others.
The point is an important one. The bad things are not really good, they cause great pain, shame, and regret. But, the bad things are not the final word, they don't define us, especially if we have encountered Christ and his mercy. I often tell people sin is not the worst thing in the world; God can handle our sin—any sin. The worst thing in the world is to not turn to God with your sin, to despair, unrepentant or unforgiving. Sin has been defeated, and God's love can heal us of anything we've done or that others have done to us. God is also able to transform all of it into a pathway to redemption and life. Good news indeed!
As our "movie" continues to be produced, let us see all that has gone before in the light of knowing Christ, even the bad stuff.
---
Task Force for Immigrants and Refugees
Bishop Johnston wishes to announce that he has formed a diocesan task force for immigrants and refugees. Given the questions and concerns surrounding these issues, the task force will seek to provide accurate and timely information and advice to both the bishop and the pastors of the diocese. The task force membership is still in the process of being finalized, and more information will be forthcoming in the next edition of The Catholic Key.
---