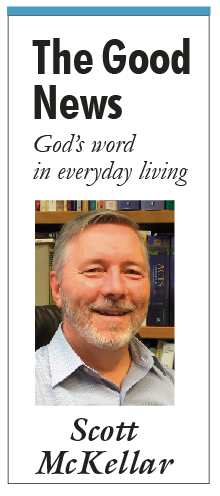 Although it might seem to some to be common sense, psychologists have identified a basic human need called a sense of belonging. Each of us is hard wired for connection and dependency on others. The opposite of a sense of belonging is the feeling of being excluded or being in social isolation. Sometimes an act of exclusion is motivated by a social or cultural norm, and sometimes it is based on something the person has done.
In this Sunday's Gospel, the story begins with an apparent chance meeting between Jesus and a woman at Jacob's well. Jesus observes the isolation of a Samaritan woman and reaches out to her to create a new sense of belonging for her. This woman was suffering from exclusion for several reasons, including her gender, her nationality, and her lifestyle.
Jesus could have ignored the woman and walked away but he chooses to initiate a conversation even though the circumstances were very awkward. It would be very unusual for a Jewish rabbi to allow himself to have a private conversation alone with a strange woman. Simply by speaking to her Jesus crosses this cultural barrier. Jesus then takes a step further, by asking her for a drink of water.
In the case of extreme need one might ask a strange woman for a drink, but the woman was also a Samaritan. The woman senses the social stigma and asks, "'How can you, a Jew, ask me, a Samaritan woman, for a drink?' (For Jews use nothing in common with Samaritans)" (John 4:9).
Although there was some debate among rabbis, many regarded the Samaritans as like the Gentiles who were thought to make one unclean. By initiating this conversation and even asking for a drink, Jesus communicates unexpected acceptance and validates her both as a woman and as a Samaritan.
A final barrier emerges when you consider that the woman came to the well alone and at noon. Culturally this signals the reader that the woman had been excluded by the other women in the village for reasons that become obvious later in this dialogue. Coming alone to the well may even have been considered flirtatious.
Making his own intensions clear, Jesus tells the woman "Go call your husband and come back." When she reports that she has no husband, Jesus reveals by prophetic knowledge that she has in fact had five husbands, and that the current man she is with, is not her husband (4:17). In this culture, her lifestyle would have earned her the reproach of her neighbors. Once again Jesus can accept this woman's experience in a way that draws her in, while at the same time calling her to a new path which leads to deeper truth and happiness.
Jesus promises her that he will give her living water to drink (4:10), that will become "a spring of water welling up to eternal life" (4:15). At first the woman does not understand but as the dialogue proceeds she begins to be spiritually curious and to seek answers to her own spiritual questions. She asks Jesus about her Samaritan traditions of worship.
Jesus creates puzzlement by claiming to be greater than their forefather Jacob and greater than the Samaritan holy sites. The living water that Jesus offers will remind the reader of being "born of water" in Jesus' dialogue with Nicodemus earlier in John 3:5. It is very likely that this was understood as a reference to baptism by the later Johannine community.
Beginning with her own religious experience, the woman questions Jesus. Samaritans worship on a different mountain than the Jews who worship in Jerusalem. What is the true way to worship God?
Jesus then begins a deeper inner dialogue about the nature of true worship. In his short reply to her question, Jesus mentions 'worship' seven times. He describes a new kind of worship which is coming at a future hour and yet is already present. While the Samaritans worship 'what they do not understand', the Jews worship 'what they do understand' and are the source of salvation. But in this coming hour 'true' worshipers will worship the Father 'in spirit and truth' (4:23-24).
The term 'in spirit and truth' (4:23-24) is a single idea in Greek, and appears the fourth time 'worship' is mentioned. This highlights the expression 'in spirit and truth' at the center of Jesus' talk as the most important idea in this section. Those who worship God already will be led by the Gospel to worship him as Father in a new level of intimacy. By understanding Jesus' unique sonship they will be enlightened by the Spirit of Truth who will lead the disciples into all truth (15:26, 16:13).
The modern mind jumps to understand that Jesus is somehow contrasting external ritual worship with some notion of interior 'heart' worship. It is highly unlikely that this is what John has in mind since it is not the common Jewish understanding of Jesus' time. In fact, although it may quickly come to mind today, no one ever thought this way before the 17th century.
Ancient tradition interprets the phrase 'in spirit and truth' as referring respectively to the Holy Spirit and to Jesus understood as Truth incarnate. The Spirit will inaugurate a new age or kingdom which will continue after Jesus departs from this earth. This is the good news which Jesus proclaimed.
Hearing Jesus' message the woman is converted. She leaves her water jar at the well and returns to the village to invite others to come and meet Jesus. She asks, "Could he possibly be the Messiah?" (4:29).
Pope Francis cites the Samaritan woman's story as evidence that each one of us, regardless of our background, needs to be a missionary disciple (Evangelii gaudium, 120). Pope Francis notes that "Every Christian is challenged, here and now, to be actively engaged in evangelization" (EG, 120). Every disciple is by nature a missionary disciple.
Imagine the impact we would have this week if each of us reached out to just one person who is marginalized and communicated loving acceptance and validated them as a person. Perhaps this would build a bridge that would allow us to discuss their spiritual questions and to present to them the good news that has changed our life.
Scott McKellar is associate director of the Bishop Helmsing Institute.
Daily Scripture Readings
For complete daily Scripture texts, click here: http://www.usccb.org
Solemnity of St. Joseph
Monday, March 20
2 Samuel 7:4-5a, 12-14a, 16
Psalms 89:2-3, 4-5, 27 & 29
Romans 4:13, 16-18, 22
Matthew 1:16, 18-21, 24a
or Luke 2:41-51a
Tuesday, March 21
Daniel 3:25, 34-43
Psalms 25:4-5ab, 6 & 7bc, 8-9
Matthew 18:21-35
Wednesday, March 22
Deuteronomy 4:1, 5-9
Psalms 147:12-13, 15-16, 19-20
Matthew 5:17-19
Thursday, March 23
Jeremiah 7:23-28
Psalms 95:1-2, 6-7, 8-9
Luke 11:14-23
Friday, March 24
Hosea 14:2-10
Psalms 81:6c-8a, 8bc-9, 10-11ab, 14 &17
Mark 12:28-34
Solemnity of the Annunciation of the Lord, Saturday, March 25
Isaiah 7:10-14; 8:10
Psalms 40:7-8a, 8b-9, 10, 11
Hebrews 10:4-10
Luke 1:26-38
Fourth Sunday of Lent, March 26
1 Samuel 16:1b, 6-7, 10-13a
Psalms 23: 1-3a, 3b-4, 5, 6
Ephesians 5:8-14
John 9:1-41
Monday, March 27
Isaiah 65:17-21
Psalms 30:2, 4, 5-6, 11-12a & 13b
John 4:43-54
Tuesday, March 28
Ezekiel 47:1-9, 12
Psalms 46:2-3, 5-6, 8-9
John 5:1-16
Wednesday, March 29
Isaiah 49:8-15
Psalms 145:8-9, 13cd-14, 17-18
John 5:17-30
Thursday, March 30
Exodus 32:7-14
Psalms 106:19-20, 21-22, 23
John 5:31-47
Friday, March 31
Wisdom 2:1a, 12-22
Psalms 34:17-18, 19-20, 21 & 23
John 7:1-2, 10, 25-30
Saturday, April 1
Jeremiah 11:18-20
Psalms 7:2-3, 9bc-10, 11-12
John 7:40-53
Fifth Sunday of Lent, April 2
Ezekiel 37:12-14
Psalms 130:1-2, 3-4, 5-6, 7-8
Romans 8:8-11
John 11:1-45
The full text of the Scripture readings for this week and next week can be found here: http://www.usccb.org/
Click on the "Daily Readings" tab on the right hand side of the page.