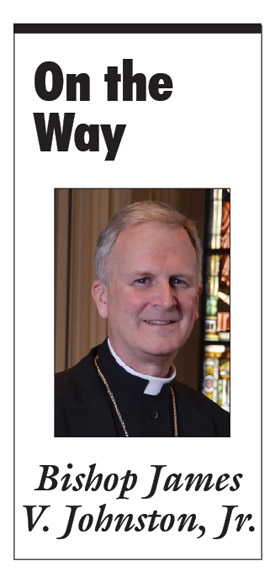 "Behold, your mother!" John 19:27
Dear Friends in Christ,
One of the hidden and dangerous temptations of the Christian life is to think we can manage on our own, and call upon God only when we need reinforcements. It's probably a combination of pride, hubris, and simple forgetfulness. There are several "patron saints" for this condition. Here are a couple of them: Saint Peter, who famously said to Jesus, "Even if I must die with you, I will not deny you" (Mt 26:35); and Saint Martha, who was "anxious and troubled about many things," while overlooking the "one thing necessary" (cf. Lk 10: 41-42).
Jesus was under no illusions about how weak we all are, knowing the zeal of the enemy to divide and destroy us, going so far as to reassure Saint Peter and the other apostles: "Simon, Simon, behold, Satan demanded to have you, that he might sift you like wheat, but I have prayed for you that your faith may not fail; and when you have turned again, strengthen your brethren" (Lk 22:31-32). Saint Paul adds in his letter to the Ephesians, "For we are not contending against flesh and blood, but against the principalities, against the powers, against the world rulers of this present darkness, against the spiritual hosts of wickedness in the heavenly places" (Eph 6:12).
If this sounds scary, it should, but we should not give in to fear if we trust in God and follow his commands. First, we must remain "in Christ." We do this by allowing him to remain in us. This is principally realized through the faith-filled reception of the sacraments, especially Reconciliation and the Holy Eucharist. Similarly, we remain in Christ by living the moral life laid out for us by his Church so as not to break our communion with Jesus. We also follow the words of Saint Paul in the sentences immediately following the quote above from Ephesians: "Therefore take the whole armor of God, that you may be able to withstand in the evil day . . ." (v. 13). He goes on to be specific about what is included in the "armor of God" in the verses that follow.
Another gift from Jesus to help us in the spiritual battle is something, or rather someone, we can easily overlook: his Mother, the Mother of the Church (our Mother), Mary. Throughout the liturgical year, the mystery of the Mother of God is set before us to contemplate. In God's wisdom and choice, he entrusted his eternally begotten Son to Mary of Nazareth, and Jesus entrusted us to her as members of his mystical Body: "Behold, your mother!" (Jn 19:27). Throughout two thousand years of Christian history, Mary has been the special advocate, powerful intercessor, and protector of Christians against the devil and the spiritual hosts of wickedness. Her heart is also turned to the many who do not yet know her Son and still live without the guiding light of Christ.
This year, 2017, marks the 100th anniversary of the apparitions of Mary to the three shepherd children at Fatima in Portugal. The Catholic Church confirmed that these supernatural events are worthy of acceptance by the faithful (although they add nothing to Divine Revelation which concluded with the death of the last apostle). The secrets that Mary revealed to the children at Fatima served to be prophetic for the century that followed. Mary's plea was for humanity to turn back to God in faith, repentance, and prayer (especially the Holy Rosary) for mercy and peace. To refuse would mean disaster in this life, and possibly hell in the next. She also specifically predicted the Second World War and the rise of atheistic Communism and the errors it would spread throughout the world, including the persecution of the Church and an assault on the dignity of the human person.
As your bishop, I am often reminded that my labors, and yours, in service of the Kingdom of God are inadequate. To trust in our own efforts alone is to set ourselves up to be "sifted" by the devil. We should not see our lives merely as something we create on our own. We need supernatural help—individually and as a diocese. That is why I have decided that I will consecrate our diocese to the Immaculate Heart of Mary on the anniversary of the first appearance of Mary at Fatima, this May 13, 2017. As the Father entrusted his Son to the Heart of Mary, so we will entrust ourselves as his members, the Church of Kansas City-St. Joseph, to the Heart of Mary. In doing this, we will ask Mary to be our help to never be separated from the Sacred Heart of her Son, and that our lives and work, like hers, will always be aligned with God's holy will.
I will consecrate our diocese, and I intend for our pastors to lead all of our faithful in these prayers of consecration in all of our parishes. In the weeks that follow, I will provide more information and guidance on how we might all prepare as individuals, as families, and as a diocese.
In a simple sense, to "consecrate" something is to set it apart for a holy purpose. As we journey through our time in history, we do so as a people of hope, confident in the love of Christ. As his disciples, let us follow his example and always rest on the heart of Mary.
Sincerely yours in Christ,
+ James V. Johnston, Jr.
Bishop of Kansas City-St. Joseph