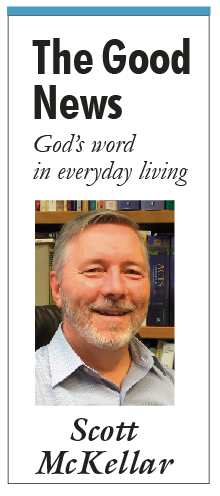 Some things, or qualities are such an essential part of something else, we can't imagine having one without the other. Try to imagine baseball without a bat, schools without students, or a book without any words or pictures.
On Easter Sunday, we celebrate the resurrection of Jesus from the dead. In our modern world, we might be tempted to side step this truth. There are many who will happily see Jesus as a merely great human teacher or as a good moral example, perhaps even as some kind of prophet. Yet it is much more challenging to say that Jesus offered himself in love for my personal sins. Jesus died and rose again from the dead to save me.
Jesus gradually revealed himself to be the Son of God, who would sacrifice himself in love, on the cross. He is not merely a good teacher or compelling example. Without the resurrection, as St. Paul says our faith in Jesus is a useless fantasy. "If Christ has not been raised," St. Paul writes, "your faith is futile and you are still in your sins" (1 Corinthians 15:17).
As part of the whole Pascal mystery of Christ's suffering, death, resurrection and ascension into glory, the resurrection is crucial. There is no gospel without it, no forgiveness, no church. One writer has rightly characterized our four Gospels as "passion narratives with introductions." The resurrection is the whole point of the gospel story.
St. John's account of the resurrection begins "on the first day of the week" or what later came to be known as 'the Lord's day,' or the day Jesus rose from the dead. Mary Magdalene came to Jesus' tomb very early in the morning while it was still dark and discovered that the stone had been rolled away. At first, she feared that someone had stolen his body.
Mary ran to find Peter and 'the disciple Jesus loved' (likely John) and reported to them, "They have taken the Lord out of the tomb, and we do not know where they have laid him" (John 20:2). Peter and John both ran to the tomb, but John ran faster. Arriving first to the tomb, he looked in, but allowed Peter to enter first.
Jesus had promised earlier that he had the power to lay down his life and then to take it up again (John 10:17-18) and the disciples had just witnessed the miracle of raising Lazarus from the dead (John 11:44). The differences between Jesus and Lazarus become apparent when the disciples looked inside the tomb. They "saw the linen cloths lying, and the napkin, which had been on his head, not lying with the linen cloths but rolled up in a place by itself" (John 20:6–7).
In a clear contrast with Lazarus who came out of the tomb with "his hands and feet bound with bandages, and his face wrapped with a cloth" (John 11:44), the linens in Jesus tomb were left behind without Jesus' body. The head-cloth was triumphantly "rolled up in a place by itself."
We can note two things about this description. First the neat and orderly description rules out immediately any thought of grave robbers. They would never have taken the time to neatly unwrap a corpse, and leave the bandages behind.
Secondly there is a clear contrast with Lazarus earlier. Jesus did not need anyone to unloose him. The passive verbs describing the stone being "removed" (20:1) and the face cloth being "rolled up" (20:7) seem to imply divine intervention.
The description of the linens hints of a miraculous event, as if Jesus simply passed through the wrappings leaving them behind. Later that day Jesus will pass through a locked door in miraculous manner so that he might appear to the disciples and then impart the Holy Spirit to them (John 20:19).
It is interesting to look at the different responses of faith displayed by the various people in this chapter of John. St. John "saw and believed" when he entered the tomb (20:8). We are not told what Peter's reaction was at this point. Mary Magdalene is not persuaded by the linens or later even by the appearance of two angels (20:12). It is only a personal encounter with Jesus in which he says her name, "Mary," that her faith finally awakens (20:16).
Clearly St. John hints that it is vital to our faith to know the Scripture (20:9) and to have a personal relationship with Jesus (20:16), a relationship that can be created and maintained even now through prayer. As Jesus notes, "Blessed are those who have not seen and yet believe" (John 20:29).
The National Directory of Catechesis notes that "Faith involves a profound change of mind and heart" or a conversion which "is the acceptance of a personal relationship with Christ, a sincere adherence to him, and a willingness to conform one's life to his" (NDC 48). For many of us, the journey towards full resurrection faith follows the path of first trust, then curiosity, and openness, before genuine seeking. There is no timeline because each heart is different.
What if each one of us committed ourselves to read the Scripture and pray this week, to cultivate a personal relationship with Jesus? Like the first disciples we can cultivate the soil of our hearts by spending time with our Lord. Like St. John we too can "see and believe." Like Mary Magdalene we can listen and hear the Lord lovingly speak our name.
Scott McKellar is associate director of the Bishop Helmsing Institute.
Daily Scripture Readings
For complete daily Scripture texts, click here. http://www.usccb.org
Monday, April 10
Isaiah 42:1-7
Psalms 27:1, 2, 3, 13-14
John 12:1-11
Tuesday, April 11
Isaiah 49:1-6
Psalms 71:1-2, 3-4a, 5ab-6ab, 15 & 17
John 13:21-33, 36-38
Wednesday, April 12
Isaiah 50:4-9a
Psalms 69:8-10, 21-22, 31 & 33-34
Matthew 26:14-25
Holy Thursday, April 13
Exodus 12:1-8, 11-14
Psalms 116:12-13, 15-16bc, 17-18
1 Corinthians 11:23-26
John 13:1-15
Good Friday, April 14
Isaiah 52:13—53:12
Psalms 31:2, 6, 12-13, 15-16, 17, 25
Hebrews 4:14-16; 5:7-9
John 18:1—19:42
Holy Saturday, April 15
Easter Vigil
Genesis 1:1—2:2
Psalms 104:1-2, 5-6, 10, 12, 13-14, 24, 35 or Psalms 33:4-5, 6-7, 12-13, 20 & 22
Reading 2 Genesis 22:1-18
Psalms 16:5, 8, 9-10, 11
Reading 3 Exodus 14:15—15:1
Exodus 15:1-2, 3-4, 5-6, 17-18
Reading 4 Isaiah 54:5-14
Psalms 30:2, 4, 5-6, 11-12, 13
Reading 5 Isaiah 55:1-11
Isaiah 12:2-3, 4, 5-6
Reading 6 Baruch 3:9-15, 32c4:4
Psalms 19:8, 9, 10, 11
Reading 7 Ezekiel 36:16-17a, 18-28
Psalms 42:3, 5; 43:3, 4
Romans 6:3-11
Psalms 118:1-2, 16-17, 22-23
Matthew 28:1-10
The Resurrection of the Lord
Easter Sunday, April 16
Acts 10:34a, 37-43
Psalms 118:1-2, 16-17, 22-23
Colossians 3:1-4 or
1 Corinthians 5:6b-8
John 20:1-9 or Matthew 28:1-10
Monday, April 17
Acts 2:14, 22-33
Psalms 16:1-2a & 5, 7-8, 9-10, 11
Matthew 28:8-15
Tuesday, April 18
Acts 2:36-41
Psalms 33:4-5, 18-19, 20 & 22
John 20:11-18
Wednesday, April 19
Acts 3:1-10
Psalms 105:1-2, 3-4, 6-7, 8-9
Luke 24:13-35
Thursday, April 20
Acts 3:11-26
Psalms 8:2ab and 5, 6-7, 8-9
Luke 24:35-48
Friday, April 21
Acts 4:1-12
Psalms 118:1-2 & 4, 22-24, 25-27a
John 21:1-14
Saturday, April 22
Acts 4:13-21
Psalms 118:1 & 14-15ab, 16-18, 19-21
Mark 16:9-15
Second Sunday of Easter, April 23
Acts 2:42-47
Psalms 118:2-4, 13-15, 22-24
1 Peter 1:3-9
John 20:19-31
The full text of the Scripture readings for this week and next week can be found here: http://www.usccb.org/
Click on the "Daily Readings" tab on the right hand side of the page.