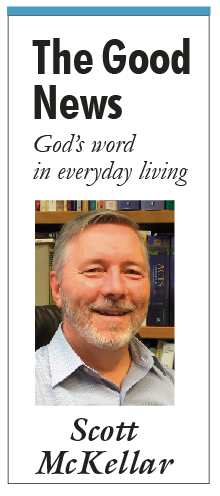 If Easter is the big idea of the Gospels, in this Sunday's reading we discover the purpose for the resurrection.
Miraculously passing through a locked door, Jesus greeted the ten disciples present saying, "Peace be with you. As the Father has sent me, so I send you" (John 20:21). It would be easy to miss how this language is the culmination of Jesus teaching thus far in John's Gospel.
As John narrates the life of Jesus, he tells us about two years of Jesus' ministry which transitions to a slow agonizing journey to Jerusalem culminating in Jesus' passion and death. The narrative slows as John describes the 'day' of Preparation (John 19:14, 31) which will be the day Jesus dies. Finally, John narrates the long awaited 'hour' of Jesus' death. Jesus' act of sending the disciples is the culmination of his ministry.
Jesus is using the normal language of discipleship and succession that would be expected in his culture. Culturally as a rabbi or master Jesus would have disciples who would naturally succeed him in his ministry and later gather disciples themselves.
In this expected pattern, Jesus himself would have been the disciple of an older rabbi. Curiously this is not the case with Jesus. Instead Jesus identifies himself as the son and his master as God the Father.
Earlier in John chapter five, Jesus notes, "a son cannot do anything on his own, but only what he sees his father doing" (Jn. 5:19). Jesus is imitating God as father like a faithful disciple. Several verses later he notes, "For just as the Father raises the dead and gives life, so also does the Son give life to whomever he wishes" (Jn. 5:21).
Jesus notes, "For just as the Father has life in himself, so also he gave to his Son the possession of life in himself" (Jn. 5:26). One can see a repeating pattern—Just as the Father does/says . . . so the Son does/says—by which Jesus reveals that He is intentionally imitating His Father. Later in John's Gospel the pattern is extended to those who would succeed him:
As the Father loves me, so I also love you. Remain in my love… This is my commandment: love one another as I love you. No one has greater love than this, to lay down one's life for one's friends. You are my friends if you do what I command you. (Jn. 15:9, 12-14)
The earlier pattern has been expanded to, "As the Father does/says . . . So now you disciples must do/say." Jesus' listeners would not have been surprised to learn that Jesus' disciples must take up his ministry in imitation of their master Jesus. Later St. Paul will admonish his disciple Timothy, "What you have heard from me before many witnesses entrust to faithful men who will be able to teach others also" (2 Timothy 2:2).
In the final stages of his ministry Jesus takes his disciples into a deeper stage of intimacy and even for the first time calls them "friends" (John. 15:14). He expects them to become faithful imitators of His own mission and ministry (John. 20:21-23).
Jesus commissions and sends the disciples to be his faithful successors. "As the Father has sent me, so I send you" (John 20:21). This is followed by a special outpouring of the Spirit and an empowering for service. "And when he had said this, he breathed on them and said to them, 'Receive the holy Spirit. Whose sins you forgive are forgiven them, and whose sins you retain are retained.'" (John 20:22–23).
The coming of the Spirit in John's Gospel is intended to be a substitute or replacement of sorts for the physical presence of Jesus who is about to ascend to his place beside the Father. We must not think of Jesus only symbolically promising the Spirit here. Nor is this John's version of a general Pentecost, such as we see later in Acts 2. This view was condemned at the Council of Constantinople. Instead this is an empowerment of his disciples to be his faithful successors and to be minsters of forgiveness in what would later become the developed Sacrament of Penance (CCC 1446-7).
Jesus' intimate circle of disciples receives the power and authority to administer sacramental forgiveness and to lead the community Jesus established through them. This is what we confess when we say that the Church is apostolic.
As the Catechism reminds us the Church is apostolic in three ways. It is founded on the apostles who are "chosen and sent on mission by Jesus himself." "With the help of the Spirit dwelling in her, the Church keeps and hands on the teaching of Jesus given to the Apostles," and finally the Church "continues to be taught, sanctified, and guided by the apostles until Christ's return, through their successors in pastoral office: the college of bishops, 'assisted by priests, in union with the successor of Peter, the Church's supreme pastor'" (CCC 857).
While each one of us is called to a common priesthood in Christ, we are not all called to be priests (CCC 1141-43). What is common to all is the call to personal holiness and to missionary discipleship. As the Apostle Paul admonishes the Corinthians, "Be imitators of me, as I am of Christ" (1 Corinthians 11:1).
Scott McKellar is associate director of the Bishop Helmsing Institute.
Daily Scripture Readings
For complete daily Scripture texts, click here. http://www.usccb.org
Monday, April 24
Acts 4:23-31
Psalms 2:1-3, 4-7a, 7b-9
John 3:1-8
Tuesday, April 25
1 Peter 5:5b-14
Psalms 89:2-3, 6-7, 16-17
Mark 16:15-20
Wednesday, April 26
Acts 5:17-26
Psalms 34:2-3, 4-5, 6-7, 8-9
John 3:16-21
Thursday, April 27
Acts 5:27-33
Psalms 34:2 & 9, 17-18, 19-20
John 3:31-36
Friday, April 28
Acts 5:34-42
Psalms 27:1, 4, 13-14
John 6:1-15
Saturday, April 29
Acts 6:1-7
Psalms 33:1-2, 4-5, 18-19
John 6:16-21
Third Sunday of Easter, April 30
Acts 2:14, 22-33
Psalms 16:1-2, 5, 7-8, 9-10, 11
1 Peter 1:17-21
Luke 24:13-35
Monday, May 1
Acts 6:8-15
Psalms 119:23-24, 26-27, 29-30
John 6:22-29
Tuesday, May 2
Acts 7:51—8:1a
Psalms 31:3cd-4, 6 and 7b & 8a, 17 &21ab
John 6:30-35
Wednesday, May 3
1 Corinthians 15:1-8
Psalms 19:2-3, 4-5
John 14:6-14
Thursday, May 4
Acts 8:26-40
Psalms 66:8-9, 16-17, 20
John 6:44-51
Friday, May 5
Acts 9:1-20
Psalms 117:1BC, 2
John 6:52-59
Saturday, May 6
Acts 9:31-42
Psalms 116:12-13, 14-15, 16-17
John 6:60-69
Fourth Sunday of Easter, May 7
Acts 2:14a, 36-41
Psalms 23: 1-3a, 3b4, 5, 6
1 Peter 2:20b-25
John 10:1-10
The full text of the Scripture readings for this week and next week can be found here: http://www.usccb.org/
Click on the "Daily Readings" tab on the right hand side of the page.