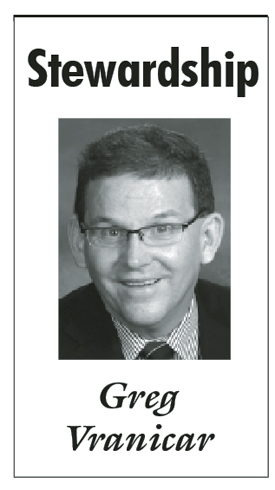 Since June 2002, my job of Planned Giving Director has allowed me to interact with literally thousands of donors to encourage "ultimate gifts." These gifts are more than writing a check or raising one's hand at a charity auction (not to put down any form of giving, as all giving expresses gratitude). Planned gifts usually require more deliberation, often of a professional.  In all the cases noted below, except those where the donor has given explicit permission, I disguise the donor's identity. If possible, prayerfully consider how the stories apply to you and motivate you to do your own ultimate gift. Yours need not be large – any gift is appreciated. The key factor in all giving is a donor responding to a special cause in a special way. Believe me, you can do it.
Nelson Gipson
Literally a couple days before her client's death in 2009, an attorney called to see how to properly name St. Bridget's Parish in Pleasant Hill. She stated she was in a hurry to have her elderly client sign his will. Indeed, two days later Nelson Gipson passed away before I could meet him but after he properly finished his will. Unknown to anyone else in the small town where he lived his entire life, he left over $1.7 Million for charity: about $1.1 Million for scholarships to his alma mater, Kansas University, a nice gift to the local African-American Historical Society and over $400,000 to St. Bridget Parish. Nelson played the organ for St. Bridget for over 40 years, so he was always at Sunday Mass.  However, he was so quiet and reserved that many say, including his former pastors, that he just came and went without anyone knowing he had been there. His portrait now hangs in the entrance of St. Bridget for all to see.
Bob and Jane
Bob and Jane raised ten children all of whom were educated in their Catholic School in Kansas City. Bob saw an ad about charitable gift annuities and inquired. This type of gift resembles a savings account but pays greatly enhanced income much of which is tax-free because the balance left in the account passes to the charities of the donor(s)' choice at death.  Over the years, I was invited into Bob and Jane's home many times as they completed seven separate two-life, survivor gift annuities.  We shared memories of vacation photos, love for the outdoors, and their wide array of friends.  Bob grew so fond of gift annuities that he once confided, "Have them call me if they have any questions," meaning he would endorse gift annuities whole-heartedly. Bob has gone on to his reward, but Jane survives. Upon her passing, the gifts ultimately will benefit their parish, its Emergency Assistance Center, school, Catholic Charities, and a special Catholic volunteer agency.
Msgr. Henry Bauer and Rosemarie Bauer
I have been blessed to work with many generous priests. Msgr. Henry Bauer and his "Sis" Rosemarie, often hosted me at their home. He was full of stories, as a long-time retired priest in his 80's.  He was beloved by the parishes where he served and well known for wonderful preaching.  I treasured my time with him and Sis on their back porch. I sometimes had difficulty getting to the office on time, as they had so many photos of their travels. Msgr. Bauer died first and "Sis" continued to receive generous income from the joint annuities.  At Sis' death, the gift annuities paid out over $120,000, most of it for the Diocese's greatest need, seminarian education. Many of our current priests and all of us benefitted from these gifts. In addition to this giving, the Bauers established an endowed donor advised fund to give perpetually to their favorite ministries. Indeed Msgr. Bauer and Sis blessed our Diocese while they lived and left a legacy at their death.
Ethel Schurman
Ethel Schurman made a large gift at her death to St. Sabina Parish in Belton. I met Ethel only once and learned that she "made a deal" with a fellow widow friend in Wisconsin. The two would pool their charity assets and the survivor would benefit their respective parishes equally on the death of the second to die.  Ethel outlived her friend and she had significant assets.  St. Sabina Parish and her friend's parish in Wisconsin each received very nice gifts from the "deal." Ethel's niece was even motivated to make a gift in her aunt's honor.
"Chief" of the East Bottoms
Finally, I offer the story of "Chief" who lived in the East Bottoms of Kansas City, not an area known for giving (except possibly panhandling!). Chief was a junk dealer, but with a reputation for fairness. At age 85, he set up an impactful gift for Catholic Charities to help pregnant women and their children when the mothers were unable to cope. We met several times over coffee. Chief confided, "I helped raise a daughter when a mother handed me her baby who was about three months old."  The mother was financially unable to care for the child (and this was not the only one that Chief said he helped). Chief created a crib out of a dresser drawer using blankets for bedding.  With the help of his own mother and the East Bottoms community for over 10 years, Chief raised this "baby." On the morning of his death, I was called to visit Chief in the hospital to pay last respects. Before leaving, I explained in an adjacent waiting room to a small group of other visitors the reason for my visit. One of the adult women in the room stood up and said, "I am the three-month old baby."  Imagine my utter amazement!
Conclusion
I thank the people of Northwest Missouri for enriching my life. You are the true heroes of planned giving!  My advice: get in touch with your gratitude, seek out a professional adviser, and find a way to favor your favorite charity in whatever way you can. It's never too late to call the planned giving director and describe your passion. Indeed, I believe you can be the next Nelson, Bob and Jane, Msgr. Henry/Rosemarie Bauer, Ethel Schurman, or Chief. You will be forever blessed and we will honor you like we honor them!
Greg Vranicar joined the Diocese as planned giving director in 2002 after a legal career. He plans to retire in June.