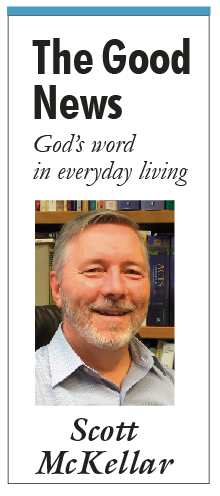 Have you ever experienced deep feelings of loneliness? Two recent surveys of Americans indicate that about 40 percent of people report significant issues with loneliness and social isolation in their daily lives. Although the average person has over 200 "friends" on Facebook, these superficial interactions do not lead to genuine feelings of connection between people. It is possible to be lonely in a room full of people.
To feel supported, and socially connected we need a few quality relationships that meet our needs. One saint who has talked a lot about friendship is St. Augustine. In his view friendship is based on unselfish love. St. Augustine could not think of anything that would bring us more happiness than genuine friendship.
Earlier in John's Gospel, Jesus talks about his own friendship with the Father noting that he is not alone because of his relationship with the Father (John 8:16, 21). Jesus then calls the disciples his "friends" (John 15:14-15) and notes that he will not leave them as orphans (John 14:18) but will send them the Spirit to comfort them. The promised coming of the Spirit at Pentecost is about a deeper relationship with God. The coming of the Spirit is primarily about knowing God, and being transformed by his presence.
In our readings for Sunday we have two separate outpourings of the Spirit (John 20, Acts 2, CCC 1287). The first in John 20, was a specific empowerment for the apostles. As the Fathers of the second Vatican Council note, "the apostles were enriched by Christ with a special outpouring of the Holy Spirit coming upon them, (Cf. Acts 1:8, 2:4, Jn. 20:22–23.) and they passed on this spiritual gift to their helpers by the imposition of hands, (Cf. 1 Tim. 4:14; 2 Tim. 1:6–7) and it has been transmitted down to us in Episcopal consecration (Lumen gentium 21)."
The Pentecost event in Acts 2, represents a different outpouring of the Spirit which is for all Christians. Quoting the prophet Joel, St. Peter's sermon emphasizes that this new outpouring of the Spirit is the fulfillment of earlier Jewish expectations.
The 'promised' Spirit would be poured out 'on all flesh' (Acts 2:17, Joel 3:1). No longer would only a few individuals experience the intimacy of God's abiding presence, every Christian would be filled with the Holy Spirit. The miracle of tongues described in this event, recalls that people from every part of the ancient world could understand the message of the Apostles. No one is excluded.
In this new covenant of God's grace, every disciple is intended to be transformed in Christ through the stages of an inner surrender to Christ. Each disciple must make Christ the center of their life, then they must grow in this initial knowledge of God. Finally, they must learn to serve God as a missionary disciple. The Spirit is involved in each of these stages. We might outline these three stages as: To Know Christ, To Grow in Christ and To Serve Christ.
Is it possible to know God the way we know our human friends? St. Teresa of Avila notes, "Mental prayer in my opinion is nothing else than an intimate sharing between friends; it means taking time frequently to be alone with Him who we know loves us." (Life).
What does it mean to know God? Our initial knowledge of God in Christ is not a mere acceptance of a creedal statement, but is a life transforming event. We can no longer sit at Jesus' feet or look into Jesus' eyes. We know him now through the Spirit, in his Word, in intimate prayer and through the Sacraments.
St. Paul notes, "Indeed I count everything as loss because of the surpassing worth of knowing Christ Jesus my Lord" (Philippians 3:8). He also notes, "I have been crucified with Christ; it is no longer I who live, but Christ who lives in me" (Galatians 2: 20). We must put Christ at the center of our life. As the Catechism reminds us, "More intense prayer should prepare one to receive the strength and graces of the Holy Spirit with docility and readiness to act" (CCC 1310).
Just as with a human friendship, to grow in Christ's friendship we must be committed to spending time with him. While a human friendship may begin out of admiration or intrigue with sharing our life with someone, it will not progress far if we show no ongoing commitment to them. Friendship requires a growing trust, as well as sincerity and frankness. As we enter into someone's life as a friend we are also entering the community of their other friends as well. These factors also apply to our growth in Christ.
Finally, we are meant not to just enjoy this intimacy and perhaps to become some kind of clique, but to share it with others. We have all been called to be missionary disciples. Pope Francis notes, "In virtue of their baptism, all the members of the People of God have become missionary disciples (cf. Mt 28:19)" (EG 120).
We need to know God, to grow in Christ and then to serve our brothers and sisters and all those we encounter.
Imagine the joy and peace we could experience as a friend of Jesus. Each of us is called to imitate Jesus in his friendship with the world. He will transform us with his grace and create the capacity for genuine friendship with God and with those around us. No one is left out. Each of us has been invited into his arms.
Scott McKellar is associate director of the Office of Discipleship and Faith Formation.
Daily Scripture Readings
For complete daily Scripture texts, click here. http://www.usccb.org
Monday, June 5
Tobit 1:3; 2:1a-8
Psalms 112:1b-2, 3b-4, 5-6
Mark 12:1-12
Tuesday, June 6
Tobit 2:9-14
Psalms 112:1-2, 7-8, 9
Mark 12:13-17
Wednesday, June 7
Tobit 3:1-11a, 16-17a
Psalms 25:2-3, 4-5ab, 6 & 7bc, 8-9
Mark 12:18-27
Thursday, June 8
Tobit 6:10-11; 7:1bcde, 9-17; 8:4-9a
Psalms 128:1-2, 3, 4-5
Mark 12:28-34
Friday, June 9
Tobit 11:5-17
Psalms 146:1b-2, 6c-7, 8-9a, 9bc-10
Mark 12:35-37
Saturday, June 10
Tobit 12:1, 5-15, 20
Tobit 13:2, 6efgh, 7, 8
Mark 12:38-44
Solemnity of the Most Holy Trinity, Sunday, June 11
Exodus 34:4b-6, 8-9
Daniel 3:52, 53, 54, 55, 56
2 Corinthians 13:11-13
John 3:16-18
Monday, June 12
2 Corinthians1:1-7
Psalms 34:2-3, 4-5, 6-7, 8-9
Matthew 5:1-12
Tuesday, June 13
2 Corinthians 1:18-22
Psalms 119:129, 130, 131, 132, 133, 135
Matthew 5:13-16
Wednesday, June 14
2 Corinthians 3:4-11
Psalms 99:5, 6, 7, 8, 9
Matthew 5:17-19
Thursday, June 15
2 Corinthians 3:15—4:1, 3-6
Psalms 85:9ab & 10, 11-12, 13-14
Matthew 5:20-26
Friday, June 16
2 Corinthians 4:7-15
Psalms 116:10-11, 15-16, 17-18
Matthew 5:27-32
Saturday, June 17
2 Corinthians 5:14-21
Psalms 103:1-2, 3-4, 9-10, 11-12
Matthew 5:33-37
Solemnity of the Body and Blood of Christ,
Sunday, June 18
Deuteronomy 8:2-3, 14b-16a
Psalms 147:12-13, 14-15, 19-20
1 Corinthians 10:16-17
John 6:51-58
The full text of the Scripture readings for this week and next week can be found here: http://www.usccb.org/
Click on the "Daily Readings" tab on the right hand side of the page.