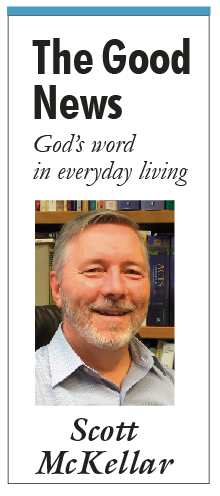 It begins as a very private act. One person realizes the depth of their affection for another person and reveals their heart to this person saying, "I love you." In that quiet moment of intimacy, they hope that their beloved will reply with the same words. What begins as a private act soon becomes public with an announcement of an engagement, and finally a joyful and very public celebration of a marriage.
In the Church, this quiet m oment of intimacy occurs during the reception of the Holy Eucharist. St. Paul notes, "The cup of blessing that we bless, is it not a participation in the blood of Christ? The bread that we break, is it not a participation in the body of Christ? Because the loaf of bread is one, we, though many, are one body, for we all partake of the one loaf" (1 Corinthians 10:16–17).
The word our lectionary translates 'participation' (Gr. koinnia) can also be translated 'fellowship' or even 'communion.' The word has a general meaning of 'sharing something in common with someone.'
Our 'participation' in the Holy Eucharist is a communion both with the other members of the body of Christ and most profoundly with Christ himself. We are eating and drinking of his very Body, Blood, soul and divinity. By consuming him, we become (for a time) one with his Real Presence. As Jesus notes in today's Gospel, "I am the living bread that came down from heaven; whoever eats this bread will live forever; and the bread that I will give is my flesh for the life of the world" (John 6:51).
The 12th century Belgian Saint and visionary St. Juliana of Liège cultivated an ardent love and devotion for the Body and Blood of Christ from an early age. She believed that God had given her a vision about the need for a feast in honor of the Blessed Sacrament. The Church was persuaded by her love, and a new feast was established in honor of the Blessed Sacrament. In the Dioceses of the United States the solemnity is celebrated the Sunday after Trinity Sunday. This feast is an echo of Holy Thursday and often includes a Eucharistic procession.
As we approach this solemnity and honor Christ's presence in the Blessed Sacrament it is well to keep one other thought in mind. Echoing the fathers of Second Vatican Council, the Catechism reminds us:
"'The sacred liturgy does not exhaust the entire activity of the Church': [SC 9] it must be preceded by evangelization, faith, and conversion. It can then produce its fruits in the lives of the faithful: new life in the Spirit, involvement in the mission of the Church, and service to her unity." (CCC 1072).
One has only to realize how many steps or stages must take place in between casually meeting someone, later falling in love, then finally agreeing to marry, to see that a love for Jesus in the Blessed Sacrament is a process. Our liturgy "must be preceded by evangelization, faith, and conversion."
The ancient Church practiced something called the disciplina arcani which meant that Mass had two parts. The first part, a liturgy of the Word, was open to anyone who wished to attend, but the second part of the Mass, or the liturgy of Eucharist, was closed and only those who had already experienced baptism and conversion were permitted to attend.
The first part of the Mass featured an unabashed scriptural homily calling for the conversion of those present who had not yet been baptized. Then there was a general dismissal of all who were yet unbaptized before the beginning of the Eucharist proper.
In the fourth century, young St. Augustine was converted by the preaching of St. Ambrose of Milan during repeated visits to Ambrose's homilies. We no longer practice the discipline of a general dismissal of the unbaptized, but surely the first part of the Mass should still be directed to helping those who attend to achieve a personal commitment to Christ.  In the spirit of the New Evangelization the homily must also gently challenge the values of our secular culture when they conflict with the Gospel but we must do so in a manner which does not alienate our listeners. This should be a gentle portrayal of both truth and human freedom and be aimed at the heart. Our first goal is always conversion.
In one version of the dismissal in the concluding rites of the Mass, the deacon admonishes the congregation with the words, "Go and announce the Gospel of the Lord." We are sent out into the midst of the world to proclaim the good news. We are reminded of our common sacred calling to ensure that our liturgy must be preceded by evangelization, faith, and conversion.
Imagine how contagious our love would be if, in our ardent love and devotion for the Body and Blood of Christ, we introduced our Beloved to our friends and neighbors. Like the woman at the well we would enthusiastically tell everyone we meet, "Come see a man who told me everything I have done. Could he possibly be the Messiah?" (John 4:29).
Scott McKellar is associate director of the Office of Discipleship and Faith Formation.
Daily Scripture Readings
For complete daily Scripture texts, click here. http://www.usccb.org
Monday, June 19
2 Corinthians 6:1-10
Psalms 98:1, 2b, 3ab, 3cd-4
Matthew 5:38-42
Tuesday, June 20
2 Corinthians 8:1-9
Psalms 146:2, 5-6ab, 6c-7, 8-9a
Matthew 5:43-48
Wednesday, June 21
2 Corinthians 9:6-11
Psalms 112:1bc-2, 3-4, 9
Matthew 6:1-6, 16-18
Thursday, June 22
2 Corinthians 11:1-11
Psalms 111:1b-2, 3-4, 7-8
Matthew 6:7-15
Solemnity of Most Sacred Heart of Jesus, Friday, June 23
Deuteronomy 7:6-11
Psalms 103:1-2, 3-4, 6-7, 8, 10
1 John 4:7-16
Matthew 11:25-30
Nativity of Saint John the Baptist, Saturday, June 24
Isaiah 49:1-6
Psalms 139:1b-3, 13-14ab, 14c-15
Acts 13:22-26
Luke 1:57-66, 80
Twelfth Sunday in Ordinary Time, June 25
Jeremiah 20:10-13
Psalm 69:8-10, 14, 17, 33-35
Romans 5:12-15
Matthew 10:26-33
Monday, June 26
Genesis 12:1-9
Psalms 33:12-13, 18-19, 20 & 22
Matthew 7:1-5
Tuesday, June 27
Genesis 13:2, 5-18
Psalms 15:2-3a, 3bc-4ab, 5
Matthew 7:6, 12-14
Wednesday, June 28
Genesis 15:1-12, 17-18
Psalms 105:1-2, 3-4, 6-7, 8-9
Matthew 7:15-20
Solemnity of Saints Peter and Paul, Thursday, June 29
Acts 12:1-11
Psalms 34:2-3, 4-5, 6-7, 8-9
2 Timothy 4:6-8, 17-18
Matthew 16:13-19
Friday, June 30
Genesis 17:1, 9-10, 15-22
Psalms 128:1-2, 3, 4-5
Matthew 8:1-4
Saturday, July 1
Genesis 8:1-15
Luke 1:46-47, 48-49, 50 & 53, 54-55
Matthew 8:5-17
Thirteenth Sunday in Ordinary Time, July 2
2 Kings 4:8-11, 14-16a
Psalms 89:2-3, 16-17, 18-19
Romans 6:3-4, 8-11
Matthew 10:37-42
Monday, July 3
Ephesians 2:19-22
Psalms 117:1bc, 2
John 20:24-29
Tuesday, July 4
Genesis 19:15-29
Psalms 26:2-3, 9-10, 11-12
Matthew 8:23-27
Wednesday, July 5
Genesis 21:5, 8-20a
Psalms 34:7-8, 10-11, 12-13
Matthew 8:28-34
Thursday, July 6
Genesis 22:1b-19
Psalms 115:1-2, 3-4, 5-6, 8-9
Matthew 9:1-8
Friday, July 7
Genesis 23:1-4, 19; 24:1-8, 62-67
Psalms 106:1b-2, 3-4a, 4b-5
Matthew 9:9-13
Saturday, July 8
Genesis 27:1-5, 15-29
Psalms 135:1b-2, 3-4, 5-6
Matthew 9:14-17
Fourteenth Sunday in Ordinary Time, July 9
Zechariah 9:9-10
Psalms 145:1-2, 8-9, 10-11, 13-14
Romans 8:9, 11-13
Matthew 11:25-30
The full text of the Scripture readings for this week and next week can be found here: http://www.usccb.org/
Click on the "Daily Readings" tab on the right hand side of the page.