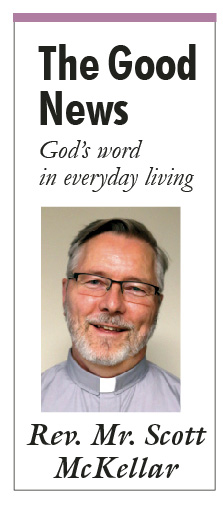 This Sunday's Gospel is the very familiar parable of the Sower. In this parable, Jesus uses common agricultural practices to make a point about the yield expected from seed that is sown in a field. Many years ago, my first undergraduate degree was in agriculture and I can assure you that for any farmer growing field crops, 'yield' is the whole point of planting the crop. We plant seed in hope that it will multiply abundantly and give us a good harvest.
In a purely urban setting, we are more accustomed to hearing the word 'yield' from investment brokers and bankers, but the principle is the same. We hear about good investments, bad investments and perhaps about risk levels.
In Jesus' parable of the sower the desired yield is disciples and the principle Jesus highlights here is that of spiritual multiplication. We can learn several things about discipleship and spiritual multiplication from this passage. The parable assumes the ancient practice of sowing first then cultivating the seed into the soil. This method requires spreading the seed everywhere generously. Everyone is invited to be a disciple and no one is excluded from Jesus' call.
The parable also teaches us that to be a true disciple one must germinate, grow and bear fruit. Disciples need to be genuine and authentic. In the world of discipleship to germinate is to be converted. Jesus distinguished true conversion from a superficial encounter that misses the heart. The seed which falls on the path is quickly eaten up by birds so that it does not germinate (Matthew 13:4). Jesus notes that "Other seeds fell on rocky ground, where they did not have much soil, and they sprang up quickly, since they had no depth of soil. But when the sun rose, they were scorched; and since they had no root, they withered away" (Matthew 13:5-6). Yet other seeds were choked by thorns (Matthew 13:7).
True conversion first involves the decision to put Jesus at the center of one's life and to enter a vital relationship with him. Discipleship begins with conversion, and in Jesus' parable this is the seed which falls on good soil. Like the necessities to grow a crop, disciples also need good soil, water, and sunlight. To produce the proper yield, disciples must go through all the stages of growth.
The gift of conversion initiates us into friendship with God. But this relationship needs to be cultivated for it to grow. At a minimum, the disciple needs things such as daily mental prayer, frequent meditation on Sacred Scripture, and frequent participation in the sacraments to grow and nurture their relationship with God. One should also point out that field crops grow surrounded by other plants which offer support as the plant grows.
One might say by analogy that disciples grow in faithfulness and in spiritual friendship with other disciples. Recently Curtis Martin, the founder of FOCUS ministries, pointed out that intimacy with God and authentic friendship are two vital habits which must take place before spiritual multiplication can occur.
The yield of spiritual multiplication is not just an increase of disciples, but something more like compound interest. Martin notes that spiritual multiplication is living intimacy with God and authentic friendship in such a way that we pass on the same way of life to a few other disciples who in turn will pass it on to others. The yield in Jesus' parable was one hundred-fold, or sixty-fold or thirty-fold (Matthew 13:8).
Using spiritual multiplication one disciple trains three more who each in turn disciple three more each, who in turn each disciple three more. If this worked out mathematically in the space of 19 cycles one could reach everyone in the country, while in 21 cycles every person in the world would be a disciple. The use of these numbers might be greeted with some cynicism, since Christians have obviously never achieved these dramatic results. Yet the underlying principle is still highly effective. As St. Paul admonished Timothy, "And what you have heard from me before many witnesses entrust to faithful men who will be able to teach others also" (2 Timothy 2:2).
What we need to understand is that this is the 'method' modeled by the Master. This is the method modeled by Jesus and used by the early disciples to grow from just twelve disciples to transforming the Roman Empire in a few hundred years. The crucial point is that people must move from being merely faithful to being fruitful. Each generation of disciples needs to disciple others and multiply the harvest.
Imagine the change what would occur if we shifted our inward focus from being merely faithful to an outward focus on being faithful and fruitful. Let us consider the Holy Father's prayer intention for July, "Let us pray that our brothers and sisters who have strayed from the faith, through our prayer and witness to the Gospel, may rediscover the beauty of the Christian life."
Deacon Scott McKellar is associate director of the Office of Discipleship and Faith Formation.
Daily Scripture Readings
For complete daily Scripture texts, click here: http://www.usccb.org
Monday, July 17
Exodus 1:8-14, 22
Psalms 124:1b-3, 4-6, 7-8
Matthew 10:34—11:1
Tuesday, July 18
Exodus 2:1-15a
Psalms 69:3, 14, 30-31, 33-34
Matthew 11:20-24
Wednesday, July 19
Exodus 3:1-6, 9-12
Psalms 103:1b-2, 3-4, 6-7
Matthew 11:25-27
Thursday, July 20
Exodus 3:13-20
Psalms 105:1 & 5, 8-9, 24-25, 26-27
Matthew 11:28-30
Friday, July 21
Exodus 11:10—12:14
Psalms 116:12-13, 15 & 16bc, 17-18
Matthew 12:1-8
Saturday, July 22
Song of Songs 3:1-4b
or 2 Corinthians 5:14-17
Psalms 63:2, 3-4, 5-6, 8-9
John 20:1-2, 11-18
Sixteenth Sunday in Ordinary Time, July 23
Wisdom 12:13, 16-19
Psalms 86:5-6, 9-10, 15-16
Romans 8:26-27
Matthew 13:24-43
or Matthew 13:24-30
Monday, July 24
Exodus 14:5-18
Exodus 15:1bc-2, 3-4, 5-6
Matthew 12:38-42
Tuesday, July 25
2 Corinthians 4:7-15
Psalms 126:1bc-2ab, 2cd-3, 4-5, 6
Matthew 20:20-28
Wednesday, July 26
Exodus 16:1-5, 9-15
Psalms 78:18-19, 23-24, 25-26, 27-28
Matthew 13:1-9
Thursday, July 27
Exodus 19:1-2, 9-11, 16-20b
Daniel 3:52, 53, 54, 55, 56
Matthew 13:10-17
Friday, July 28
Exodus 20:1-17
Psalms 19:8, 9, 10, 11
Matthew 13:18-23
Saturday, July 29
Exodus 24:3-8
Psalms 50:1b-2, 5-6, 14-15
John 11:19-27
or Luke 10:38-42
Seventeenth Sunday in Ordinary Time, July 30
1 Kings 3:5, 7-12
Psalms 119:57, 72, 76-77, 127-128, 129-130
Romans 8:28-30
Matthew 13:44-52
or Matthew 13:44-46
The full text of the Scripture readings for this week and next week can be found here: http://www.usccb.org/
Click on the "Daily Readings" tab on the right hand side of the page.