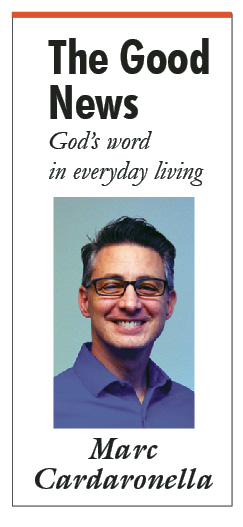 What would it take for you to get out of the boat?
This Sunday's reading from Matthew's Gospel is the familiar story of Peter walking on water. You know the scene. The apostles are crossing Lake Gennesaret and are a few miles out from shore. It's a rough crossing. Their small fishing boat, sailing against the wind, is "being tossed about by the waves" (Matthew 14:24).
Then, Jesus shows up, walking on water (that's just like Jesus, isn't it?). Obviously, this was the last thing they expected to see. The text says they were "terrified." They thought he was a ghost. Jesus reassures them that it's really him and tells them not to be afraid. Peter, who's so brash he'll even challenge a ghost, gives him a test.
"Peter said to him in reply, 'Lord, if it is you, command me to come to you on the water.' He [Jesus] said, 'Come'" (Matthew 14:27-29).
And Peter did something incredibly brave, or maybe incredibly stupid. He got out of the boat.
At first he walked on water too. But then he doubted. Everything was so crazy. The wind, the waves…the water UNDER HIS FEET! He sank. Jesus saved him, but also gave him a little rebuke, "O you of little faith, why did you doubt?"
Then comes the interesting part. "After they got into the boat, the wind died down. Those who were in the boat did him homage, saying, 'Truly, you are the Son of God'" (Matthew 14:32-33).
Have you ever wondered what the other disciples were thinking when Jesus chastised Peter for a lack of faith? They didn't even try to get out of the boat. Talk about a lack! For Peter it was enough to see Jesus. He believed, acted on it, and supernaturally defied the laws of physics. For the others, it took a lot more.
So the question again, what would it take for you to get out of the boat? How great is your faith? How lacking?
There's a certain element of decision involved with faith. The Catechism of the Catholic Church says faith is "both a gift of God and a human act by which the believer gives personal adherence to God who invites his response, and freely assents to the whole truth that God has revealed." Because belief in God is a supernatural act, it requires God's help to do it. The "gift of God" part is the grace that gives you the capacity to believe. But just because you have that supernatural capacity, it doesn't necessarily mean you will actually believe. There's also the "human act," the decision to believe that is necessary to faith.
From the beginning, humanity was created to be in union with God. We lost that union because our first parents sinned and became mired in a pit of unrealized supernatural potential. We are so much more happy and fulfilled, so much more full of joy when united with God. So, he assumed our human nature to restore that union. Jesus Christ gave his life on the cross to redeem us and allow us once again to draw life from an intimate encounter with himself. This is the great treasure we're offered through connection with Jesus in Baptism. God continually invites us, all of us, to reap the bounty of life in union with him. But we have to choose it.
Faith is a response to this invitation, a personal decision to align yourself with God and receive his life. Accepting this invitation allows the Holy Spirit to move in your thoughts and guide your actions. You become a different person led by the Spirit of God to think, judge, and act like him. Accepting this invitation leads to conversion and change. Not because you have to, but because you want to. You've become a different person and it's great! Once you experience it, you never want anything else again.
Unfortunately, the truth is many Catholics don't fully experience this reality. They were never made aware of this invitation to new life or given the opportunity to choose Christ as a life decision. Consequently, the Spirit doesn't live in their thoughts or guide their actions. He doesn't give them comfort in times of trial or lead them along a path of fulfillment. They lead lives of unrealized supernatural potential—baptized but not converted, not changed. Christianity for them is just a set of rules that should just be obeyed. Why? They don't know…just because. They live life pretty much like the rest of the world—making choices by what feels right, living from their own emotional energy, and every now and then praying when something goes wrong. It is a life of quiet Christian desperation.
Getting out of the boat means believing Jesus is who he says he is, the God who knows our human condition with all its trials, and is there anyway. It means trusting that through the wind and the waves, you can walk on water when united with him. It means knowing he's transcended the natural and is capable of providing supernatural calm to you, and the lake, when waters are rough. It means knowing you can grab his hand and walk by his power when you aren't able to walk on your own. It is real faith–a decision to be on Jesus' side, to allow his Spirit to change you, and to let him move in you. It is real Christian life.
Will you to get out of the boat?
Marc Cardaronella is director of the Office of Discipleship and Faith Formation.
Daily Scripture Readings
For complete daily Scripture texts, click here. http://www.usccb.org
Monday, August 14
Deuteronomy 10:12-22
Psalms 147:12-13, 14-15, 19-20
Matthew 17:22-27
Solemnity of the Assumption of the Blessed Virgin Mary
Tuesday, August 15
Revelation 11:19a; 12:1-6a, 10ab
Psalms 45:10, 11, 12, 16
1 Corinthians 15:20-27
Luke 1:39-56
Wednesday, August 16
Deutereonomy 34:1-12
Psalms 66:1-3a, 5 and 8, 16-17
Matthew 18:15-20
Thursday, August 17
Joshua 3:7-10a, 11, 13-17
Psalms 114:1-2, 3-4, 5-6
Matthew 18:21–19:1
Friday, August 18
Joshua 24:1-13
Psalms 136:1-3, 16-18, 21-22 & 24
Matthew 19:3-12
Saturday, August 19
Joshua 24:14-29
Psalms 16:1-2a & 5, 7-8, 11
Matthew 19:13-15
Twentieth Sunday in Ordinary Time, August 20
Isaiah 56:1, 6-7
Psalms 67:2-3, 5, 6, 8
Romans 11:13-15, 29-32
Matthew 15:21-28
Monday, August 21
Judges 2:11-19
Psalms 106:34-35, 36-37, 39-40, 43ab & 44
Matthew 19:16-22
Tuesday, August 22
Judges 6:11-24a
Psalms 85:9, 11-12, 13-14
Matthew 19:23-30
Wednesday, August 23
Judges 9:6-15
Psalms 21:2-3, 4-5, 6-7
Matthew 20:1-16
Thursday, August 24
Revelation 21:9b-14
Psalms 145:10-11, 12-13, 17-18
John 1:45-51
Friday, August 25
Ruth 1:1, 3-6, 14b-16, 22
Psalms 146:5-6ab, 6c-7, 8-9a, 9bc-10
Matthew 22:34-40
Saturday, August 26
Ruth 2:1-3, 8-11; 4:13-17
Psalms 128:1b-2, 3, 4, 5
Matthew 23:1-12
Twenty-first Sunday in Ordinary Time, August 27
Isaiah 22:19-23
Psalms 138:1-2, 2-3, 6, 8
Romans 11:33-36
Matthew 16:13-20
The full text of the Scripture readings for this week and next week can be found here: http://www.usccb.org/
Click on the "Daily Readings" tab on the right hand side of the page.