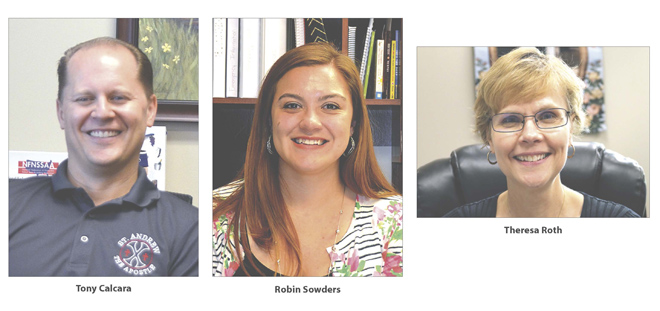 By Marty Denzer and Megan Marley
The Diocese of Kansas City – St. Joseph welcomes five new elementary principals this year. They are:
Tony Calcara
Kansas City born and raised; Rockhurst University graduate; married; four children; loves teaching and finds this an exciting time to be a diocesan educator. Tony Calcara was hired as principal of St. Andrew the Apostle School in March.
He graduated from Rockhurst in 2004 with a double degree in Secondary Education and Political Science, then taught several years at St. Pius X High School before working almost 20 years in the private sector. He is interested in leadership and management and reads all he can about great leaders.
When he heard about the principal opening at St. Andrew's, he jumped at the chance. His two older children attended St. Andrew's and his two younger attend it now. Close to home and his administrative and educational skills would again be used in a faith-based institution.
St. Andrew's pastor, Father Vince Rogers, told him his first job would be to make sure the students go to heaven through strong faith formation. St. Andrew's students attend Mass regularly. The school also offers Catechesis of the Good Shepherd Levels 1, 2, and 3 for the lower grades.
Calcara views Middle School as high school prep and the students as young adults. They are expected to behave and be accountable for their actions. The middle school will be involved in newsletters, yearbook and student council. Eighth graders are the leaders and need to act as such, Calcara said.
His first weeks focused on learning what parents wanted and expected for their kids.
Programs include: K – 5 chess club, Latin and Spanish clubs, Math Counts competitions and sports after school and on weekends.
He's hired eight new teachers and works on developing camaraderie among them, leading to trust and better communication between them and with school families.
Robin Sowders
"My parents gave me the gift of Catholic education," said Robin Sowders, principal of St. John Francis Regis School, "and God led me here."
She attended St. Elizabeth's School and graduated from Bishop Miege High School. She started in nursing at William Jewel College in Liberty but switched to education, graduating with a degree in elementary education, and was hired by Our Lady of Guadalupe School. She later earned a degree in Education Administration.
"Grade school students are like sponges," she said, "absorbing and growing in knowledge, community and in Christ."
She taught at Our Lady of Guadalupe for four years, until it closed in May 2016. Sowders was hired by St. Regis to teach second grade. When the principal position opened, she was encouraged to apply, and thrilled when she was offered the job.
"It's exciting to be a principal, to feed off the energy and excitement of the teachers, and be able to see the year's goals for the whole school, not just your classroom."
She wants St. Regis to thrive. Now that Archbishop O'Hara High School next door has closed, "we're on our own; it's an opportunity to individualize ourselves."
She is implementing Eureka Math, a program that is "very rigorous and will meet some of our Iowa Assessment needs;" Playwell, a Lego Steam program; specials including twice weekly art classes and music — church music, choir and band. The eighth graders will assist with the yearbook. Sowders plans to connect with alums to let them know that "St. Regis is still here and thriving."
Theresa Roth
Theresa Roth graduated from Truman State University in Kirksville with a Political Science degree, intending to go to law school. Life and love intervened, with marriage and children.
"I fell in love with teaching when I fell in love with my children's insatiable curiosity," she said. The family moved to Parkville 29 years ago, and joined St. Therese Parish. As her kids grew and started school at St. Therese, Theresa began volunteering in the library, later subbing in the computer lab.
She also earned a bachelor's in Elementary Education from Park University, and later her master's in Educational Administration, also from Park. She taught second grade for nine years at St. Therese.
How does it feel to be the principal? Very natural, she said. As the oldest girl in a Catholic family of 10 children, she is used to caring for and overseeing lots of children. "Teaching is a life-giving profession," she added.
As principal she can be in any classroom, any time: view the whole picture, see the amazing things everyone is doing and learning and see the lightbulbs go off in the students' eyes.
In-place programs are expanding, especially Project Lead the Way, a K – 8 STEM curriculum designed by the Missouri University of Science and Technology in Rolla. The curriculum offers basic engineering classes so students can find solutions to real world problems through analytical thinking and collaboration.
Becky Evans
Becky Evans, principal of St. James School in St. Joseph, proudly comes from a long line of educators. Growing up in Leavenworth, Kan., she watched both grandmothers and her mother embrace and love teaching. Evans and her sister are both teachers.
"My heart is definitely with teaching," she said.
After graduating from college, she taught English and journalism to high school students. "I felt I made an impact on my students through communication." As a principal, Evans hopes to make a larger impact on both students and teachers. With seven first-year teachers under her wing, as well as about 200 students, she considers the teachers her students as well.
"I tell teachers that building stability in the classroom is a must; through flexibility, honesty with both students and their parents, and being able to laugh with students."
Communication is important when working with school families. Evans, "a mom of three," believes that "what is best for my children is what I want for all children." Catholic education, she said, teaches children to live with dignity, charity and love, and to get to heaven.
In addition to recent upgrades in K – 2 reading and school wide math curriculums and specials in music, art, library, technology and physical education, there is a new French program and choir.
"I will work to increase enrollment through strong faith formation and family involvement," Evans said, and the school is moving toward the Classical Education model.
She believes relationships are as important as curriculums. "We need to build trust, to be comfortable with each other, and that works with students also."
Kaci Monaghan
Though it's her first year as a principal, Kaci Monaghan is quite familiar with the St. Patrick School family in North Kansas City.
"I've been a teacher for 15 years, and I taught here for five years, as the middle school language arts teacher," Monaghan said.
"It gives me an advantage: I know the kids, I know the families, I know the staff. It makes it easy for people to trust me, they already know how I work and what my personality's like — it makes the transition a little bit easier."
Before St. Patrick, Monaghan had experience teaching 2nd grade in Maysville, and middle school language arts at public schools in Excelsior Springs. She received a master's degree in Education Administration from William Woods University in 2010. Now taking on this new position, Principal Monaghan draws from her years of experience and takes inspiration from her own middle school principal.
"He always made you feel good when you were there: he acknowledged everybody, he really built up your self-esteem, and just did a really good job in building community in the school," Monaghan said. "I admired that so much, his attitude and his positivity. So I thought one day, that's what I'd want to do. I try to keep in mind as I've been working here, how important that principal was to me and that's what I want to be for the kids." She added, "I'm excited this year; there are a lot of new principals in the diocese, and so we've gotten to know each other and have been able to bond a little bit. I can call them up and ask 'how are you doing this' or 'what does this mean' and we really have each other to rely on. That's been super helpful."