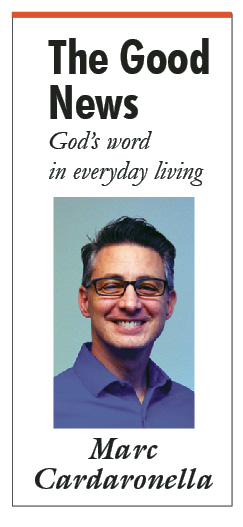 This week's gospel presents us with a familiar story. Jesus tells Peter he must forgive transgressions, not seven, but seventy times seven times, which essentially means without limit. Forgive, forgive, and then…forgive some more. Why? Because you've been forgiven. A lot. Do you know how much?
There's something in this story that I always missed. Something that's easy to miss, and I didn't catch it until I researched this article. However, it makes all the difference in understanding this passage and what it means for our spiritual lives. It has to do with talents.
The Kingdom of Heaven is like…
In the gospel, Jesus says the kingdom of heaven is like a king who's settling debts with his servants. At first it doesn't sound so great. "When he began the reckoning, one was brought to him who owed him ten thousand talents; and as he could not pay, his lord ordered him to be sold, with his wife and children and all that he had, and payment to be made" (Matthew 18:24). Nice, huh? But then it gets better.
"So the servant fell on his knees, imploring him, 'Lord, have patience with me, and I will pay you everything.' And out of pity for him the lord of that servant released him and forgave him the debt" (Matthew 18:26-27).
When it came down to it, the servant pleaded for mercy and the king gave it. He didn't make the servant pay, but erased the debt instead. This is us. Collectively, mankind owes a debt to God. Our first father Adam incurred it.
Adam enjoyed intimate friendship with the God of the Universe, and with full knowledge of the consequences, rejected him. It was an offense not he, nor any of his descendants, could make amends for. That's how great it was…or so we're told. But do you really believe that? Do you really know how immense this offense was? To get a grasp of it, you need to know what a talent is.
What is a talent?
Here's the easy to miss part I was talking about earlier. Do you know what a talent is? It means nothing to most of us. Some type of ancient currency, right? Yes, a large type of currency.
A talent is 6,000 denarii, and a denarius is one day's wage for a laborer. The servant owes 10,000 talents! That's 60 million day's wages! The servant could never live long enough to pay the debt. With this hanging over his head, he and his family would be slaves forever with no hope of freedom.
Can you imagine racking up that kind of debt? It seems impossible. How could he even manage it? Obviously, the servant had no understanding of how much that was. Probably, we don't either.
We hear that Adam broke confidence with God, sinned against him, and incurred a debt. We're told God became a man, Jesus Christ, to erase the debt because we couldn't pay it. Jesus gave himself over to die on the horrific Cross so friendship with God would once again be possible.
Recognizing the gift and giving a response
We're told all that, but does it mean anything to us? I think part of the reason we don't live more deeply Christian lives is we don't understand how much Jesus gave for us. But think about 60 million day's wages! Does that help with seeing the immensity of what we've been given? It does for me. What would 60 million day's wages look like for you? What if someone forgave a debt like that for you? Would you be grateful? Would you tell others about it? Someone has and you should be grateful.
The king just forgave it and let him go…but not without a price. To repay the king, the servant was expected to go out and do likewise. When he failed, it was not pretty.
How could you repay the unbelievable debt you owe to Jesus for his sacrifice? Recognize it for what it is and pass it on.
The wicked servant didn't think about anything but saving his own skin. He didn't feel indebted to the king for his kindness. He wasn't grateful. All he could think about was how he was slighted by someone else.
Jesus Christ saved you. His death makes it possible to live in the freedom of God's children. Free to love, free to laugh, free to be fully who you are…a flourishing of your personality and giftedness. He's inviting you to live that kind of life now. You can't live it on your own, though. You can only live it through him. Since the Fall, we're broken. We need the grace of Jesus Christ to mend us. We need the power of the Holy Spirit to live God-like.
The message of this week's gospel—forgive as you've been forgiven. Recognize the great gift you've been given and give it to others. You can only really do this in union with Jesus. Accept his mercy, commit yourself to him, and deepen your relationship with him through prayer and the sacramental life. Then rest in the Father's love and know your great worth in him.
Marc Cardaronella is director of the Office of Discipleship and Faith Formation.
Daily Scripture Readings
For complete daily Scripture texts, click here. http://www.usccb.org
Monday, September 18
1 Timothy 2:1-8
Psalms 28:2, 7, 8-9
Luke 7:1-10
Tuesday, September 19
1 Timothy 3:1-13
Psalms 101:1b-2ab, 2cd-3ab, 5, 6
Luke 7:11-17
Wednesday, September 20
1 Timothy 3:14-16
Psalms 111:1-2, 3-4, 5-6
Luke 7:31-35
Thursday, September 21
Ephesians 4:1-7, 11-13
Psalms 19:2-3, 4-5
Matthew 9:9-13
Friday, September 22
1 Timothy 6:2c-12
Psalms 49:6-7, 8-10, 17-18, 19-20
Luke 8:1-3
Saturday, September 23
1 Timothy 6:13-16
Psalms 100:1b-2, 3, 4, 5
Luke 8:4-15
Twenty Fifth Sunday in
Ordinary Time, September 24
Isaiah 55:6-9
Psalms 145:2-3, 8-9, 17-18
Philippians 1:20c-24, 27a
Matthew 20:1-16a
Monday, September 25
Ezra 1:1-6
Psalms 126:1b-2ab, 2cd-3, 4-5, 6
Luke 8:16-18
Tuesday, September 26
Ezra 6:7-8, 12b, 14-20
Psalms 122:1-2, 3-4ab, 4cd-5
Luke 8:19-21
Wednesday, September 27
Ezra 9:5-9
Tobit 13:2, 3-4a, 4befghn, 7-8
Luke 9:1-6
Thursday, September 28
Haggai 1:1-8
Psalms 149:1b-2, 3-4, 5-6a & 9b
Luke 9:7-9
Friday, September 29
Daniel 7:9-10, 13-14
or Revelation 12:7-12ab
Psalms 138:1-2ab, 2cde-3, 4-5
John 1:47-51
Saturday, September 30
Zechariah 2:5-9, 14-15a
Jeremiah 31:10, 11-12ab, 13
Luke 9:43b-45
Twenty Sixth Sunday in
Ordinary Time, October 1
Ezekiel 18:25-28
Psalms 25:4-5, 6-7, 8-9
Philippians 2:1-11
or Philippians 2:1-5
Matthew 21:28-32
The full text of the Scripture readings for this week and next week can be found here: http://www.usccb.org/
Click on the "Daily Readings" tab on the right hand side of the page.