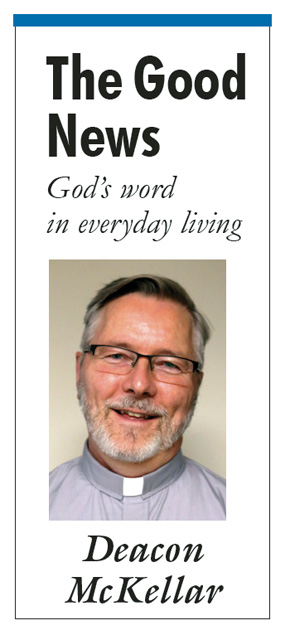 I don't know about you, but I have two large pieces of exercise equipment at home that don't get nearly as much use as I intended when I bought them. I know I am not alone. An astounding 40-67 percent of gym memberships in our country are never used! The perfect customer for the business model of a neighborhood gym is the customer who buys a membership intending to work out, but never shows up at the gym! One local gym which had capacity to hold only about 300 people signed up 6,000 total members on the very reasonable forecast that most members would never show up.
Modern psychologists tell us that what looks on the surface to be a losing mental battle between "I will," I won't,' and "I want" is actually a complex system of influences that can be tailored for success. If we appear to quickly run out of willpower, it is because we are only accessing a few of the possible sources of influence.
In Jesus' parable in this Sunday's Gospel, his story has two characters who respond to their father's request to go and work in his vineyard. One is immediately rebellious and simply says "no," but later changes his mind and goes to work. The second son immediately says "yes" to his father's request but then never fulfills his bargain. We are not told whether he was intentionally lying to his father when he said "Yes, I will go" or just procrastinating.
This parable highlights the problem we all experience when there is a gap between what we desire to do in our spiritual life and what we actually accomplish. How can we make our good intensions bear fruit? In our spiritual life, we might desire to cultivate a deeper relationship with Jesus. For many people, this desire by itself does not seem to translate into results.
Instead of simply blaming our lack of personal motivation, we could look for other influences to help us accomplish our goals. We may need to reorient some of our likes and dislikes to convince ourselves that this new goal is worth pursuing. You many need to motivate yourself to 'like' going to bed a bit earlier so that you can have a few minutes more each morning to spend in prayer and reflection.
You might say to yourself, "I want to pray but I'm not sure how to do it." Perhaps we need some help developing the skills of prayer and Scripture reflection that would aid us in our journey. Learning a new skill that we deliberately practice can lead us to lasting change.
Another layer of help involves not trying to do things entirely on our own. Research has shown that enlisting even a few friends to act as coaches and fans for our goal can increase our success as much as 40 percent. Joining a small group and having a spiritual mentor can greatly increase the likelihood of our success at a deeper spiritual life.
In the short term, it might be more fun to stay up late and binge on Netflix than to get up early and spend more time in prayer. Sometimes we need to invert the natural economy of our feelings and create a new incentive for our goals. Perhaps if we sleep in and skip our morning time of prayer we force ourselves to make up this time in the evening before going to bed, or before any other evening recreation. Self-imposed unpleasant incentives can motivate us to change our long-term behavior.
Psychologists have also pointed out that we are often blind to the ways in which our environment influences us. We need to take control of our environment so that it has a positive effect on how we think, feel and act.
One person's solution to fitting more prayer into their life might be to pray while they drive to work. Assuming that it is not distracting their driving, there is nothing wrong with this, but the environment of driving in the car is directly influencing the kind of prayer that can naturally take place. While perhaps driving might be suited to prayers of intercession for our own needs and those of others, the car is not suited to deeper mental prayer. Finding time to be alone with God in a quiet place without distractions is the best environment for mental prayer.
If we truly desire to cultivate a deeper relationship with Jesus, we will try to use as many influences as possible to overcome our human weakness. While in the past we might have been tempted to say, "I'm just not a very disciplined person," why not try using a better strategy to achieve our goal?
Jesus makes one other very important point in this parable. The heroes of his story are not the successful religious people but people who are willing to recognize their human shortcomings and who repent of them and are willing to change. Jesus tells his listeners that it is the ones who initially said "no" to God who are going into the kingdom of God ahead of the others. Regardless of our starting point, each one of us can become faithful, available, teachable and even contagious in our faith.
Imagine the change in our world if each one of us submitted our will to Jesus in a new way this week.
Deacon Scott McKellar is associate director of the Office of Discipleship and Faith Formation.
Daily Scripture Readings
For complete daily Scripture texts, click here. http://www.usccb.org
Monday, October 2
Zechariah 8:1-8
Psalms 102:16-18, 19-21, 29 & 22-23
Matthew 18:1-5, 10
Tuesday, October 3
Zechariah 8:20-23
Psalms 87:1b-3, 4-5, 6-7
Luke 9:51-56
Wednesday, October 4
Nehemiah 2:1-8
Psalms 137:1-2, 3, 4-5, 6
Luke 9:57-62
Thursday, October 5
Nehemiah 8:1-4a, 5-6, 7b-12
Psalms 19:8, 9, 10, 11
Luke 10:1-12
Friday, October 6
Baruch 1:15-22
Psalms 79:1b-2, 3-5, 8, 9
Luke 10:13-16
Saturday, October 7
Baruch 4:5-12, 27-29
Psalms 69:33-35, 36-37
Luke 10:17-24
Twenty-seventh Sunday in Ordinary Time, October 8
Isaiah 5:1-7
Psalms 80:9, 12, 13-14, 15-16, 19-20
Philippians 4:6-9
Matthew 21:33-43
Monday, October 9
Jonah 1:1–2:1-2, 11
Jonah 2:3, 4, 5, 8
Luke 10:25-37
Tuesday, October 10
Jonah 3:1-10
Psalms 130:1b-2, 3-4ab, 7-8
Luke 10:38-42
Wednesday, October 11
Jonah 4:1-11
Psalms 86:3-4, 5-6, 9-10
Luke 11:1-4
Thursday, October 12
Malachi 3:13-20b
Psalms 1:1-2, 3, 4 & 6
Luke 11:5-13
Friday, October 13
Joel 1:13-15; 2:1-2
Psalms 9:2-3, 6 & 16, 8-9
Luke 11:15-26
Saturday, October 14
Joel 4:12-21
Psalms 97:1-2, 5-6, 11-12
Luke 11:27-28
Twenty-eighth Sunday in Ordinary Time, October 15
Isaiah 25:6-10a
Psalms 23:1-3a, 3b-4, 5, 6
Philippians 4:12-14, 19-20
Matthew 22:1-14
The full text of the Scripture readings for this week and next week can be found here: http://www.usccb.org/
Click on the "Daily Readings" tab on the right hand side of the page.