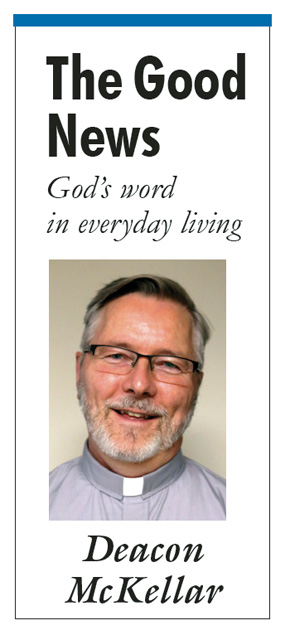 I don't want anyone to think I am promoting this industry, but I came across a very surprising fact. Each year an estimated 2 billion dollars of lottery prizes go unclaimed. Lottery expert Brett Jacobson notes that 114 prizes worth $1 million or more went unclaimed in 2015. Ticket holders don't bother to check for secondary prizes. Sometimes even the big prizes go unclaimed. Why would people buy a winning ticket and then never cash it in?
The parable in today's Gospel reading is also about a similar inexplicable behavior. Jesus tells us about a certain proverbial king who gave a wedding banquet for his son.
Apparently in the ancient world it was common to send out two stage invitations to a banquet. A first invitation would go out early, and then the banquet would be prepared for those who accepted the invitation. Once the banquet was ready, a second invitation would be sent to summon guests to the banquet.
The people who refuse to come in this parable are those who initially said, "Yes, I will come to the banquet," and now at the last moment are refusing to follow through on their commitment.
Their excuses and behavior are very bizarre. One group apparently mocked the invitation and instead of attending the banquet went off to their farm, or their business (Matthew 22:5). Another group exhibited even more incomprehensible behavior. They seized the king's slaves, mistreated them, and killed them (Matthew 22:6).
The proverbial king is enraged and he declares these people 'unworthy' and punishes those guilty of violence. Then the strategy changes. Instead of inviting only the worthiest people the king invites everyone, both the good and the bad.
Perhaps the first natural level of understanding for this parable would be to think of the Jewish people of Jesus day. For these people, the first invitation was obtained by birth, while the second invitation involves a personal decision to acknowledge or reject of the Messiah.
This is not a distant historical reality. Many modern Catholics are 'sacramentalized' when they are very young by Baptism, 1st Communion, Confirmation but soon after stop practicing their faith. There is clearly a missing ingredient in their Christian experience.
In Jesus' parable, the king is enraged by the rejection of the second invitation and calls his servants to fill the hall with both the good and the bad. Once the hall is filled with guests and the king entered and greeted his guests. He noticed a man there who was not wearing a wedding robe and questions him. 'Friend, how did you get in here without a wedding robe?' We are told the man was speechless, so the king has him bound and thrown out.
Most commentators do not believe there was a specific way to dress to attend a wedding banquet. It is more likely that the expression refers to a man who showed up in completely soiled working clothes. At the time of Jesus, entering the Temple in soiled clothes was a punishable offence. Custom apparently required one to clean one's clothes before attending a banquet. Not to do so was to offer insult to the host.
Jesus called his followers in Matthew's Gospel to "Repent" (Matthew 3:2; 4:17). This call to repent functions very much like the second invitation to a wedding. It is very likely that being 'without a wedding robe' refers metaphorically to professing Christians who presume upon God's grace without truly honoring his son.
Jesus offers us a free gift of grace that leads to our adoption as children of God. As the Catechism notes, "The free gift of adoption requires on our part continual conversion and new life (CCC 2784). The fullness of Jesus' Gospel involves faith, repentance, Baptism and the reception of the Holy Spirit. Faith and repentance involve a tangible personal decision to put Jesus at the center of your life. A personal faith requires a response to the second invitation to the banquet.
Our life in Christ is like a seed that grows within us. Spiritual writers in the Catholic tradition tell us that as we grow in our faith we become increasing aware of both God's holiness and our own sinfulness. The road to Calvary leads directly to the cross. Some people have turned off this road and have distorted the Gospel by not acknowledging the greatness of this free gift.
Leading away from the cross on one side, we may become afraid of our increasing awareness of our sinfulness and try to create our own 'gospel' through our human works. This results in legalism and in sinful pride (CCC 2092).
Following St. Thomas Aquinas, Catholic tradition has called the genuine path of the Gospel the New Law which is "a law of love because it makes us act out of the love infused by the Holy Spirit, rather than from fear" (CCC 1972). Our good works flow not from ourselves but out of the overflow of our cooperation with the Spirit working in our hearts.
Leading away from the cross on the other side is the one who fails to grasp the fullness of God's holiness. Like the man without a wedding robe, this path presumes upon God's grace without truly honoring his son. The one taking this path makes himself rather than God the measure of holiness, and slides comfortably into relativism and cheap grace that falsely presumes upon God's mercy (CCC 2092).
The remedy for these problems is to look into the eyes of Jesus on the cross and to understand the magnitude of the free gift that he offers. We must offer him our "Yes," or our assent to his invitation to make him the center of our life (CCC 1993).
Image the change that would come about in our families and communities if each of us would spend just 15 minutes a day contemplating Jesus gift to each of us this week.
Scott McKellar is associate director of the Office of Discipleship and Faith Formation.
Daily Scripture Readings
For complete daily Scripture texts, click here. http://www.usccb.org
Monday, October 16
Romans 1:1-7
Psalms 98:1bcde, 2-3ab, 3cd-4
Luke 11:29-32
Tuesday, October 17
Romans 1:16-25
Psalms 19:2-3, 4-5
Luke 11:37-41
Wednesday, October 18
2 Timothy 4:10-17b
Psalms 145:10-11, 12-13, 17-18
Luke 10:1-9
Thursday, October 19
Romans 3:21-30
Psalms 130:1b-2, 3-4, 5-6ab
Luke 11:47-54
Friday, October 20
Romans 4:1-8
Psalms 32:1b-2, 5, 11
Luke 12:1-7
Saturday, October 21
Romans 4:13, 16-18
Psalms 105:6-7, 8-9, 42-43
Luke 12:8-12
Twenty-ninth Sunday in Ordinary Time, October 22
Isaiah 45:1, 4-6
Psalms 96:1, 3, 4-5, 7-8, 9-10
1 Thessalonians 1:1-5b
Matthew 22:15-21
Monday, October 23
Romans 4:20-25
Luke 1:69-70, 71-72, 73-75
Luke 12:13-21
Tuesday, October 24
Romans 5:12, 15b, 17-19, 20b-21
Psalms 40:7-8a, 8b-9, 10, 17
Luke 12:35-38
Wednesday, October 25
Romans 6:12-18
Psalms 124:1b-3, 4-6, 7-8
Luke 12:39-48
Thursday, October 26
Romans 6:19-23
Psalms 1:1-2, 3, 4 & 6
Luke 12:49-53
Friday, October 27
Romans 7:18-25a
Psalms 119:66, 68, 76, 77, 93, 94
Luke 12:54-59
Saturday, October 28
Ephesians 2:19-22
Psalms 19:2-3, 4-5
Luke 6:12-16
Thirtieth Sunday in Ordinary Time, October 29
Exodus 22:20-26
Psalms 18:2-3, 3-4, 47, 51
1 Thessalonians 1:5c-10
Matthew 22:34-40
The full text of the Scripture readings for this week and next week can be found here: http://www.usccb.org/
Click on the "Daily Readings" tab on the right hand side of the page.