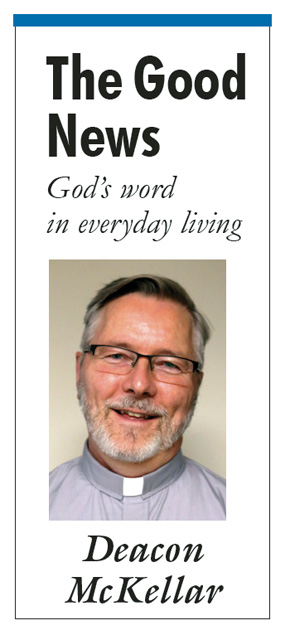 During the 17th century, there was an evil tyrant named Oliver Cromwell, who was Lord Protector of England. A story is told of a time Cromwell sentenced a soldier to be shot for his crimes. The execution was to take place at the ringing of the curfew bell that very evening.
But that night the bell never sounded. The soldier's fiancé climbed into the belfry and clung to the great clapper of the bell to prevent it from striking. Cromwell had the woman brought before him to account for her actions. She wept as she showed him her bruised and bleeding hands and pleaded for the life of her lover.
Cromwell's heart was touched and he said, "Your lover shall live because of your sacrifice. Curfew shall not ring tonight!"
While the word for 'love' was is common in the Old Testament, the commandment "You shall love. . ." occurs only four times. It is found twice in Deuteronomy in the commandments to love God and twice in Leviticus in the command to love one's neighbor. Jesus connects these verses and summarizes the purpose of the law as the love of God and the love of neighbor.
Jesus didn't come to abolish the law of the OT but to perfect it and fulfill it. In fulfilling the law certain external obligations became obsolete. The purpose of the Old law was to maintain a covenant relationship with God. The law was like a fence that prevented God's people from breaking covenant. The center of the law and the reason for keeping it was always the love of God.
By dying on the cross Jesus created a New Covenant with all people. The centrality of love remains as the New Law of Christ maintains the essentials of the Old Law while perfecting it. The New Law is no longer merely an external law but the grace of the Holy Spirit working on our hearts. We receive the Holy Spirit by entering into relationship with Jesus Christ.
The invitation to believe in the Gospel is always personal: it is not a moral program or a set of rules but the offer of communion with a person, Jesus Christ. In truth, the invitation to believe is like a love affair. A transforming encounter with Jesus is like meeting the person you are going to marry. You are so overwhelmed by this encounter that you cannot imagine going forward in life without that person.
As Pope Benedict XVI famously said "Being Christian is not the result of an ethical choice or a lofty idea, but the encounter with an event, a person, which gives life a new horizon and a decisive direction."
Of course, we need to learn our faith, but we are not saved because of what we know, or the rules that we follow, but through our relationship with Christ. The event Pope Benedict is talking about is the death and resurrection of Jesus. Pope Benedict continues, "Saint John's Gospel describes that event in these words: 'For God so loved the world that he gave his only Son, that whoever believes in him should not perish but have eternal life' (John 3:16)."
The Catechism tells us that Faith is a personal act, a free response to God's initiative. It involves the decision to put Jesus at the center of our life, which is brought to life by our being joined to Christ through the sacraments.
Many of us were baptized as infants, but God has no grandchildren. Each one of us must consciously decide to say 'yes' to Jesus and form our own relationship with Jesus. We must act to cooperate with our Sacramental graces.
Ultimately the decision to say 'yes' to God in this manner is called conversion. The US Bishops define conversion as "the acceptance of a personal relationship with Christ, a sincere adherence to him, a willingness to conform one's life to his."
To understand conversion, we might imagine three different types of relationships on a human level which parallel our relationship to God.
Someone who is completely single, has no romantic relationship with another person.
Someone who is dating, has a relationship with another person as part of their life, but the commitment is limited and possibly temporary.
Finally, when someone is married there is an intimate relationship and a permanent mutual commitment with the spouse. In their marriage vows they have promised to love, and honor, to keep in sickness and health, forsaking all others as long as they shall live.
If we compare our relationship to God with these images, we might ask where Jesus is in our own life.
Is our relationship like that of a single person? Is Jesus completely outside our life?
The second image of someone who is dating represents a person who acknowledges Jesus as part of their life but is not yet fully committed to him. Jesus is merely one more thing among many others in their life. Usually the date nights with Jesus are Christmas, Ash Wednesday and Easter.
Genuine conversion and the Christ-centered life is represented by the third image. A deep exchange of trust has developed and we have made the decision to make Jesus the center of our life and to allow all our decisions to be affected by our commitment to him. Every aspect of our life is affected.
What does it mean to know God? Our initial knowledge of God in Christ is not a mere acceptance of a creedal statement, but is a life transforming event. We can no longer sit at Jesus' feet or look into Jesus' eyes. We know him now through the Spirit, in his Word, in intimate prayer and through the sacraments.
As we think about Jesus' summary of the law, 'You shall love the Lord your God with all your heart, and with all your soul, and with all your mind.' perhaps you are stuck with a new desire to love God.
Perhaps God is calling you to say 'yes' to him in a deeper way. Why not make a new commitment today to follow him and spend time with him in prayer.
Deacon Scott McKellar is associate director of the Office of Discipleship and Faith Formation.
Daily Scripture Readings
For complete daily Scripture texts, click here. http://www.usccb.org
Monday, October 30
Romans 8:12-17
Psalms 68:2 and 4, 6-7ab, 20-21
Luke 13:10-17
Tuesday, October 31
Romans 8:18-25
Psalms 126:1b-2ab, 2cd-3, 4-5, 6
Luke 13:18-21
All Saints Day
Wednesday, November 1
Revelation 7:2-4, 9-14
Psalms 24:1bc-2, 3-4ab, 5-6
1 John 3:1-3
Matthew 5:1-12a
All Souls Day
Thursday, November 2
Wisdom 3:1-9
Psalms 23:1-3a, 3b-4, 5, 6
Romans 5:5-11 or Romans 6:3-9
John 6:37-40
Friday, November 3
Romans 9:1-5
Psalms 147:12-13, 14-15, 19-20
Luke 14:1-6
Saturday, November 4
Romans 11:1-2a, 11-12, 25-29
Psalms 94:12-13a, 14-15, 17-18
Luke 14:1, 7-11
Thirty-first Sunday in
Ordinary Time, November 5
Malachi 1:14b-2:2b, 8-10
Psalms 131:1, 2, 3
1 Thessalonians 2:7b-9, 13
Matthew 23:1-12
Monday, November 6
Romans 11:29-36
Psalms 69:30-31, 33-34, 36
Luke 14:12-14
Tuesday, November 7
Romans 12:5-16ab
Psalms 131:1bcde, 2, 3
Luke 14:15-24
Wednesday, November 8
Romans 13:8-10
Psalms 112:1b-2, 4-5, 9
Luke 14:25-33
Feast of the Dedication of the Lateran Basilica in Rome
Thursday, November 9
Ezekiel 47:1-2, 8-9, 12
Psalms 46:2-3, 5-6, 8-9
1 Corinthians 3:9c-11, 16-17
John 2:13-22
Friday, November 10
Romans 15:14-21
Psalms 98:1, 2-3ab, 3cd-4
Luke 16:1-8
Saturday, November 11
Romans 1 6:3-9, 16, 22-27
Psalms 145:2-3, 4-5, 10-11
Luke 16:9-15
Thirty-second Sunday in
Ordinary Time, November 12
Wisdom 6:12-16
Psalms 63:2, 3-4, 5-6, 7-8
1 Thessalonians 4:13-18
Or 1 Thessalonians 4:13-14
Matthew 25:1-13
The full text of the Scripture readings for this week and next week can be found here: http://www.usccb.org/
Click on the "Daily Readings" tab on the right hand side of the page.