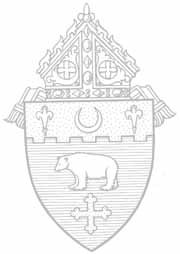 Bishop Johnston has announced the following clergy assignments:
 
Canon Francis Xavier Altiere, ICRSS, upon the presentation of Reverend Canon Matthew Talarico, Provincial Superior for the Institute of Christ the King Sovereign Priest in the United States, is appointed Rector of the Oratory of Old St. Patrick, Kansas City, effective October 29.
Reverend Jack Fitzpatrick has been placed on administrative leave for purposes of vocational discernment.
Deacon Scott McKellar, with the permission of Most Reverend Steven Lopes, Ordinary of the Ordinariate of the Chair of St. Peter, and at the request of Reverend Randolph Sly, Pastor of Our Lady of Sorrows Parish, is assigned to Our Lady of Sorrows Parish, effective immediately. He retains his office with Our Lady of Hope Ordinariate Community and position in the Office of Discipleship and Faith Formation.
Please pray for these men.