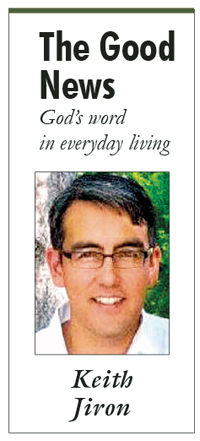 Being a father for the past thirteen years has been the hardest thing I have ever done in my life. At the same time, it has been a tremendous source of blessings. It has taught me more about the love of my Heavenly Father than I have ever learned from all my theological studies.
The other day, my oldest son, Andrew, approached me after an argument we had the day before and thanked me for apologizing to him for the way I handled it. He said that it meant a lot to him that I apologized and added, "I'm sorry, too." The hardness in my heart since our quarrel immediately vanished, I hugged him, intentionally looked him in the eye and said, "I love you. You mean so much to me."
To consider that God looks the same way at me amidst my transgressions, and loves me deeply nonetheless, is echoed in my own fatherly heart when I ponder the real, though imperfect, love I have for my sons.
It is amazing how the ones we love the most can cause us the most heartache. Many times I have asked myself why my oldest son and I have such a strained relationship. I am not certain about this, but I think it is because at some level, out of all four of my sons, he is the most like me. Sometimes, for good or ill, I think I know his motivations and anticipate his actions with an attitude of skepticism. He surely intuits this which only makes things worse.
Thanks to a suggestion from my wife, when Andrew turned thirteen, I took him on a coming-of-age father-son trip, a rite of passage, if you will. My intent was to talk with him of the many struggles that puberty will bring and to let him know that I have known these struggles well and that I am here for him, that he can always tell me anything. I also desired that this be a deep bonding experience, to let him know at a deep level that, even though we have struggled in our relationship, I love him no matter what.
And so last July, the two of us packed up the camping gear and fly-fishing supplies and headed to some of the most pristine fly-fishing waters that I learned of when I was growing up in Colorado. This involved a steep one-and-a-half mile hike down into a canyon. Since it had been twenty-five years since I made this hike, I had forgotten the degree of difficulty involved. Because there were spots where a guy could actually fall to his death, I found myself rather concerned for my son's safety. In retrospect, I think it was good because of the fact that my overconfident teenager actually realized he needed my guidance.
One of my hopes for this trip was for him to experience the unparalleled exhilaration of hooking into a large trout with an artificial fly and bringing it in with a fly rod. Laying in our tent that first night, feeling disappointed at having caught nothing, I took the opportunity to tell him my true intentions for this trip. I explained how this trip was about more than catching fish. It was to assure him of my enduring love. I was stunned when he responded simply, "I know."
Fatherhood has revealed a capacity to love that I never knew existed. It has also provided a new lens for understanding God the Father's Word to me in the Scriptures. I think that investing in my relationship with my son can be likened to the ten virgins and their lamps in this Sunday's Gospel. "The foolish ones…brought no oil with them, but the wise brought flasks of oil with their lamps."
Trying to raise virtuous, strong, and faith-filled young men in this culture is a real challenge. By making deposits into the relationship bank with my son, I hope that when one day he is struggling to find his way and I am fighting for his heart, I will be able to take out withdrawals on my investment.
On the last day of our trip, my long-time best friend from junior high school took us to another part of the river and even borrowed a canoe so that we could reach the best fishing spots. Not only that, he researched what kind of fly the trout were biting on, which resulted in Andrew landing a magnificent seventeen-inch rainbow. While this was a great way to end our journey, I hope that for him it represents more than a successful fishing trip. I pray it will serve as a reminder of the steadfast love of his Father.
Keith Jiron is the Director of School of Faith, Omaha Branch, and former Vocations Office Director for the Diocese of Kansas City – St. Joseph.
Daily Scripture Readings
For complete daily Scripture texts, click here: http://www.usccb.org
Monday, November 13
Wisdom 1:1-7
Psalms 139:1b-3, 4-6, 7-8, 9-10
Luke 17:1-6
Tuesday, November 14
Wisdom 2:23–3:9
Psalms 34:2-3, 16-17, 18-19
Luke 17:7-10
Wednesday, November 15
Wisdom 6:1-11
Psalms 82:3-4, 6-7
Luke 17:11-19
Thursday, November 16
Wisdom 7:22b–8:1
Psalms 119:89, 90, 91, 130, 135, 175
Luke 17:20-25
Friday, November 17
Wisdom 13:1-9
Psalms 19:2-3, 4-5ab
Luke 17:26-37
Saturday, November 18
Wisdom 18:14-16; 19:6-9
Psalms 105:2-3, 36-37, 42-43
Luke 18:1-8
Thirty-third Sunday in
Ordinary Time, November 19
Proverbs 31:10-13, 19-20, 30-31
Psalms 128:1-2, 3, 4-5
1 Thessalonians 5:1-6
Matthew 25:14-30
Monday, November 20
1 Maccabees 1:10-15, 41-43, 54-57, 62-63
Psalms 119:53, 61, 134, 150, 155, 158
Luke 18:35-43
Tuesday, November 21
2 Maccabees 6:18-31
Psalms 3:2-3, 4-5, 6-7
Luke 19:1-10
Wednesday, November 22
2 Maccabees 7:1, 20-31
Psalms 17:1bcd, 5-6, 8b & 15
Luke 19:11-28
Thanksgiving Day
Thursday, November 23
Sirach 50:22-24
Psalms 145:2-3, 4-5, 6-7, 8-9, 10-11
1 Corinthians 1:3-9
Luke 17:11-19
Friday, November 24
1 Maccabees 4:36-37, 52-59
1 Chronicles 29:10bcd, 11abc, 11d-12a, 12bcd
Luke 19:45-48
Saturday, November 25
1 Maccabees 6:1-13
Psalms 9:2-3, 4 & 6, 16 & 19
Luke 20:27-40
Solemnity of Our Lord Jesus Christ, King of the Universe, Sunday, November 26
Ezekiel 34:11-12, 15-17
Psalms 23:1-2, 2-3, 5-6
1 Corinthians 15:20-26, 28
Matthew 25:31-46
The full text of the Scripture readings for this week and next week can be found here: http://www.usccb.org/
Click on the "Daily Readings" tab on the right hand side of the page.