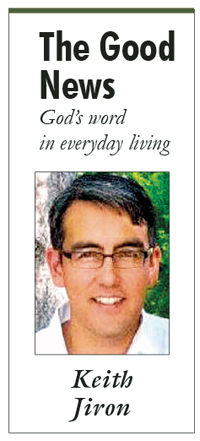 I grew up in a small town in southwestern Colorado. I was the oldest of five children and have many wonderful memories from my youth. Looking back through the eyes of a father with four sons, I can see more clearly than ever that I was being given a strong foundation on which to build my life. The constant love and guidance of my parents was equipping me to not only be the person that I am now, but also have shaped my own fatherhood in ways I am still discovering daily.
Being the oldest sibling was a blessing to me because it taught me a great deal about responsibility. However, at the same time I was also learning the false lesson that I was in control, that it was up to me to take care of everything. And, for the most part, I was doing a pretty good job of keeping up this illusion.
There was one area in my life, though, over which I was not in control. I was encountering struggles with my own sinfulness and inability to overcome it. As a result, many times I found myself feeling helpless, broken, and alone. This experience is one with which most people can relate as we all suffer from a fallen nature. This is especially the case since we live in a growing culture of moral relativism that preaches self-reliance and that there is no such thing as right and wrong.
Because we are created by God and for God, deep down we know this is not true. We have all experienced how sin leaves us feeling depleted and empty. Relating my discouragement in this area once to a spiritual director years ago, I found consolation in something he explained to me as I related to him my frustration at my failed efforts. He said, "Sin is the great teacher in the school of humility." That is, we cannot conquer sin merely by our own efforts. We need help.
I have learned from good spiritual directors, spiritual reading, and my own experience that sin reveals the reality of a wound in us that is in need of healing. This wound reminds us of our need for God, and it is God Himself who is the remedy. Furthermore, as stated so well in a book on John of the Cross called "The Impact of God" by Iain Matthew, he explains that "God…cannot be conquered or achieved; he has to give, and must be received. In a scientific age which thrives on achievable goals, this lesson comes too slowly." God respects our freedom, waiting patiently for us to allow His touch of divine healing through the deep prayer given by the Holy Spirit. It is in this prayer that the divine surgeon cuts away at our brokenness and increases our freedom to practice virtue and to truly love. This process is a mutual causality, God being the One who initiates. Our task is to respond.
This Sunday's Scriptures are saying the same thing using the imagery of the Shepherd and the sheep, considering that sheep left unattended can get lost and attacked by predators. God, Who is the divine Shepherd speaks: "Thus says the Lord God: I myself will look after and tend my sheep…The lost I will seek out, the strayed I will bring back, the injured I will bind up, the sick I will heal…"
The road toward healing is a long and arduous one. Somewhere toward the beginning of my journey to freedom and growth in self-knowledge, I remember once expressing anger to one of my guides, wishing that I had never begun the path and that it would be easier to abandon the whole thing and live obliviously happy. In his wise way, he chuckled and reminded me that sin is the illusion which always turns up void, whereas the struggle toward God, although difficult, is to live in reality. He continued to explain that reality is always better and the stuff of living a life of fullness, of abundance. (Jn 10:10)
I have experienced glimpses of this richness in my life as exemplified in Psalm 23: "The Lord is my shepherd; there is nothing I shall want. You spread the table before me in the sight of my foes; you anoint my head with oil; my cup overflows." While these are only foretastes along the ascent toward God's abundance, it is comforting to know that I am not alone.
I am grateful to my parents who laid the foundation for me to encounter Jesus Christ, the divine Savior and Lord of the Universe. I pray that I may do the same for my own children.
Keith Jiron is the Director of School of Faith, Omaha Branch, and former Vocations Office Director for the Diocese of Kansas City – St. Joseph.
Daily Scripture Readings
For complete daily Scripture texts, click here. http://www.usccb.org
Monday, November 27
Daniel 1:1-6, 8-20
Daniel 3:52, 53, 54, 55, 56
Luke 21:1-4
Tuesday, November 28
Daniel 2:31-45
Daniel 3:57, 58, 59, 60, 61
Luke 21:5-11
Wednesday, November 29
Daniel 5:1-6, 13-14, 16-17, 23-28
Daniel 3:62, 63, 64, 65, 66, 67
Luke 21:12-19
Thursday, November 30
Romans 10:9-18
Psalms 19:8, 9, 10, 11
Matthew 4:18-22
Friday, December 1
Daniel 7:2-14
Daniel 3:75, 76, 77, 78, 79, 80, 81
Luke 21:29-33
Saturday, December 2
Daniel 7:15-27
Daniel 3:82, 83, 84, 85, 86, 87
Luke 21:34-36
First Sunday of Advent, December 3
Isaiah 63:16b-17, 19b; 64:2-7
Psalms 80:2-3, 15-16, 18-19
1 Corinthians 1:3-9
Mark 13:33-37
Monday, December 4
Isaiah 2:1-5
Psalms 122:1-2, 3-4b, 4cd-5, 6-7, 8-9
Matthew 8:5-11
Tuesday, December 5
Isaiah 11:1-10
Psalms 72:1-2, 7-8, 12-13, 17
Luke 10:21-24
Wednesday, December 6
Isaiah 25:6-10a
Psalms 23:1-3a, 3b-4, 5, 6
Matthew 15:29-37
Thursday, December 7
Isaiah 26:1-6
Psalms 118:1 and 8-9, 19-21, 25-27a
Matthew 7:21, 24-27
Solemnity of the Immaculate Conception
of the Blessed Virgin Mary, Friday, December 8
Genesis 3:9-15, 20
Psalms 98:1, 2-3ab, 3cd-4
Ephesians 1:3-6, 11-12
Luke 1:26-38
Saturday, December 9
Isaiah 30:19-21, 23-26
Psalms 147:1-2, 3-4, 5-6
Matthew 9:35–10:1, 5a, 6-8
Second Sunday of Advent, December 10
Isaiah 40:1-5, 9-11
Psalms 85:9-10-11-12, 13-14
2 Peter 3:8-14
Mark 1:1-8
The full text of the Scripture readings for this week and next week can be found here: http://www.usccb.org/
Click on the "Daily Readings" tab on the right hand side of the page.