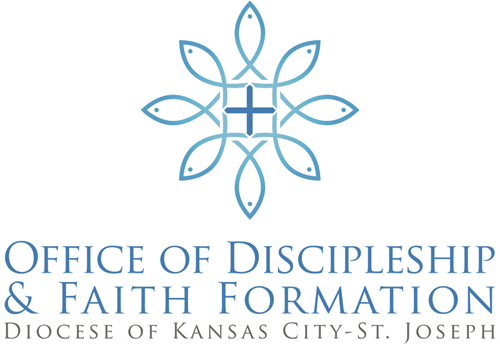 By Marc Cardaronella
It's been said all good things must come to an end.
It's also been said with every ending there's a new beginning.
Last March, the Bishop Helmsing Institute concluded its effective service at the Diocese of Kansas City-St. Joseph. It was replaced by the new Office of Discipleship and Faith Formation and I became the founding director.
I see this less as an ending and more as a new beginning.
The Bishop Helmsing Institute did some amazing work over the past decade touching the lives of over 3,000 parishioners and teachers. Solid doctrinal and biblical formation from BHI gave numerous catechists, Catholic school teachers, and ministry volunteers a firm academic foundation for apostolic work.
However, the Church is now sensing different priorities and focusing on new initiatives. Catechetical leaders, and bishops, are awakening to the dire need for something more from our religious education, faith formation, and outreach initiatives.
The Church is bleeding members and most of them are our children. Over half the people who leave the Church do so before the age of 21. Even more striking, a recent survey of disaffected Catholic young adults found the median age of their exit was 13!
Think about that. Children as young as 13, some younger, are actively distancing themselves from the Catholic community. We can't keep doing the same things and expect different results. Something unique, something innovative, something altogether revolutionary is required.
Church leaders speak about the need for a "New Evangelization," a new missionary effort to baptized Catholics who never caught the fire of Catholicism and live on the margins of Christian life. Pope St. John Paul II said this effort must be new in ardor, method, and expression.
Recently, Pope Francis began speaking about "missionary discipleship" as a vehicle for this New Evangelization. In the Joy of the Gospel, the Pope's recent encyclical and blueprint for renewal, he wrote, "I dream of a 'missionary option' – that is, a missionary impulse capable of transforming everything, so that the Church's customs, ways of doing things, times and schedules, language and structures can be suitably channeled for the evangelization of today's world…" (par. 27).
Following the Pope's lead, the U.S. Bishops set the American Church on course toward missionary discipleship. In November 2016, the United States Conference of Catholic Bishops (USCCB) published a three-year strategic plan to guide their ongoing work. First on the list of priorities was missionary discipleship. In keeping with this, Bishop Johnston created the Office of Discipleship and Faith Formation quoting Pope Francis and making missionary discipleship the focus of future formation in our diocese.
The office's first official act came last May and June. We conducted a series of listening sessions for clergy, catechetical leaders, and parish formators. Our goal was to gather information about parish needs and desires in the areas of evangelization and adult faith formation.
It was a great success! We did 11 sessions at various sites around the diocese. Around 200 parish leaders participated generating over 250 responses. The insights we gained from these sessions will prove invaluable as a launching point for our future efforts. Download a complete report on the findings at our website: www.discipleshipkc.org.
In July, the USCCB hosted the Convocation of Catholic Leaders in Orlando, FL, and members of our office attended. The Convocation gathered 3,500 leaders from every part of the United States to assess the challenges and opportunities for a new phase of evangelization here in the U.S. Approximately 330 priests, 150 bishops, and 175 religious from 160 dioceses discussed how to form missionary disciples who could animate the Church and engage the culture. The working document for the Convocation was Joy of the Gospel.
Since Vatican II, the Church has percolated on the truth that she is "missionary by nature" (Ad Gentes 2). It's not enough that we are disciples or followers of Christ. Discipleship is essentially missionary.
We are joined to Christ in Baptism. From that point on, our call is to become more and more like him. When we become like Christ, we love what he loves…and he loves reconciling the lost. His mission is our mission. Therefore, being a disciple makes us missionary.
In Joy of the Gospel, Pope Francis writes, "Every Christian is a missionary to the extent that he or she has encountered the love of God in Christ Jesus: we no longer say that we are 'disciples' and 'missionaries,' but rather that we are always 'missionary disciples'" (par. 120).
The Convocation proposed this question, "How do we respond to this moment [in our country at this time] as missionary disciples?"
Pope Francis challenges us to go out to the peripheries, to encounter the people on the margins who don't know Christ, and be with them. He asks us to engage them and show the mercy, generosity, and compassion of Jesus himself through our presence. Once we encounter and engage, we are to accompany them–walk with them—toward a deeper relationship with the Lord.
One of the mantras of discipleship is "people over programs." To accompany someone means talking to them, understanding them, figuring out their challenges, and guiding them closer to Jesus. It's personal. This can't be done well with one-size-fits-all programs or large groups. It must be done in small groups or even sometimes one-on-one.
One parish priest or a few parish workers are not enough. We need many people capable of doing this…an army of workers who can share the gospel with those the parish staff may never see or know. This is the essential role of the laity in the Church. It's the realization of Vatican II's prophetic call for laity to transform the world.
Discipleship ministry follows a three-step plan.
1. Know Christ.
The foundation is built on faith in Jesus Christ. The first step includes pre-evangelization efforts like building relationships, establishing trust, and clearing away obstacles to belief. As well, the basic human desires for security, love, and acceptance are connected to their fulfillment in God. Pre-evangelization answers the fundamental questions of life such as: Who am I? Why am I here? What is my purpose in this world?
Then, people must know who Jesus is, what he offers, and why they need him. This involves making them aware of the life-saving message of Jesus, the Gospel. With this, they can make the decision to believe in him and reorient their lives toward him.
2. Grow in Christ.
The second phase works to establish the evangelized in the Christian life by introducing spiritual disciplines or habits of the heart, such as regular private prayer/reflection on Scripture. This second stage is informed by traditional Catholic spirituality and the work of saints/spiritual masters such as St. Teresa of Avila. Deeper doctrinal formation is also part of this stage.
3. Serve Christ.
Discipleship seeks to move someone from non-believer to worker in the vineyard. Jesus commissioned the apostles and told them to "go make disciples." The unspoken imperative is that new disciples must also be trained to go and make more disciples. Again, this is our baptismal call. Therefore, the final stage of discipleship ministry involves equipping people to use their talents, abilities, and spiritual charisms in further ministry.
The future of our Church depends on how many we can empower to become missionary disciples. Pope Francis' call is the mandate of Jesus before he left Earth. You, all of you, will be my witnesses.
Everyone in the Church matters. As Sherry Weddell, author of Forming Intentional Disciples said at the Convocation, "There is no such thing as vocational unemployment." There is someone out there only you can reach. It may not be someone you know…yet. However, in God's plan you are the one he will use. If you're not able, who will save them? Their life may depend on it.
Discipleship is uncharted territory, so to speak. Bishop Johnston has a foundational vision, but this new initiative requires understanding the needs and desires of the people in the pews, the people this ground-breaking initiative will affect.
We don't have all the answers. Discipleship is exciting and innovative, I think it's the solution to many of the Church's problems. However, it's not perfected…not yet. We're on the cutting edge and could use your help.
If you're interested in learning more about missionary discipleship and hearing about the latest from our office, please visit our website (www.discipleshipkc.org) and join our email list. We will create regular, new content on missionary discipleship, evangelization, catechesis, and how to grow in your faith.
Will you be a voice in the ongoing discussion? Please contribute to our continuing efforts in growing the Catholic Faith in our diocese.