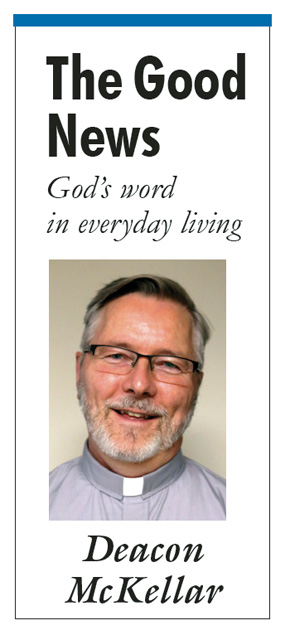 A recent study of American culture found that loneliness among American adults has increased 16 percent in the last decade. The study also noted that more Americans live alone than ever before, and that one in four Americans reports not having a single person to talk to about important issues in life.
St. Mother Teresa declared after visiting America, "The greatest disease in the West today is not TB or leprosy; it is being unwanted, unloved, and uncared for. We can cure physical diseases with medicine, but the only cure for loneliness, despair, and hopelessness is love." St. Mother Teresa points out that this loneliness is also spiritual, involving an alienation from God.
In our Gospel reading the colorful character of John the Baptist reveals a message of reconciliation with God. John the Baptist practiced a "baptism of repentance for the forgiveness of sins," which involved bringing people back into relationship with God by a call to repentance.
Although John the Baptist was engaged in a very successful ministry, he considered himself a mere herald for the future coming of the Messiah. He saw himself as fulfilling the words of the Prophet Isaiah. He was a "voice crying out in the wilderness to make a way for the Lord." He humbly declares, "I have baptized you with water; but he will baptize you with the Holy Spirit" (Mark 1:8).
At the time of Jesus, there was a wide spread expectation that the future coming of the Messiah would be accompanied by a special outpouring of the Holy Spirit. In the minds of Jesus' contemporaries, this outpouring would involve supernatural signs and wonders such as prophecy and miraculous healings. At a more fundamental level, the coming of the Spirit was about the possibility of a new intimacy with God through his Spirit.
Clearly this Messianic expectation was fulfilled by the profound experience of the Spirit at Pentecost. Now that Jesus has died, risen from the dead, and ascended into heaven, the coming of the Spirit will be "upon all flesh" (Acts 2:17). No longer will only a few people have the possibility of intimacy with God, "we were all given to drink of one Spirit" (1 Corinthians 12:13, Ephesians 2:18). We no longer see God through a veil, but we all have the possibility of intimacy with God. The Apostle Paul notes, "All of us, gazing with unveiled face on the glory of the Lord, are being transformed into the same image from glory to glory, as from the Lord who is the Spirit."
As St. Paul tells us, "As proof that you are children, God sent the spirit of his Son into our hearts, crying out, 'Abba, Father!'" (Galatians 4:6). Jesus promised his disciples that he would "not leave them as orphans" but instead would send His Spirit to be with them (John 14:18). God will not leave us alone. He will not leave us with no one to talk to about the important issues of our life. God desires intimacy, friendship and relationship with us. Jesus has called us his friends. "I no longer call you slaves, because a slave does not know what his master is doing. I have called you friends, because I have told you everything I have heard from my Father" (John 15:15).
In the many Gospel readings leading up to Advent we have seen the repeated theme of being alert and being ready for the return of the master.
Many of us have had the experience of coming home to a house that is dark and empty. We can contrast the feeling that we might have in this circumstance with how we feel coming home to a house with the lights on and a loving person there waiting to greet us. Jesus has come to baptize us with the Holy Spirit. He has come to invite us into intimacy with him. Have you turned the lights on to welcome Jesus into your house?
Jesus says, "Behold, I stand at the door and knock. If anyone hears my voice and opens the door, [then] I will enter his house and dine with him, and he with me" (Revelation 3:20). Jesus desires friendship with each one of us.
Lord Jesus, I open my heart to you today and I invite you to come by your Spirit to immerse me in your love. In the power of your Spirit I desire to follow you.
Deacon Scott McKellar is associate director of the Office for Discipleship and Faith Formation.
Daily Scripture Readings
For complete daily Scripture texts, click here. http://www.usccb.org
Monday, December 11
Isaiah 35:1-10
Psalms 85:9ab & 10, 11-12, 13-14
Luke 5:17-26
Feast of Our Lady of Guadalupe,
Tuesday, December 12
Zechariah 2:14-17 or
Revelation 11:19a; 12:1-6a, 10ab
Judith 13:18bcde, 19
Luke 1:26-38 or Luke 1:39-47
Wednesday, December 13
Isaiah 40:25-31
Psalms 103:1-2, 3-4, 8 & 10
Matthew 11:28-30
Thursday, December 14
Isaiah 41:13-20
Psalms 145:1 & 9, 10-11, 12-13ab
Matthew 11:11-15
Friday, December 15
Isaiah 48:17-19
Psalms 1:1-2, 3, 4 & 6
Matthew 11:16-19
Saturday, December 16
Sirach 48:1-4, 9-11
Psalms 80:2ac & 3b, 15-16, 18-19
Matthew 17:9a, 10-13
Third Sunday of Advent, December 17
Isaiah 61:1-2a, 10-11
Luke 1:46-48, 49-50, 53-54
1 Thessalonians 5:16-24
John 1:6-8, 19-28
Monday, December 18
Jeremiah 23:5-8
Psalms 72:1-2, 12-13, 18-19
Matthew 1:18-25
Tuesday, December 19
Judges 13:2-7, 24-25a
Psalms 71:3-4a, 5-6ab, 16-17
Luke 1:5-25
Wednesday, December 20
Isaiah 7:10-14
Psalms 24:1-2, 3-4ab, 5-6
Luke 1:26-38
Thursday, December 21
Song of Songs 2:8-14
or Zephaniah 3:14-18a
Psalms 33:2-3, 11-12, 20-21
Luke 1:39-45
Friday, December 22
1 Samuel 1:24-28
1 Samuel 2:1, 4-5, 6-7, 8abcd
Luke 1:46-56
Saturday, December 23
Malachi 3:1-4, 23-24
Psalms 25:4-5ab, 8-9, 10 & 14
Luke 1:57-66
Fourth Sunday of Advent, December 24
2 Samuel 7:1-5, 8b-12, 14a, 16
Psalms 89:2-3, 4-5, 27, 29
Romans 16:25-27
Luke 1:26-38
The full text of the Scripture readings for this week and next week can be found here: http://www.usccb.org/
Click on the "Daily Readings" tab on the right hand side of the page.