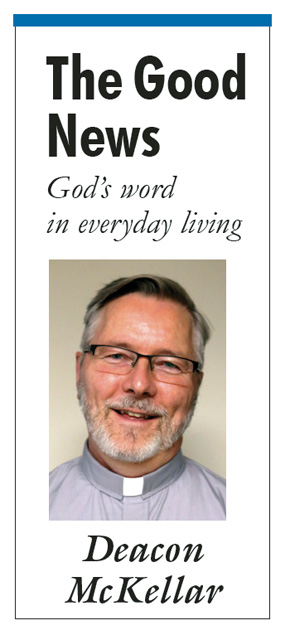 The readings for Christmas Day at dawn, are some of the most familiar images of the Christmas story. Even if we haven't read this passage ourselves, we have likely heard it in Christmas pageants. In fact, this text is part of the story Linus recites in the Charlie Brown Christmas special.
In the verses which precede our Gospel we encounter shepherds in their fields. Suddenly the glory of God shone around them and an angelic host appears. An angel proclaims the good news that "today in the city of David a Savior has been born for you who is Messiah and Lord."
The shepherds are given a specific sign: they will find "an infant wrapped in swaddling clothes and lying in a manger." Finally, a multitude of heavenly hosts give praise to God, saying "Glory to God in the highest and on earth peace to those on whom his favor rests."
In effect, heaven has come down and touched the earth, not only with the choir of angels and the light of God's glory, but now more profoundly with the infant lying in a manger. The angels and the glory of God return to heaven, but the infant remains among us. Something completely new has occurred. We have been given a Savior, a Messiah and Lord.
In response to this heavenly message the shepherds say, "Let us go now to Bethlehem and see this thing." Luke tells us the shepherds "went in haste and found Mary and Joseph, and the infant lying in the manger" (Luke 2:16), just as the angel had promised them.
The shepherds in this story have been treated oddly by various modern interpreters. Some have suggested that all shepherds were generally thought of as thieves and disreputable people. We have no evidence of this from the time of Jesus. The fact that Scripture frequently used shepherds as a positive image, strongly suggests that this is not true.
In opposite direction, some have suggested, using much later rabbinic sources and a good deal of imagination, that the shepherds in this story were special shepherds that raised the lambs for Temple sacrifices.
Perhaps the truth in this case is less exciting. These were ordinary shepherds, and on the whole shepherds were neither particularly bad, nor particularly good. They represent ordinary folk.
The point is that God's favor doesn't merely rest on an elite crowd. Ordinary people are invited to experience God's revelation. God has come down from heaven and become a child. He has become one with us.
Even ordinary people can now respond to God's invitation to relationship with him. What is needed is our response.
The shepherds hear and see God's invitation and then respond in faith and go in haste to find the child (2:16). Once they find the child "they made known what had been told them about this child" (2:17). The shepherds then told others about what had occurred to them, and those who heard were amazed by what they heard.
What happened to the shepherds was not intended to be a private experience. It was good news that needed to be shared.
This whole experience left the shepherds forever changed. They "returned, glorifying and praising God for all they had heard and seen, just as it had been told to them" (Lk 2:20).
Now that Christ has come, we too can go in haste to find the child. We might see in this story a model for prayer. The church has often recommended the ancient practice of lectio divina or "divine reading," as a form of meditative prayer.
The shepherds first hear and see. This corresponds to the first stage called lectio, or reading. As we read a passage out loud or silently we allow it to speak to us.
Then comes meditatio, or meditation. Asking for God's help, we think about the passage we read and ask ourselves questions. Thirdly, is oratio, or prayer itself. Here we take the thoughts we had in the previous step to the Lord in prayer and ask the Holy Spirit to guide us.
Finally, contemplatio, or contemplation. True contemplation is a gift from God, but we can spend some time in silence listening in our hearts before God. Our Lady is the model for prayer in this Gospel. We read, "And Mary kept all these things, reflecting on them in her heart" (Luke 2:19).
The goal of our prayer should be to return, glorifying and praising God for all we have heard and seen, just as it has been told to us (Lk 2:20).
Deacon Scott McKellar is associate director of the Office for Discipleship and Faith Formation.
Daily Scripture Readings
For complete daily Scripture texts, click here. http://www.usccb.org
Tuesday, December 26
Acts 6:8-10; 7:54-59
Psalms 31:3cd-4, 6 & 8ab, 16bc & 17
Matthew 10:17-22
Wednesday, December 27
1 John 1:1-4
Psalms 97:1-2, 5-6, 11-12
John 20:1a & 2-8
Thursday, December 28
1 John 1:5—2:2
Psalms 124:2-3, 4-5, 7cd-8
Matthew 2:13-18
Friday, December 29
1 John 2:3-11
Psalms 96:1-2a, 2b-3, 5b-6
Luke 2:22-35
Saturday, December 30
1 John 2:12-17
Psalms 96:7-8a, 8b-9, 10
Luke 2:36-40
Feast of the Holy Family
Sunday, December 31
Sirach 3:2-6, 12-14
Psalms 128:1-2, 3, 4-5
Colossians 3:12-21
Luke 2:22-40
Solemnity of the Blessed Virgin Mary, Monday, January 1, 2018
Numbers 6:22-27
Psalms 67:2-3, 5, 6, 8.
Galatians 4:4-7
Luke 2:16-21
Tuesday, January 2
1 John 2:22-28
Psalms 98:1, 2-3ab, 3cd-4
John 1:19-28
Wednesday, January 3
1 John 2:29–3:6
Psalms 98:1, 3cd-4, 5-6
John 1:29-34
Thursday, January 4
1 John 3:7-10
Psalms 98:1, 7-8, 9
John 1:35-42
Friday, January 5
1 John 3:11-21
Psalms 100:1b-2, 3, 4, 5
John 1:43-51
Saturday, January 6
1 John 5:5-13
Psalms 147:12-13, 14-15, 19-20
Mark 1:7-11
Feast of the Epiphany
Sunday, January 7
Isaiah 60:1-6
Psalms 72:1-2, 7-8, 10-11, 12-13
1 Ephesians 3:2-3a, 5-6
Matthew 2:1-12
The Baptism of the Lord
Monday, January 8
Isaiah 42:1-4, 6-7
Psalms 29:1-2, 3-4, 3, 9-10
Mark 1:7-11
Tuesday, January 9
1 Samuel 1:9-20
1 Samuel 2:1, 4-5, 6-7, 8abcd
Mark 1:21-28
Wednesday, January 10
1 Samuel 3:1-10, 19-20
Psalms 40:2 & 5, 7-8a, 8b-9, 10
Mark 1:29-39
Thursday, January 11
1 Samuel 4:1-11
Psalms 44:10-11, 14-15, 24-25
Mark 1:40-45
Friday, January 12
1 Samuel 8:4-7, 10-22a
Psalms 89:16-17, 18-19
Mark 2:1-12
Saturday, January 13
1 Samuel 9:1-4, 17-19; 10:1
Psalms 21:2-3, 4-5, 6-7
Mark 2:13-17
Second Sunday of Ordinary Time, January 14
1 Samuel 3:3b-10, 19
Psalms 40:2, 4, 7-8, 8-9, 10
1 Corinthians 6:13c-15a, 17-20
John 1:35-42
The full text of the Scripture readings for this week and next week can be found here: http://www.usccb.org/
Click on the "Daily Readings" tab on the right hand side of the page.