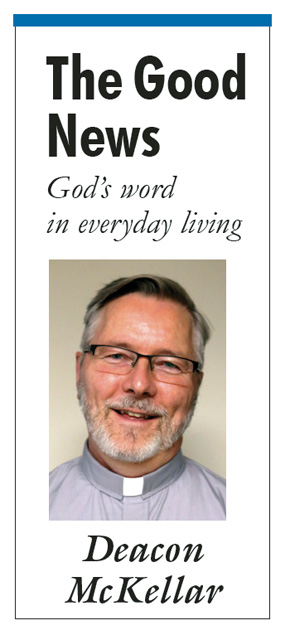 Have you ever had the experience of meeting with two friends who were laughing about something, and when you asked about it they said, "Oh, you had to be there." Something about their shared experience was profoundly amusing yet difficult or even impossible to simply share in a story. "You had to be there."
This Sunday's gospel is about a life-changing encounter with Jesus. Two disciples of John the Baptist hear John testify about Jesus, "Behold, the Lamb of God." We are not told what draws them, but perhaps out of curiosity they both follow Jesus.
Jesus notices them and asks, "What are you looking for?" Should we see this as polite question, such as, "I notice you two appear to be following me. Is there something I can help you with?" They reply, "Rabbi, where are you staying?"
By calling him Rabbi or teacher, they are signaling to Jesus that they are at least experimental disciples. They are testing the water. They are asking themselves, "What is this Rabbi all about? Why did John the Baptist call Jesus the Lamb of God?"
Jesus invites these prospective disciples to "Come and see." Perhaps I am making too much of this, but the common rabbinic saying was "come and reflect on," or "come and hear." In John's Gospel, the reader is frequently invited to see the signs of God's revelation. In fact, the very next day, Jesus performs the first of many signs by turning water into wine at the wedding of Cana.
It is not enough to hear or read; one must encounter Jesus in person, through the senses.  Discipleship in John frequently involves 'dwelling' or 'abiding' with Jesus. God in each person of the Trinity wishes to make His dwelling in us (John 14:23). The disciples are commanded to 'remain' in him and to bear fruit (John 15).
Discipleship in the ancient world was not a detached classroom experience; it was an apprenticeship in the life and teaching of the Rabbi.  Disciples literally follow the walk of the master.
Pope Francis calls this a culture of "personal encounter" or "encuentro personal" (Evangelii Gaudium 50-55).
In light of this truth, Pope Francis makes the following impassioned plea,
I invite all Christians, everywhere, at this very moment, to a renewed personal encounter with Jesus Christ, or at least an openness to letting him encounter them; I ask all of you to do this unfailingly each day. No one should think that this invitation is not meant for him or her, since "no one is excluded from the joy brought by the Lord" (EG, 3).
At every Mass we hear the words, "Behold the Lamb of God. Behold him who takes away the sins of the world." Do these words prompt us to rise up and follow after Jesus as these two disciples did? Jesus turns to each one of us and invites us to, "Come and See" As Pope Francis said, "No one should think that this invitation is not meant for him or her."
Later in John's Gospel Jesus invites his disciples to eat the true bread from heaven. Jesus said, "I am the bread of life; whoever comes to me will never hunger, and whoever believes in me will never thirst. . . I am the living bread that came down from heaven; whoever eats this bread will live forever, and the bread I give is my flesh for the life of the world" (John 6:34, 51).
What happens when we truly encounter Jesus? Perhaps we do begin as potential disciples.  Hopefully we respond to the call to come and see. We each need to have a personal encounter with Jesus. For the two disciples in John's Gospel, they were transformed by this encounter. They surrendered to Jesus and their lives were forever changed.
One disciple is named Andrew, the other is unnamed but is likely John the beloved disciple. Andrew immediately goes and finds his brother Peter and brings him to Jesus. He tells him, "We have found the Messiah!" Andrew is filled with a joy that he cannot contain. John is also impacted. The hour at which this took place is forever burned in his memory. He writes, "It was about four in the afternoon."
For most people Jesus' call to be a disciple moves through stages but ultimately demands a radical commitment to put Jesus at the center of our life.
Later as Jesus was walking by the Sea of Galilee, he called out to the fishermen Peter and Andrew saying, "Come after me, and I will make you fishers of men." The two men "At once they left their nets and followed him" (Matthew 4:19-20).
The call to discipleship required a radical drop-your-nets-and-follow decision. The same is true of James and John who immediately, "left their boat and their father and followed him" (Matthew 4:22). Matthew as well quickly "got up and followed" Jesus in response to his call (Matthew 9:9). In each of these cases a prior encounter with Jesus had likely taken place, but the clear focus of these narratives is a point of decision to follow Jesus with one's whole heart.
For those baptized as infants, and who grew up in the Church, it is easy to see how we might miss the important role of personal decision and repentance in completing the journey of faith. Jesus' call to come and see demands our personal response.
This week let us each take time to renew our personal encounter with Christ through prayer, through the reading of Scripture, and in our encounter with Christ in the Eucharist.
Deacon Scott McKellar is associate director of the Office for Discipleship and Faith Formation.
Daily Scripture Readings
The full text of the Scripture readings for this week and next week can be found here: www.usccb.org
Click on the "Daily Readings" tab on the right hand side of the page.
Second Sunday of Ordinary Time, January 14
1 Samuel 3:3b-10, 19
Psalms 40:2, 4, 7-8, 8-9, 10
1 Corinthians 6:13c-15a, 17-20
John 1:35-42
Monday, January 15
1 Samuel 15:16-23
Psalms 50:8-9, 16bc-17, 21 & 23
Mark 2:18-22
Tuesday, January 16
1 Samuel 16:1-13
Psalms 89:20, 21-22, 27-28
Mark 2:23-28
Wednesday, January 17
1 Samuel 17:32-33, 37, 40-51
Psalms 144:1b, 2, 9-10
Mark 3:1-6
Thursday, January 18
1 Samuel 18:6-9, 19:1-7
Psalms 56:2-3, 9-10a, 10b-11, 12-13
Mark 3:7-12
Friday, January 19
2 Samuel 24:3-21
Psalms 57:2, 3-4, 6 & 11
Mark 3:13-19
Saturday, January 20
2 Samuel 1:1-4, 11-12, 19, 23-27
Psalms 80:2-3, 5-7
Mark 3:20-21
Third Sunday of Ordinary Time, January 21
Jonah 3:1-5, 10
Psalms 25:4-5, 6-7, 8-9
1 Corinthians 7:29-31
Mark 1:14-20
Monday, January 22
2 Samuel 5:1-7, 10
Psalms 89: 20, 21-22, 25-26
Mark 3:22-30
Tuesday, January 23
2 Samuel 6:12b-15, 17-19
Psalms 24:7, 8, 9, 10
Mark 3:31-35
Wednesday, January 24
2 Samuel 7:4-17
Psalms 89:4-5, 27-28, 29-30
Mark 4:1-20
Thursday, January 25
Acts 22:3-16 or Acts 9:1-22
Psalms 117:1bc, 2
Mark 16:15-18
Friday, January 26
2 Timothy 1:1-8 or Titus 1:1-5
Psalms 96:1-2a, 2b-3, 7-8a, 10
Mark 4:26-34
Saturday, January 27
2 Samuel 12:1-7a, 10-17
Psalms 51:12-13, 14-15, 16-17
Mark 4:35-41
Fourth Sunday of Ordinary Time, January 28
Deuteronomy 18:15-20
Psalms 95:1-2, 6-7, 7-9
1 Corinthians 7:32-35
Mark 1:21-28