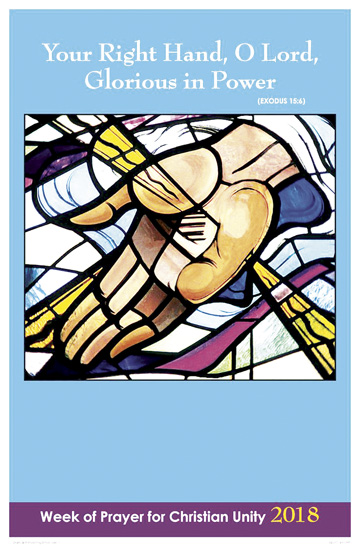 By Teresa Albright
Beginning in 1908 an octave of days has been set aside each year so that Christians the world over may share the prayer of Jesus Christ: "that all may be one…that the world may believe" (John 17:21). The annual Week of Prayer for Christian Unity (WPCU) takes place January 18-25 and is sponsored by the Pontifical Council for Christian Unity and the World Council of Churches. During the WPCU Christians celebrate what God is doing through the many local, regional, national, and international ecumenical agencies, academic centers, prayer communities, and congregational dialogues that make up the modern ecumenical movement.
In September 2017, Kansas City's Catholic and Lutheran leaders not only crossed state lines, but historical boundaries 500 years in the making. Catholic leaders like Archbishop Joseph Naumann of Kansas City, Kansas and Bishop James Johnston of Kansas City – St. Joseph joined Lutheran Bishop Roger Gustafson of the ELCA's Central States Synod in commemorating the 500th anniversary of the Reformation. The Cathedral of the Immaculate Conception hosted the service that was marked by prayers of reconciliation for the past and hope for the future of the church. As Christians throughout Kansas City bring this shared experience of reconciliation and hope into 2018, they are invited to familiarize themselves with the ecumenical work already being done locally to promote understanding and cooperation among Christians in our community.
One such ecumenical group of pastoral leaders in Belton, Missouri comes together each year to pray for unity during the annual octave. "The prayer service allows the pastors of the Belton Churches to gather and pray together with the hope of fostering our common unity in Christ," says Biagio Mazza, Pastoral Associate at St. Sabina Catholic Church. "Throughout the year we pray and work together on various occasions and projects to promote our commitment to gospel values. Praying together helps us focus on what unites us as we strive to imitate Christ through the rich and diverse gifts of our individual church traditions."
The annual WPCU is being promoted by the Ecumenical and Interreligious Commission of the Diocese of Kansas City-St. Joseph. It begins Thursday, January 18 and concludes Thursday, January 25. All Christians are invited to participate in these and other ecumenical opportunities throughout the week. For more information and resources visit facebook.com/wpcukc.
Thursday, Jan. 18, 12:10 PM Catholic Mass w/ Guest Speaker
Cathedral of the Immaculate Conception—11th & Broadway, KCMO
All are invited to join the Catholic community for Mass with a guest reflection by Reverend Peter DeVeau of Grace & Holy Trinity Episcopal Cathedral.
Thursday, Jan. 18, 7:00 PM WPCU Opening Prayer Service
Atonement Lutheran Church —9948 Metcalf Ave. Overland Park KS
Guest sermon by Father Mike Stubbs of Holy Cross Catholic Church.
Sunday, Jan. 21, 5:00 PM Evensong Liturgy w/ Guest Speaker
Grace & Holy Trinity Episcopal Cathedral—13th & Broadway, KCMO
Evening prayer in the Anglican tradition, with guest reflection by Father Paul Turner of the Catholic Cathedral of the Immaculate Conception.
Tuesday, Jan. 23, 9:45—noon Contemplative Prayer Open House
St. John's United Methodist Church—6900 Ward Parkway, KCMO
"Mystic Misfits" is an ecumenical group that meets weekly for contemplative prayer and study. Sessions begin with a 20 minute sit followed by study and conversation.
Thursday, Jan. 25, 7:00 PM Closing Vespers for WPCU
Holy Cross Catholic Church—8311 W. 93rd St., Overland Park KS
Guest reflection by Pastor Brian Hiortdahl of Atonement Lutheran Church.
Teresa Albright is a member of the diocesan Ecumenical and Interreligious Commission.