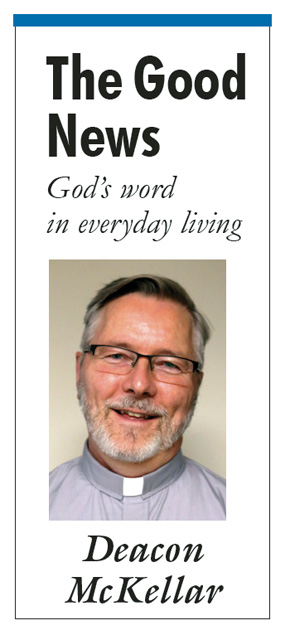 Was he contagious?
The man had asked me to pray for him. He told me he had a mysterious fatal disease for which there was no cure.
Overcoming my fear, I reached out and placed my arm around his shoulder, and began to pray for him.
The year was 1990, and the man had contracted HIV from a tainted blood supply. He was a hemophiliac.
At the time no treatments had been developed, and the means of transmission for this disease were not fully known. The man died a few months after this, leaving behind a wife and two small children.
The Lord did not answer my prayers for healing, but the man was moved by my compassion and especially by my willingness to reach out and physically touch him. At the time a great deal of fear swirled around this illness and many people where frightened to even touch this man.
In our Gospel Jesus encounters a man with leprosy.
The range of illnesses covered by this term in the Bible is much greater than our modern understanding. A variety of skin disorders would have been included, ranging from serious contagious illnesses such as modern leprosy to annoying but harmless skin conditions.
Being declared a leper was a virtual death sentence. The afflicted person was thought to be 'unclean' and shunned and sent away. It was often falsely assumed that the leper must have committed some sin to receive this illness as a divine judgment.
The ancient rabbis regarded being healed of leprosy as the equivalent to being raised from the dead. Without the continued support of family and friends you would certainly die from being made an outcast.
The words of this leper are remarkable given the lack of hope that would naturally accompany this condition. Having heard about Jesus' healing ministry, the man exercised his faith by breaking the required ritual protocol and physically approaching Jesus.
Begging Jesus on his knees, the leper says, "If you wish, you can make me clean." These are clearly words of faith in the power of Jesus to heal.
To the astonishment of the crowds, Jesus is greatly moved with pity and stretches out his hand toward the afflicted man and then even  touches him. Responding to the evident faith in the man's request, Jesus says, "I do will it. Be made clean."
The result is immediate. The man is instantly healed and made ritually clean.
Jesus' next comment is puzzling. Using unusually strong language Jesus warns the man sternly and dismisses him. It is possible to interpret Jesus' words as implying that the leprosy was caused by a demon and that Jesus was rebuking and casting out a demon.
Jesus then admonishes the man to tell no one about the healing and to show himself to a priest and to offer the sacrifice proscribed by Moses for his cleansing. The man completely disregards this command and immediately began to publicize the whole matter. As a result, Jesus had to remain in deserted places and could not enter towns openly.
What can we learn about Jesus' ministry from this healing? Although Jesus was forced to retreat to deserted places, this was not his desire. Jesus retreated because it was not yet time to reveal the secret of his divine sonship. If revealed too soon, there was a chance that the crowds would try to make Jesus king by force (John 6:15).
Jesus preferred to engage people face to face. He wanted to call each person by name. Our gospel passage shows Jesus full of emotion and deeply personal. He was "greatly moved with pity" (a verb denoting a strong emotional reaction). Note how he stretched out his hand and even touched the leper!
Jesus had no desire to retreat safely in exclusion with those who were pure or good. Quite the opposite, he is accused of being a "a friend of tax collectors and sinners" (Matthew 11:19, Luke 7:34). Jesus does not isolate himself from those on the margins of society—he prefers them.
Pope Francis highlights this vision of Jesus saying, "I prefer a Church which is bruised, hurting and dirty because it has been out on the streets, rather than a Church which is unhealthy from being confined and from clinging to its own security" (Evangelii Gaudium 49).
Among the many temptations which make pastoral workers ineffective, Pope Francis mentions those who have "lost real contact with people  and so depersonalize their work that they are more concerned with the road map than with the journey itself." (EG 82). He notes that this can lead to a defeatism which stifles boldness and zeal and turns us into "querulous and disillusioned pessimists, 'sourpusses'." He notes, "Nobody can go off to battle unless he is fully convinced of victory. . . The spirit of defeatism is the brother to the temptation to separate, before its time the wheat from the weeds, it is the fruit of an anxious and self-centered lack of trust." (EG 85).
In contrast with this, Pope Francis asks us to imitate Jesus by rejecting the culture of exclusion and instead fostering a new culture of encounter (encuentro).
First, let us hear Jesus' invitation to encounter him in our hearts. "Come to me, all you who labor and are burdened, and I will give you rest. Take my yoke upon you and learn from me, for I am meek and humble of heart; and you will find rest for yourselves. For my yoke is easy, and my burden light" (Matthew 11:28-30).
We must first encounter Jesus in our own hearts and so be filled with the joy of the Gospel. Then overflowing with this joy, we must encounter those we meet along the way. Lord Jesus, set our hearts on fire with your love! Or as the Psalmist says, let our 'hearts be enlarged' by your presence (119:32).
Deacon Scott McKellar is associate director of the Office of Discipleship and Faith Formation.
Daily Scripture Readings
For complete daily Scripture texts, click here. http://www.usccb.org
Monday, February 12
James 1:1-11
Psalms 119:67, 68, 71, 72, 75, 76
Mark 8:11-13
Tuesday, February 13
James 1:12-18
Psalms 94:12-13a, 14-15, 18-19
Mark 8:14-21
Ash Wednesday, February 14
Joel 2:12-18
Psalms 51:3-4, 5-6ab, 12-13, 14 & 17
2 Corinthians 5:20—6:2
Matthew 6:1-6, 16-18
Thursday, February 15
Deuteronomy 30:15-20
Psalms 1:1-2, 3, 4 & 6
Luke 9:22-25
Friday, February 16
Isaiah 58:1-9a
Psalms 51:3-4, 5-6ab, 18-19
Matthew 9:14-15
Saturday, February 17
Isaiah 58:9b-14
Psalms 86:1-2, 3-4, 5-6
Luke 5:27-32
Firsat Sunday of Lent, February 18
Genesis 9:8-15
Psalms 25:4-5, 6-7, 8-9.
1 Peter 3:18-22
Mark 1:12-15
Monday, February 19
Leviticus 19:1-2, 11-18
Psalms 19:8, 9, 10, 15
Matthew 25:31-46
Tuesday, February 20
Isaiah 55:10-11
Psalms 34:4-5, 6-7, 16-17, 18-19
Matthew 6:7-15
Wednesday, February 21
Jonah 3:1-10
Psalms 51:3-4, 12-13, 18-19
Luke 11:29-32
Thursday, February 22
1 Peter 5:1-4
Psalms 23:1-3a, 4, 5, 6
Matthew 16:13-19
Friday, February 23
Ezekiel 18:21-28
Psalms 130:1-2, 3-4, 5-7a, 7bc-8
Matthew 5:20-26
Saturday, February 24
Deuteronomy 26:16-19
Psalms 119:1-2, 4-5, 7-8
Matthew 5:43-48
Second Sunday of Lent, February 25
Genesis 22:1-2, 9a, 10-13, 15-18
Psalms 116:10, 15, 16-17, 18-19
Romans 8:31B-34
Mark 9:2-10