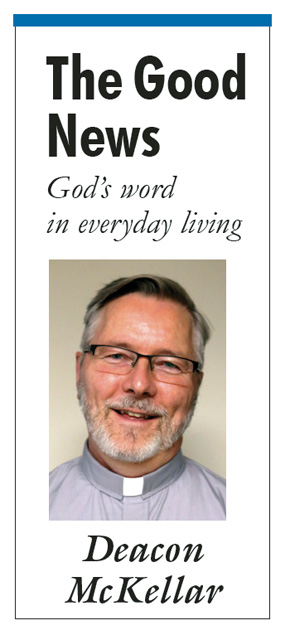 A yearly, national survey of 2,050 registered dietitian nutritionists (RDN) named celebrities and social media as the greatest source of fake news about nutrition and dieting. In particular, they named Facebook as the number one source of nutrition misinformation.
When it comes to trusting authority, at times we are justified in being suspicious. We might discover that an orange grower's cooperative is spreading false rumors about eating apples or that a grass feed beef association is spreading false information about eating soy products. Fake news isn't just limited to politics or paid for in rubles.
The unfortunate fact is, humans often lie and deceive to achieve what they want. The catechism notes that,
Christian faith differs from our faith in any human person. It is right and just to entrust oneself wholly to God and to believe absolutely what he says. It would be futile and false to place such faith in a creature. (CCC 150).
The fundamental question is, "How do we know we can trust God?" In a world full of fake news, how do we know that God himself isn't fake news?
Is this an impious question? Perhaps, but for many people this is their genuine starting point.
The answer to this question is found in what is perhaps the most well-known verse from John's Gospel,
"For God so loved the world that he gave his only Son, so that everyone who believes in him might not perish but might have eternal life." (John 3:16)
Love is a reciprocal relationship in John. The Father loves the Son (3:35; 10:17) and the Son loves the Father (14:31). As the Father loves the Son so the Son loves each of those who believe in the Father through him (15:9). Christians are called to love on another (13:34; 15:12).
In this verse we are told that God loved the world. The word used for love is the Greek verb for agape. Many of us have been introduced to this word for love and told that this is a special word for love that was introduced by Christians to represent a new kind of love.
This is not quite true. It is an ordinary word for love, and outside the Scriptures it is used in everyday contexts. The special meaning attributed to it by Christians comes from how it is used in the Scriptures.
In this opening phrase, "For God so loved the world," we might assume that the word translated 'so' has the same meaning as the expression, "Thank you so much!"
While this is a possible interpretation, the Greek likely has a different connotation. The special adverb translated 'so' points ahead to what follows and could be translated, "For God loved the world as follows. . . ." The emphasis is on the quality and depth of God's love revealed in his actions rather than on the quantity of his love.
God's love for the entire world is characterized by his gift of his only begotten son. "For God so loved the world that he gave his only Son."
How are we to understand this? The only way any of us can understand the concept of love is through our human experience. We first learn love from our mothers, and fathers. We then experience the love of our siblings and eventually our friends and spouses. While we have learned many happy lessons about love, many of us have also lived through imperfect and broken loves and even betrayal.
The love that God demonstrates to us through his actions is a perfect love. It is much more than a mere sentiment. Unlike many human loves, God's actions always correspond with his words. He doesn't claim to love us while ignoring us, or selfishly take advantage of us for his own purposes or change his mind and betray us. He also doesn't demand that we earn his love. This is the meaning of God's agape love.
In fact, God's love is proven and is purely his unmerited gift to us. It is also the most expensive gift he could possibly give. "For God so loved the world that he gave his only Son." God the Son emptied himself taking the form of man, and God the Father sacrificed his only Son as a gift to us.
The gift of God's love has a specific purpose. God is a personal God who desires relationship with each one of us and has proven his love to us by sending his Son to save us. "For God did not send his Son into the world to condemn the world, but that the world might be saved through him." (John 3:17) and St. John promises us, "Whoever believes in him will not be condemned." (John 3:18).
Because of our brokenness we are often reluctant to receive this gift of love. We desire to remain independent and to try to solve our problems on our own. Perhaps we even think we can save ourselves by being good. The Church has always affirmed that we are not able to save  ourselves through our unaided human efforts. We can only be saved by exercising living faith and receiving God's unmerited gift.
As our second reading reminds us: "For by grace you have been saved through faith, and this is not your own doing; it is the gift of God— not the result of works, so that no one may boast" (Ephesian 2:8–10).
God's love is offered to us as a gift which must be received. We must turn to him and allow him to be the center of our life. We must surrender to him. This is the living faith that saves.
It takes humility to admit our brokenness and to ask for God's help. Let us pray this day: Lord Jesus I admit that I have failed you and I ask you to come in to my heart and transform me into your likeness. Once again, I surrender everything to you. Give me the gift of eternal life. Lord Jesus, I trust in you!
Deacon Scott McKellar is associate director of the Office of Discipleship and Faith Formation.
Daily Scripture Readings
For complete daily Scripture texts, click here: http://www.usccb.org
Monday, March 12
Isaiah 65:17-21
Psalms 30:2 & 4, 5-6, 11-12a & 13b
John 4:43-54
Tuesday, March 13
Ezekiel 47:1-9, 12
Psalms 46:2-3, 5-6, 8-9
John 5:1-16
Wednesday, March 14
Isaiah 49:8-15
Psalms 145:8-9, 13cd-14, 17-18
John 5:17-30
Thursday, March 15
Exodus 32:7-14
Psalms 106:19-20, 21-22, 23
John 5:31-47
Friday, March 16
Wisdom 2:1a, 12-22
Psalms 34:17-18, 19-20, 21 & 23
John 7:1-2, 10, 25-30
Saturday, March 17
Jeremiah 11:18-20
Psalms 7:2-3, 9bc-10, 11-12
John 7:40-53
Fifth Sunday of Lent, March 18
Ezekiel 37:12-14
Psalms 130:1-2, 3-4, 5-6, 7-8
Romans 8:8-11
John 11:1-45
Solemnity of Saint Joseph
Monday, March 19
2 Samuel 7:4-5a, 12-14a, 16
Psalms 89:2-3, 4-5, 27 & 29
Romans 4:13, 16-18, 22
Matthew 1:16, 18-21, 24a
or Luke 2:41-51a
Tuesday, March 20
Numbers 21:4-9
Psalms 102:2-3, 16-18, 19-21
John 8:21-30
Wednesday, March 21
Daniel 3:14-20, 91-92, 95
Daniel 3:52, 53, 54, 55, 56
John 8:31-42
Thursday, March 22
Genesis 17:3-9
Psalms 105:4-5, 6-7, 8-9
John 8:51-59
Friday, March 23
Jeremiah 20:10-13
Psalms 18:2-3a, 3bc-4, 5-6, 7
John 10:31-42
Saturday, March 24
Ezekiel 37:21-28
Jeremiah 31:10, 11-12abcd, 13
John 11:45-56
Palm Sunday, March 25
At The Procession With Palms
Mark 11:1-10 or John 12:12-16
At The Mass –
Isaiah 50:4-7
Psalms 22:8-9, 17-18, 19-20, 23-24
Philippians 2:6-11
Mark 14:1—15:47
or Mark 15:1-39