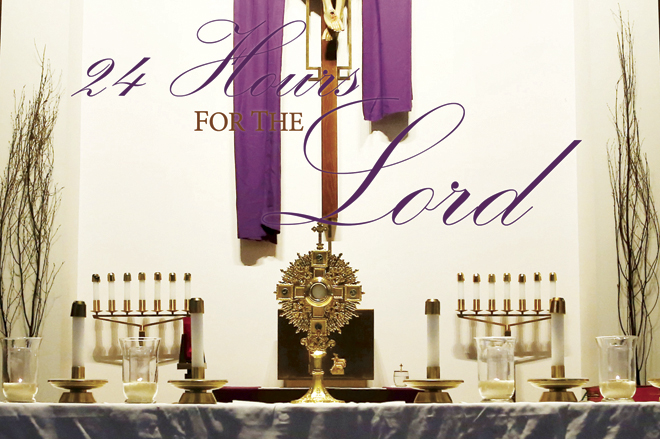 Excuses, excuses: there's literally no bad time to go to confession on March 9-10.
In response to the 24 Hours for the Lord initiative promoted by Pope Francis, the Office of Divine Worship and the Office of Priestly Life and Ministry are co-sponsoring 24 hours of adoration and confessions from 5:30 pm March 9 to 5:30 pm March 10 with Our Lady of Lourdes Parish, Raytown.
The initiative was first launched in 2014 by the Pontifical Council for the Promotion of the New Evangelization. This year's theme is taken from Psalm 130:4, "With you is forgiveness".
In his 2018 Lenten message, Pope Francis invited the entire Church to "celebrate the sacrament of Reconciliation in the context of Eucharistic adoration".
"Lent summons us, and enables us, to come back to the Lord wholeheartedly and in every aspect of our life," the pontiff said.
"Above all, I urge the members of the Church to take up the Lenten journey with enthusiasm, sustained by almsgiving, fasting and prayer. If, at times, the flame of charity seems to die in our own hearts, know that this is never the case in the heart of God! He constantly gives us a chance to begin loving anew."
The pope also desired that at least one church in each diocese around the world remain open for 24 consecutive hours, offering an opportunity for both Eucharistic adoration and sacramental confession.
Fr. Paul Turner, director of the Office of Divine Worship, said he hopes that Catholics will find it an opportunity to make a pilgrimage and pray this Lent.
"I expect that this will be appealing to many people who are long-time Catholics, as well as some who have been away from the Church for a little while. It would be a great way for them to reconnect, to spend some time in prayer, and prepare their hearts for Easter," he said.
Fr. Turner said he is thankful to Our Lady of Lourdes for hosting the day. The parish regularly organizes 24-hour adoration at the church.
"We have several parishes that offer adoration around the clock," he said. "I hope that people would be aware of this opportunity that we have in the diocese and support it even beyond the day of '24 Hours for the Lord'."
He also said a list and map of adoration times and locations is in the works.
If you are interested in covering an adoration hour during '24 Hours for the Lord', please contact the Our Lady of Lourdes Adoration chapel coordinator Katei at 816-547-0016 or by email at katei@richardgross.net. For further event details and links to confession aids, visit kcsjcatholic.org/events/24-hours-4-the-lord.