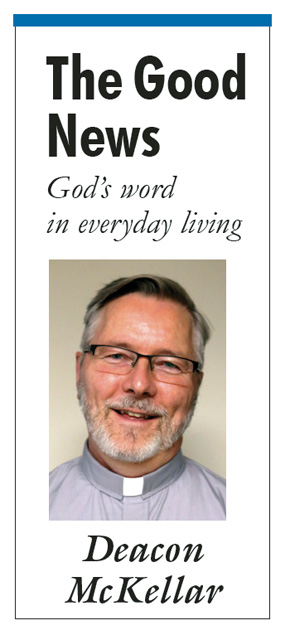 Have you ever heard someone describe themselves as "spiritual but not religious"? Thanks to a popular book on this subject, this outlook has been adopted as a kind of faith movement by many young people. The "spiritual but not religious" movement makes a distinction between private personal spirituality which is seen as something good and organized religion and public ritual which is bad. Perhaps some of these people have been wounded by traditional organized religion, while others are just exploring and seeking new things.
In our freedom worshiping, individualistic culture it is not hard to see the attraction of this movement. There are of course several problems. Very few new religious ideas last, because practically speaking they simply don't work. Is it possible to have a purely individual private spirituality without ever dialoguing with a community? Is it possible to have an interior private spirituality which is not connected to our normal bodily existence? Today's Gospel answers these questions.
Our Gospel today is another resurrection appearance. The disciples are startled and terrified, because they are afraid that Jesus might merely be a ghost. According to our faith we have both a body and a soul and after death, for a time, we exist as a disembodied soul or ghost. The question is can disembodied souls or ghosts be seen or otherwise experienced by the living?
Catholic philosopher, Peter Kreeft, believes that the dead often do appear to the living. He notes, "There is enormous evidence of 'ghosts' in all cultures." Kreeft is not alone in this view, St. Augustine, Pope St. Gregory the Great, and St. Thomas Aquinas agree.
Three destinations for the human soul create three different types of ghosts. Souls in purgatory are one type of ghosts. If souls from purgatory are allowed to appear to the living, Kreeft describes them as "sad, wispy ones" that are "suffering some purgatorial purification until released from their earthly business."
The next type of ghosts are malicious and deceptive spirits that Kreeft says are likely the ones "who respond to conjurings at séances" and "come from hell."
Lastly, Kreeft describes the "bright, happy spirits of dead friends and family, especially spouses, who appear unbidden, at God's will, not ours, with messages of hope and love."
My favorite story about a message from a saintly spirit comes from the life of St. John Bosco. Bosco had a dear friend named Luigi Comollo. The two had promised each other "Whichever of us is the first to die will, if God permits it, bring back word of his salvation to his surviving companion."
Sadly, Comollo died at age 22 and on the eve of his burial, Bosco was in a seminary dormitory with 20 other seminarians. Near midnight Bosco describes a cavernous, somber sound which suddenly was heard at the end of the corridor outside their room. The noise became louder and louder and drew near the room in the outside hallway. The seminarians awoke in terror, but no one said anything.
Abruptly the dormitory a door flew open by itself and suddenly it became silent. Bosco describes distinctly hearing the voice of Comollo who called out: Bosco! Bosco! Bosco! I am saved! In that moment the dormitory became more luminous, the noise which had ceased made itself heard again even more violently. Then just as suddenly it ceased, and every light disappeared.
If ghosts are a real possibility in our world, why did Jesus not want to be seen as merely a ghost? Jesus invites the disciples, "Look at my hands and my feet, that it is I myself. Touch me and see, because a ghost does not have flesh and bones as you can see I have." The resurrection is not just spiritual; it is a return to bodily existence.
The Catechism insists, "The mystery of Christ's resurrection is a real event, with manifestations that were historically verified, as the New Testament bears witness" (CCC 639). If Jesus died on the cross for our sins why is the resurrection important?
The resurrection is so central to our faith that St. Paul says, "if Christ has not been raised, your faith is vain; you are still in your sins." (1 Cor 15:17). There are two crucial components to the Paschal mystery. As the Catechism notes, "by his death, Christ liberates us from sin; by his Resurrection, he opens for us the way to a new life." Or as Preface I for Easter puts it, "by dying he has destroyed our death, and by rising, restored our life." The resurrection is the ultimate proof of Christ's divinity and the fulfillment of every Old Testament prophecy. The resurrection is also the means through which we are saved.
We are not just forgiven by Jesus' death on the cross, we are also transformed by his resurrection. Christ is the first fruits of what we are all to later experience at the resurrection. We will not be sad wispy spirits or even angels in heaven. Each one of us will experience a bodily resurrection. In case we are feeling a little old and worn out, it will be a new heavenly body.
Why seek to be spiritual but not in a bodily existence? Pope Emeritus Benedict XVI comments, "many people reject the faith today simply because they do not find the prospect of eternal life attractive" (Spe Salvi, 10). Their idea of eternity is a continuation of this earthly life. He notes, "To continue living for ever —endlessly—appears more like a curse than a gift. Death, admittedly, one would wish to postpone for as long as possible. But to live always, without end—this, all things considered, can only be monotonous and ultimately unbearable" (SS 10).
In truth we don't even know what we seek. We are not in search of life but the blessed life or happiness. As Jesus promises his disciples, "But I will see you again, and your hearts will rejoice, and no one will take your joy away from you" (John 16:22). Lord, open the eyes of our heart and give us this life!
Deacon Scott McKellar is associate director of the Office of Discipleship and Faith Formation.
Daily Scripture Readings
For complete daily Scripture texts, click here:   http://www.usccb.org
Monday, April 16
Acts 6:8-15
Psalms 119:23-24, 26-27, 29-30
John 6:22-29
Tuesday, April 17
Acts 7:51—8:1a
Psalms 31:3cd-4, 6 & 7b & 8a, 17 & 21ab
John 6:30-35
Wednesday, April 18
Acts 8:1b-8
Psalms 66:1-3a, 4-5, 6-7a
John 6:35-40
Thursday, April 19
Acts 8:26-40
Psalms 66:8-9, 16-17, 20
John 6:44-51
Friday, April 20
Acts 9:1-20
Psalms 117:1bc, 2
John 6:52-59
Saturday, April 21
Acts 9:31-42
Psalms 116:12-13, 14-15, 16-17
John 6:60-69
Fourth Sunday of Easter, April 22
Acts 4:8-12
Psalms 118:1, 8-9, 21-23, 26, 28, 29
1 John 3:1-2
John 10:11-18
Monday, April 23
Acts 11:1-18
Psalms 42:2-3; 43:3, 4
John 10:1-10
Tuesday, April 24
Acts 11:19-26
Psalms 87:1b-3, 4-5, 6-7
John 10:22-30
Wednesday, April 25
1 Peter 5:5b-14
Psalms 89:2-3, 6-7, 16-17
Mark 16:15-20
Thursday, April 26
Acts 13:13-25
Psalms 89:2-3, 21-22, 25 & 27
John 13:16-20
Friday, April 27
Acts 13:26-33
Psalms 2:6-7, 8-9, 10-11ab
John 14:1-6
Saturday, April 28
Acts 13:44-52
Psalms 98:1, 2-3ab, 3cd-4
John 14:7-14
Fifth Sunday of Easter, April 29
Acts 9:26-31
Psalms 22:26-27, 28, 30, 31-32
1 John 3:18-24
John 15:1-8